I've believed some of these skin care myths for years, but I was totally wrong,  so I hope that debunking these seven skin care myths helps you out too! Thanks to my partnership with Eucerin for helping me learn the truth.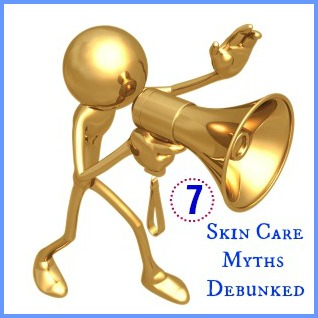 Myth #1: Pores open and close, so using hot water opens them up. FALSE.
They appear closed when they're clogged with dirt and oil, but they don't have muscles, so they really don't open and close. The steam from the hot water softens the skin making it easier to removed the hardened dirt and oils, but the hot water dries out the skin. Opt for lukewarm water.
Myth #2: The best way to get your daily Vitamin D is by laying out in the sun. FALSE.
Please don't!  Talk to your doctor about supplements or adding Vitamin D enriched foods to your diet instead of exposing your skin to harmful rays.
Myth #3: Anti-wrinkle creams erase wrinkles. FALSE.
They do a nice job of minimizing their appearance, but they don't erase them. Prevention is key, so use SPF.
Myth #4:  SPF 30 is twice the protection of SPF 15. FALSE.
Doubling an SPF number doesn't double the protection It prevents a greater percentage of rays from reaching skin, but the difference between SPF numbers is not as significant as you might think. SPF 15 blocks about 93%, SPF 30 blocks about 97% and SPF 45 blocks about 98%. Your greatest concern should be in wearing enough!
Myth #5: A base tan protects your skin. FALSE.
Any time the sun's rays are penetrating your skin, you're susceptible to damage so a healthy tan is a myth in itself. Use SPF lotions to protect your skin because a base tan is only equivalent to an SPF of 3.
Myth #6: Makeup with built-in SPF is a safe alternative to sunscreen. FALSE.
It would require an extraordinary amount of makeup  to get the desired amount of protection, and makeup just isn't applied that way. The extra bit of protection is nice, but can't be relied on. If using SPF 15 cosmetics, you should be pairing that with SPF 15 sunscreen.
Myth #7: It all depends on genetics. FALSE.
Genetics play a role, but your skin health is largely dependent on individual variables like diet, sun exposure and whether or not you smoke.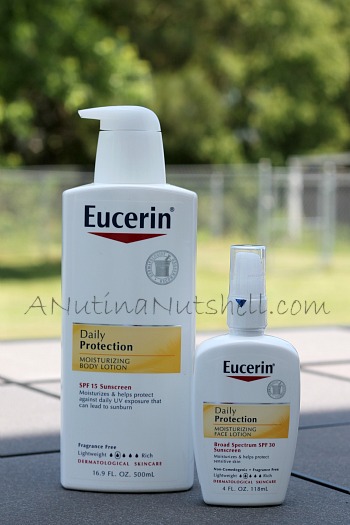 Visit the Skin First Pledge Facebook page to get a sample of Eucerin Daily Protection Moisturizing Face and Body Lotion with SPF!
GIVEAWAY!
One lucky reader will win a Eucerin prize pack which includes: $125 Visa Gift Card, Eucerin Daily Protection SPF 15 Moisturizing Body Lotion and Eucerin Daily Protection SPF 30 Moisturizing Face Lotion.
I am working with Eucerin to share these tips. However, my opinions are entirely my own and I have not been paid to publish positive comments.
RULES: Giveaway ends 11:59 pm ET, September 2, 2013. No purchase necessary. Open to legal residents of the fifty (50) United States and District of Columbia, Eighteen (18) years of age or older. Void where prohibited by law. One lucky winner will be chosen using random.org. One entry per household and IP address. The number of eligible entries received determines the odds of winning. Cheating will not be tolerated, and entries will be verified for accuracy. I will email the winner and they will have 48 hours to respond to the notification email, or a new winner will be chosen. Entering this giveaway means you are in agreement with this blog's Terms of Use policy.