Set in the streets of Paris in 1910, A MONSTER IN PARIS is an animated musical adventure for the whole family.
The story surrounds Raoul, an eccentric inventor, and Emile, a quiet projectionist. The two of them find themselves alone in a mad scientist's laboratory surrounded with magical potions, and when they accidentally combine two unstable chemicals….BOOM! There's an explosion and the unexpected creation of a 7-foot "monster", which they later discover was originally a tiny flea from a monkey in the lab.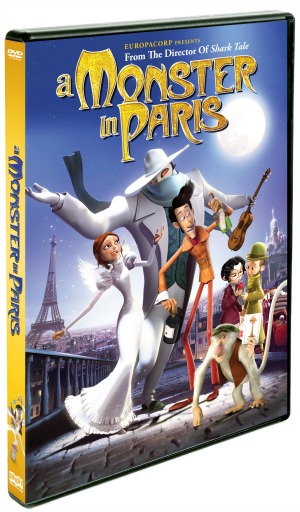 Everyone in Paris is terrified of the monster and the Police Commissioner is determined to capture and destroy it.
When the lovely Lucille, who charms Parisian audiences with her singing voice, encounters the "monster" she discovers that it actually has a sweet and gentle soul along with a remarkable talent for music.
She names him Francouer, disguises him in a zoot suit, hat and mask, and they perform together at the cabaret. It's in these moments that the movie particularly shines. The songs are catchy and the dancing is witty. It's a complete delight to watch.
Of course, when the commissioner discovers that the minstrel is really the monster, he'll stop at nothing to exterminate it. 
I won't give away any more details, but there's a lot of adventure and humor and a sprinkling of romance throughout the film. You won't find cheap comedic laughs or adult-intended inside jokes here. It's just a charming little tale with the sartorial splendor of the silent film era.
Buy It:  A Monster in Paris
is available on DVD and on Blu-ray + DVD Combo packs now! Rated PG.
Does the music in a movie make you love it even more?
A review copy was provided. No other compensation was received, doggone it. Affiliate link included to try and recover from the immense tax hit I just took and the opinions and aforementioned tax burdens are mine alone. C'est la vie.