This post about the AARP Staying Sharp program for brain health is a partnered post. Since my university days are far behind me, I've often wondered if I'm doing all I can to stay sharp since my brain isn't being challenged in the same way it was while in school. It's not my fault… it's just the progression of life circumstances, but as I get older, I worry about it more and more.
Finding out about AARP Staying Sharp, an online subscription-based program, was exactly what I needed, and if I can be so bold… it's what you need too.
AARP Staying Sharp
How well is my brain? 
Once you subscribe, the first thing you do is take the Brain Health Assessment using one of the new and improved tools and functionalities in the program. You'll participate in a series of activities (over 20-30 minutes) designed to assess your brain health, and let you know how you stack up against others in your demographic.
The AARP Staying Sharp program is based upon the five brain health pillars: Move (keeping fit), Nourish (eating right), Relax (managing stress), Discover (learning new things), and Connect (being social). Your overall brain health score takes all of these factors into consideration.
I'm not gonna lie. I was worried about my results, and I was nervous while taking the tests. But, I have to say, I was somewhat comforted by the score, since some days I feel like my brain is shot. The brain health score is an overall measure of cognitive and lifestyle health, and for each of these, you can delve into detailed summaries.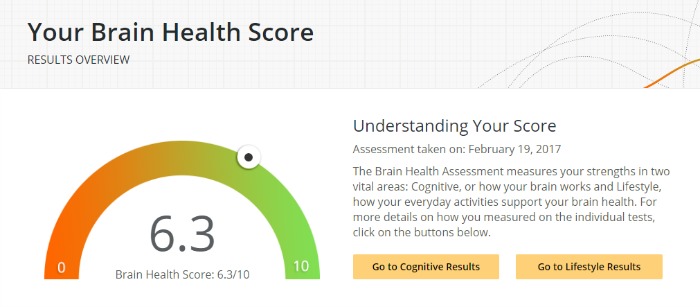 My cognitive results weren't bad at all, and I was thrilled with how quickly my brain processes information.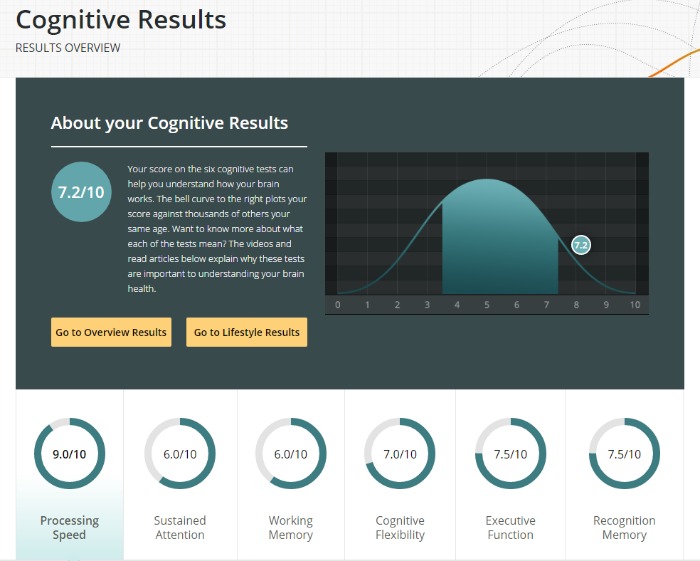 My lifestyle results weren't as strong as my cognitive results, but they weren't horrible, except for my "Move" score. I expected a low score, since I sit in an office desk chair all day, but seeing it displayed like that was a good wake-up call. A healthy lifestyle supports important cognitive functions like memory and focus (both of which I could use some improvement on).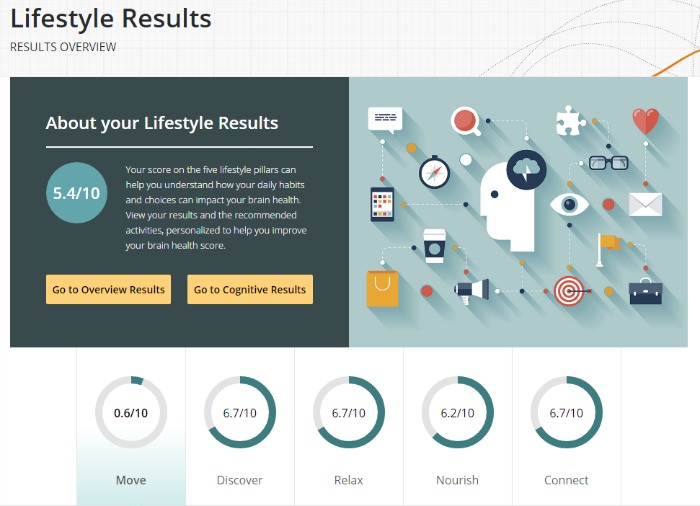 Once you know your brain health score, the AARP Staying Sharp program curates a personalized and holistic brain health plan with free and premium brain games, recipes, activities, articles and more.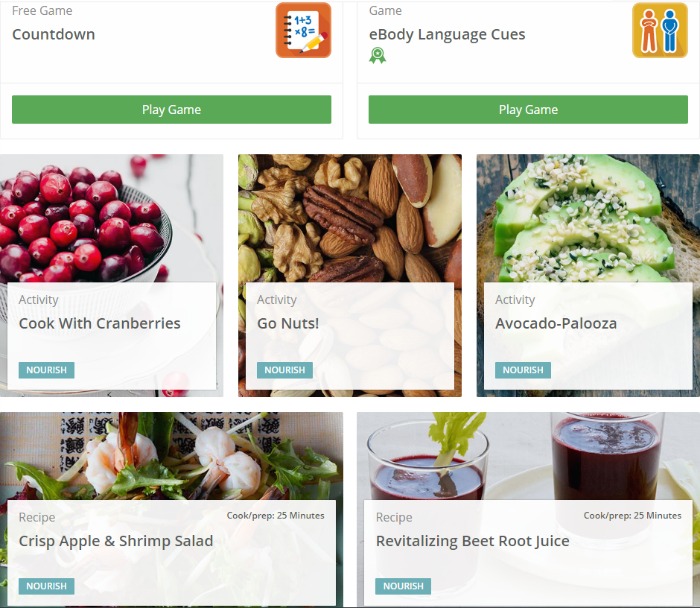 The recommendations are tagged with the pillar of brain health they support, so you can focus on a particular area of concern or just hop around randomly. I've been doing at least one activity or game per day so far. It makes me feel so much better knowing I'm giving my brain a good workout every day, and I block out time in my planner for it, so I won't forget.
What's the science?

AARP Staying Sharp is validated by findings recommended by the Global Council on Brain Health – an independent collaborative of scientists, health professionals, scholars and policy experts from around the world working in areas of brain health related to human cognition.
Since brain health is important for all ages, AARP Staying Sharp is designed for users of every age as well. It's a stand-alone program, so don't feel like it's only meant for retirement age, because it's definitely not.
To learn more about AARP Staying Sharp, click here.
GIVEAWAY
Because I feel so strongly about Staying Sharp, I'm giving away 20 free #StayingSharp 1-month memberships!
Twenty (20) of my readers will have the opportunity to try out the Staying Sharp program for FREE FOR 1 MONTH. To enter,you must post the comment "I want to take the Brain Health Assessment." Upon posting this comment, each entrant will become eligible to win. Only one (1) entry per individual. After you are confirmed as an eligible recipient and upon claiming the gift, you will receive your free 1-month membership to Staying Sharp. If you do not cancel, then your membership will continue and the annual subscription rate (plus applicable tax) will be charged to your credit card about the same date each year that you continue your membership. You may cancel your membership and stop the billing anytime by notifying AARP by calling 888-339-5758.