I'm not just blowing smoke up your chimney when I tell you that last year I got scared for my health.
At a routine doctor visit, I discovered that my blood pressure was running dangerously high. At a follow-up check the next week, my blood pressure hadn't budged. Dangerously high.
My cholesterol test came back too. Dangerously high.
I saw a look of fear on the nurse's face, and I'll never forget it.
I was so scared that I immediately changed my life, and I do mean immediately.
Heart disease runs in my family, and I'm not looking to stroke out. And that's why you've seen me change over the last 7 months, and lose all of my extra weight and move to a heart-healthy diet.
I portion everything, eat mindfully, and put my health before anything else.
This is a typical heart-healthy meal for me. I'll have a toasted turkey sandwich (with fat-free cheese and light whole-grain bread) and a cup of light soup.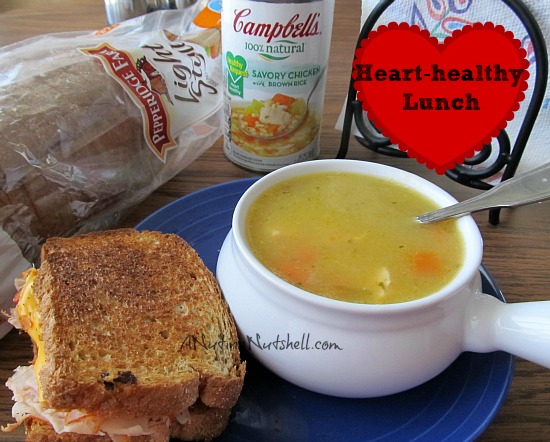 Does that mean I don't ever indulge in anything unhealthy? Psssssht, of course I do! But I do it in small amounts, not all the time, and often just by modifying foods to make them healthier.
And the best part of all is that my blood pressure and cholesterol are completely back to normal without medication.
I addressed my heart!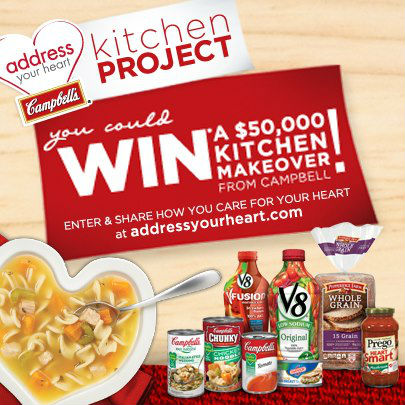 Share how you care for your heart in the kitchen with a photo, story or tip, and you'll also be entered in the Campbell's Address Your Heart Kitchen Project Sweepstakes where you could win a $50,000 kitchen makeover!
Follow the steps below and share how you care for your heart to participate in Campbell's contest and you could win a $50,000 kitchen makeover. Contest Rules & Prize Page.
Step 1: Submit a photo below that shows how you care for your heart
Step 2: Fill out the information required including your name, email address and zip code.
Step 3: Write a short contest entry (up to 200 words) that corresponds with the photo and share how you care for your heart. Please be honest and sincere with all your thoughts and remember to tell us in 200 words or less.
Step 4: Confirm you've read the Official Rules.
Step 5: Log in through your Facebook account.
Step 6: Submit your contest entry.
You can share your contest entry on Facebook, Twitter, Pinterest and visit AddressYourHeart.com for recipes, tips, and downloadable coupons for heart-healthy products from Campbell.
This is a sponsored conversation written by me on behalf of the Campbell Soup Company's Address Your Heart initiative. The opinions, text, and images are all mine.