Remember when "the most fun ever had in a backyard" bounced into my own backyard?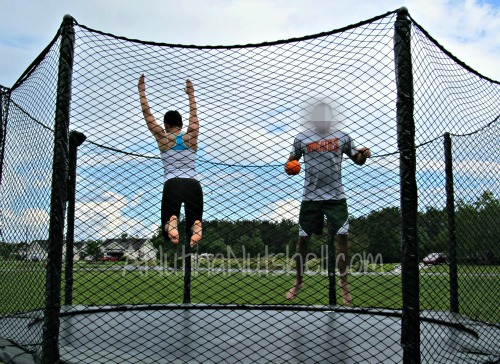 My kids and I have spent hours upon hours jumping and laughing on this AlleyOop 14′ Variable Bounce trampoline! We made up the most ridiculous games, most of them involving a mini-basketball.
Well, when I found out they made an actual basketball hoop for trampolines, I knew I had to have one, so a couple of weeks ago I installed it: the AlleyOop ProFlex Trampoline Basketball Set from JumpSport.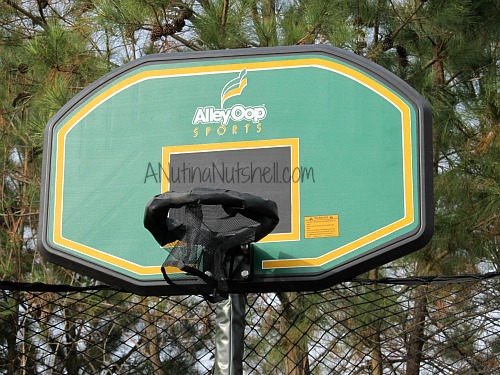 It's a pretty simple process to ready the backboard for mounting, and I did most of the nuts and bolts work while indoors.  Clamping it securely to a trampoline netting pole outside took about 30 minutes at the most.
And then I got right 'round to business!
She shoots, and shoots, and shoots and shoots… and finally fortheloveofthegame scores!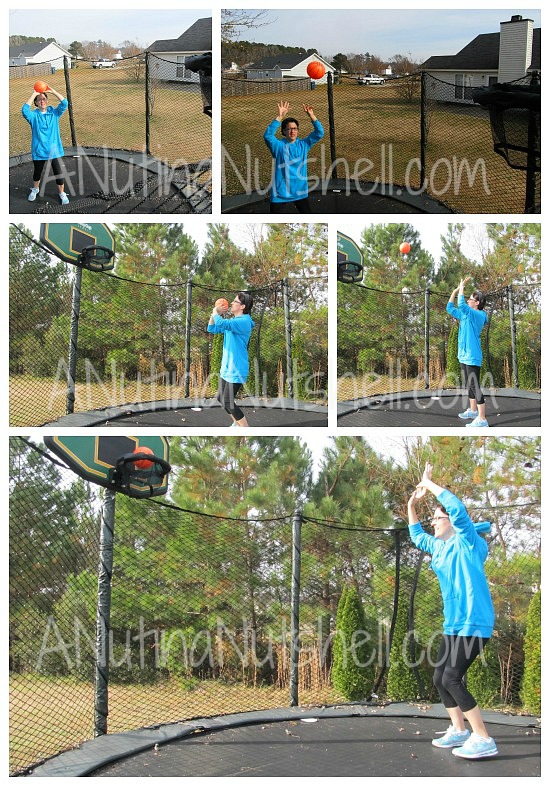 And then she got cocky.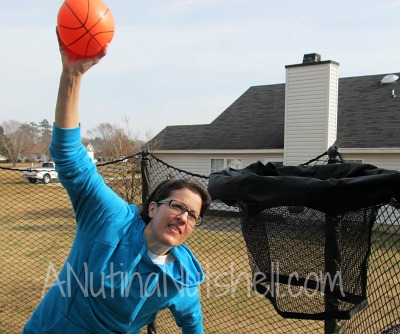 Which felt as cool to her as it looked to ABSOLUTELY NO ONE.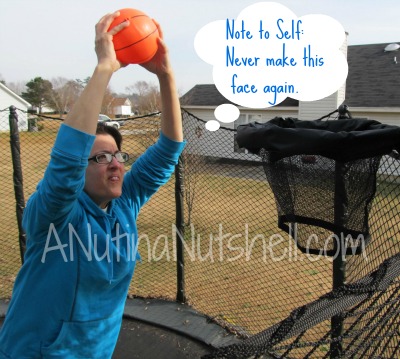 But hey, at least she scored a point or two. Awkwardly.
By the way, the backboard is seriously heavy-duty and it withstood all my crazy shenanigans, so I know when my son gets here and gets all tough-man with it, I don't have to worry. Plus the hoop is cushioned for all you dunk wanna's.
And if you really insist on seeing more of (my first time shooting baskets while jumping ever in my entire life so throw me a bone) adventures, there's a quick snippet of that on the video.
When I said this trampoline was the most fun ever had in a backyard, I meant it. And having a basketball hoop on it now is the cherry on top.
Buy It! The AlleyOop ProFlex Trampoline Basketball Set sells for $159.95 (with free shipping) from JumpSport.
Coupon Code: 50% off a basketball hoop with the purchase of a trampoline using code ABLOG50COUPON through December 25, 2012.
So who's up for a game of PIG, Around the World or a full-on basketball game on my trampoline?
A sample was provided for review, but my thoughts, opinions and ineptitude are my own.