This is a sponsored post by AMDRO. See full disclosure statement below.
A couple of weeks ago, I showed you how I was using the AMDRO PowerFlex Pest & Weed System to rid my life of unwanted vegetation. Well, I've also been using the system to send wee pests of the insect world to their demise.
Cuz remember, it's an all-in-one system with quick change cartridges to target specific problems.
Bugs! Weeds! Neighbors? Ha.
Ahem.
 I hate bugs. Hate bugs. Hate.
So I sprayed every last inch of space around my foundation with the Perimeter Outdoor Insect Killer. I friggin' love the battery-powered continuous spray feature; I was able to just keep on sprayin' on all the way 'round the place.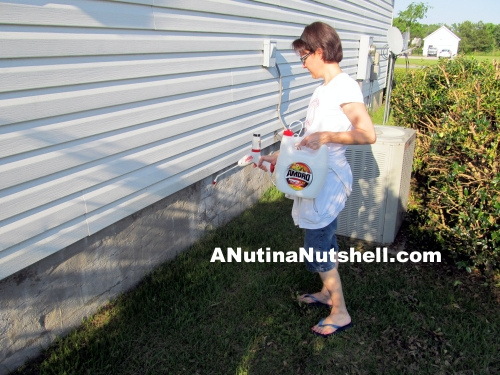 Lest you've forgotten…
3 Steps to Use the All-in-One AMDRO PowerFlex Pest & Weed System 

1. Fill the reusable one gallon tank with clean water.
2. Twist in one of the four patent-pending cartridges.
3. Spray to treat target pests or weeds. Quickly switch between projects by removing the cartridge, flushing the applicator for ten seconds with water from the tank, then twist in a new cartridge.
After spraying the out of doors,  I moved the party inside and popped in the Home Pest Indoor Killer concentrate.
For the kill! (Actually, there's nothing to kill, but I aim to keep 'em killed. Once they cross the threshold, they're done for.
Done for, I say!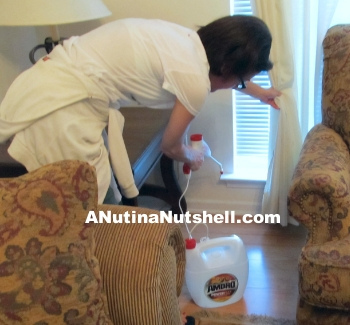 The AMDRO PowerFlex Pest & Weed System includes four (4) AMDRO PowerFlex cartridge options: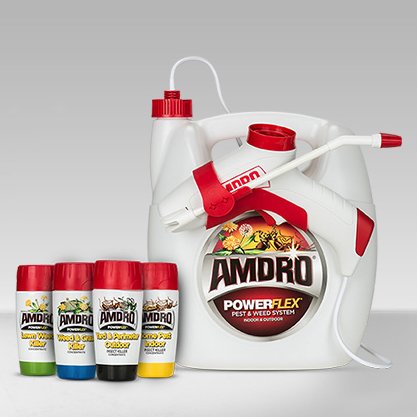 1. Weed & Grass Killer Concentrate
2. Lawn Weed Killer Concentrate
3. Yard & Perimeter Outdoor Insect Killer Concentrate
4. Home Pest Indoor Killer Concentrate
Buy It and Try It! AMDRO PowerFlex products range from $11.99 to $14.99 and are available at The Home Depot, Walmart and select regional retailers.
Which one of the four AMDRO concentrates would you love to get your spray on with first?
Central Garden & Pet partnered with bloggers such as me to help educate us all about their AMDRO products. As part of this program, I received compensation. They did not tell me what to purchase or what to say about the use of the products. Central Garden & Pet believes that consumers and bloggers are free to form their own opinions and share them in their own words. Central Garden & Pet's policies align with WOMMA Ethics Code, FTC guidelines and social media engagement recommendations. A winner will be chosen by random and gift card fulfillment will be handled by a third party.