One of my favorite comfort foods is American goulash Midwest style since it soothes some of the Michigan homesickness I feel now and again.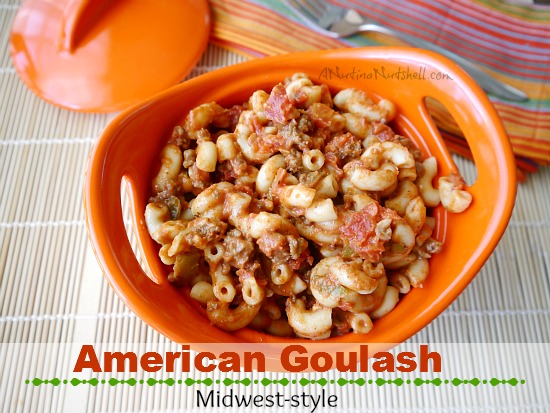 When I make this, I make a lot. Two casserole dishes of a lot.
And that made it easy for me to do a tomato taste test, because I needed two cans of diced tomatoes, so I just used a different variety in each half. The problem is that I couldn't decide which one I liked best.
Could.not.decide.
So I ended up mixing the whole big lotta together and getting twice the flavor! (Recommended.)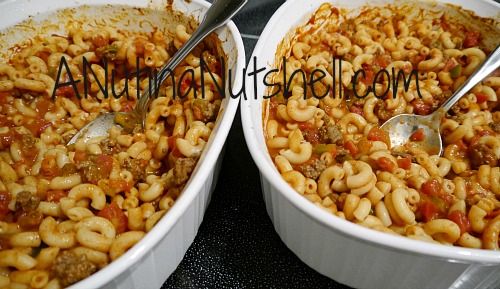 American Goulash (Midwest-style)

Ingredients
1 1/2 pounds lean ground beef
1 (16 oz) box elbow macaroni
1/2 yellow onion, chopped
1 green pepper, chopped
2 tsp minced garlic (or 2-3 cloves fresh garlic, chopped)
2 (15 oz) cans tomato sauce
2 (15 oz) cans diced tomatoes
1/2 cup Philadelphia Italian Cheese & Herb Cooking Creme
3 T Worcestershire sauce
2 T chili powder
1 T salt
1 T sugar
Dash ground pepper
Dash garlic powder
Dash onion powder

Directions

1. Cook and stir the ground beef, breaking it into crumbles as it cooks. I use a really lean beef so I don't normally have to drain any fat when it's done, but if there is any, it should be drained. Stir in the onion, garlic, and green pepper and cook until onions are softened.

2. Cook elbow macaroni according to box directions; rinse with cold water (to stop it from cooking further) and drain.

3. Spray two large casserole dishes with cooking spray. Add tomato sauce, diced tomatoes, Worcestershire sauce, cooking creme, and spices; mix together well. Stir in ground beef, then stir in pasta, combining all ingredients well.

4. Bake covered at 350 degrees for about 45 minutes.
Mmmmmmm, so hearty and delicious!