There has been so much buzz about the antioxidants and preservatives in food lately, that it got me wondering about it myself. So I attended a webinar last week to get some more information, and I wanted to be sure to share that with you.
Preserving our food maintains the taste, freshness, safety and natural color of our food as well as greatly reduces food waste, and I think we can all agree on the importance of those things. But let's talk about the nitty gritty details.
Facts About Antioxidants and Preservatives in Food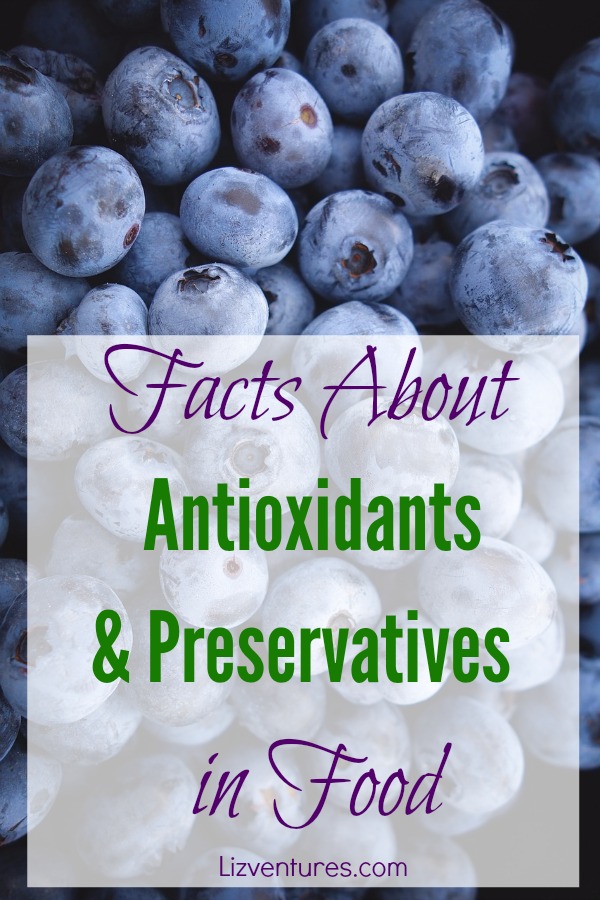 How do we preserve our food?
Canning, freezing, refrigeration and adding certain ingredients to our foods are all preservative measures.
What is an antioxidant?
Antioxidants are substances that help prevent oxygen from damaging other molecules.
Antioxidants in the body help protect cells by fending off environmental toxins and stress, slow the aging process, boost our natural defense systems and help combat diseases.  Our bodies regulate and balance the amount of antioxidants in our cells so that the number doesn't fall too low.
Natural antioxidants are contained in certain foods and can help protect common food ingredients, like fats and oil, from spoiling and going rancid. There are also man-made antioxidants.
Antioxidants Naturally Found in Food
Alpha-tocopherol (aka Vitamin E) – Found in nuts, seeds and leafy green vegetables – helps to protect fats and oils in food from spoiling
Ascorbic Acid (aka Vitamin C) – Found in citrus fruits, sometimes also called sodium ascorbate –saves breads and packaged meat from spoiling
Citric Acid – Found naturally in citrus fruits – used to preserve sliced fruit
Man Made Antioxidants in Food
BHT: A tasteless, colorless man made antioxidant is used to help maintain freshness in grain-based foods like crackers and cookies
TBHQ: A tasteless, colorless man made antioxidant used commonly to keep vegetable oils and other packaged foods fresh
Natural v. Man Made Antioxidants
Man made antioxidants, like BHT and TBHQ, are used because sometimes natural antioxidants throw off flavors of foods we know and love, or because a certain antioxidant might perform best with a certain food
One type is used over another based on performance – for example TBHQ is often used in fryer oils as it is more stable at higher temperatures than BHT, thus preserving these foods more effectively
Natural and man made antioxidants are sometimes used together in our favorite foods
Food makers, like ConAgra Foods, choose certain preservative ingredients based on what they know will deliver the best flavor, while keeping your foods safe and fresh
Here's a great video which helps to explain it in a simple and entertaining way:
All antioxidants,  whether man-made or natural, are safe for your food and your body when consumed as part of a balanced diet, and they help maintain the taste and quality of the foods you love.
Did you learn anything new about antioxidants and preservatives in food?
Information for this partnered post was provided by The Motherhood and ConAgra Foods.