This post brought to you by Arby's. All opinions are 100% mine.
Get it while you can, because it's absolutely worth getting once, twice and even more would be nice!
I'm talking about the new Arby's KING'S HAWAIIAN roast beef sandwich which is available for a limited time at Arby's, and is one of the tastiest sandwiches I've ever eaten there.
So far, I've had the one without Swiss cheese twice, and I am absolutely certain there's another one in my future… soon. It's so darn good!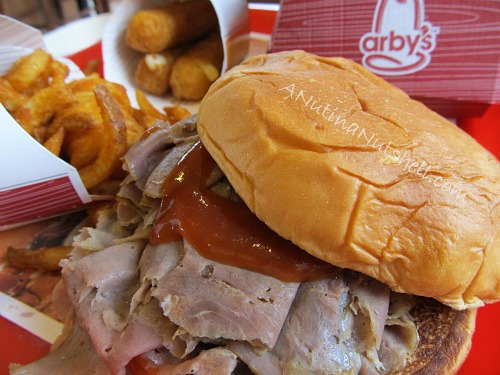 Arby's is excited to announce a new twist to the beloved classic Roast Beef sandwich! For a limited time only, Arby's is partnering with the iconic KING'S HAWAIIAN brand to introduce two irresistible new sandwiches to their menu, the KING'S HAWAIIAN Roast Beef and KING'S HAWAIIAN Roast Beef & Swiss. One bite of this delicious new flavor combination and customers will experience Roast Beef Paradise, or as Arby's calls it, Roast-Beef-atopia!
I was sold on the sandwich on bite one. The subtle sweetness of  the KING'S HAWAIIAN buns was the perfect complement to the salty roast beef meatiness. Oh man, that flavor combination is good!
And there's 1/3 more roast beef on the sandwich too, and it's a noticeable difference! This is a hearty meal!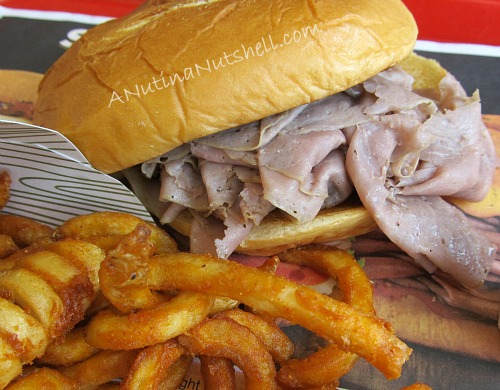 Served hot, and made fresh to order, there are TWO new KING'S HAWAIIAN sandwiches to choose from:

– Arby's KING'S HAWAIIAN Roast Beef sandwich comes with an extra helping of freshly sliced roast beef, piled high on a soft and slightly sweet KING'S HAWAIIAN bun

– Arby's KING"S HAWAIIAN Roast Beef & Swiss sandwich has the same extra helping of roast beef and a KING'S HAWAIIAN bun, topped with Swiss cheese, crunchy pickles and creamy Dijon spread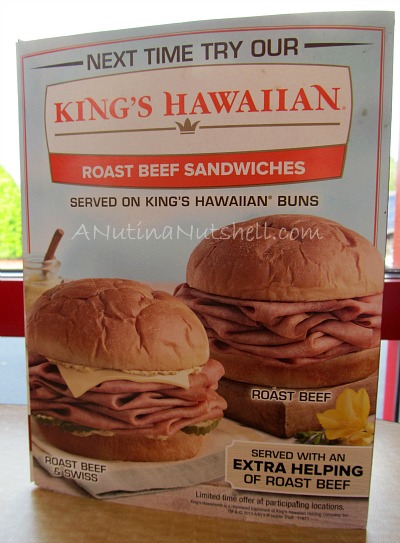 Celebrate the Roast-Beef-atopia deliciousness by entering the Arby's Hawaiian Getaway Sweepstakes where you could win a trip to Hawaii for 2! You'll enjoy 4 nights in Honolulu along with a surf school lesson!
Enter between April 29 and May 26, 2013 for your chance to win!
And at the very least, get yourself into Arby's and experience the Roast-Beef-atopia for yourself. Delicious!