My boyfriend loves to drive. He'd drive all day if he could, so last weekend we took an 8 hour road trip to Atlanta for the Type-A Parent conference, and the star of the show was this guy ➞ AT&T Unite for GoPhone by NETGEAR, an oh so sweet mobile hotspot.
(Although the driver wasn't bad either.) 😉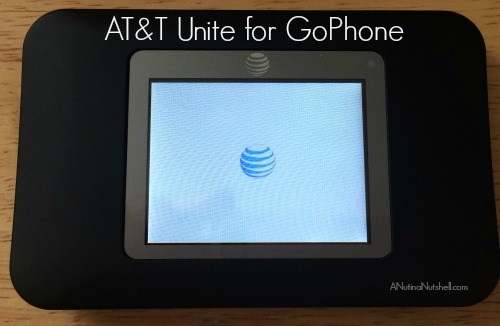 This post was part of a compensated campaign. All opinions are my own.
I set up a mobile office in the backseat with the WiFi hotspot device, my laptop, power inverter, pillow, blanket, snacks and drinks. And I was buckled in for safety.
Go BIG-mobile or stay home.
You guys, mobile WiFi is the awesome.
Except for a lunch break and a potty and gas stop, I worked online all ding-dong day. The WiFi signal and secure connection held steady the entire time, and I even hosted a Twitter party from the road!
But back to the AT&T Unite for GoPhone… I can use the mobile hotspot on an as-needed basis without a contract. Data without a contract, y'all!
I could get a contract if I wanted to, but it's not necessary. With the prepaid convenience of GoPhone cards, I just load a specific amount of data at a time onto the mobile hotspot (through my computer) before I travel. In the months where I'm not traveling, I don't pay for data at all. It's a sweet deal.
While at the conference I used the mobile hotspot the entire time, so I had a reliable and secure connection. I never had to worry about the dangers of public WiFi or the painfully slow internet for which hotels are notorious.
Things you should know:
It's a 4G LTE/4G device where available, so it's super speedy!
Up to 10 devices can be connected to the mobile hotspot at one time, and you can set up temporary guest passwords for security.
It's super easy to use and has an intuitive touchscreen. It took just a few minutes to set up my account and turn it into an active Wifi hotspot with its own unique name. Then I simply looked for it in my laptop's available connections, entered my password and I was online!
The device can be used for up to 10 continuous hours, although the biggest workout I gave it was 8 in a row. To conserve your data, turn off your wireless devices and/or the unit itself when not in use.
I was the hotspot. And the hotspot was me.
You can be the hotspot too.
Visit the AT&T Unite for GoPhone by NETGEAR product page for specifics on this device, and be sure to connect with Wifi Family on Facebook and Twitter.
Can you see yourself using the AT&T Unite for GoPhone mobile hotspot? What feature do you love most?