When game day rolls around next week, you'll probably find me in front of the television, but only because of all the snacks I'll be enjoying! I don't even know who the two teams are that are playing, but I did hear that the two coaches are brothers. Funny the things that stick…
Usually for my Super Bowl party, I make pizza, wings, nachos, meatballs, and chili, and I'll definitely be doing that this year too.  But I had a couple packets of Fleischmann's RapidRise Yeast in the cupboard, so I thought I'd make a snack bread for the chili instead of my usual (and boring) crackers.
Besides, made from scratch always tastes better than store bought everything!
I remember my mom hosting a lot of parties when I was a child and she always had a huge array of homemade foods spread out on the counter for her guests. She would quickly make frozen dinners for us on those evenings, but her guests would feast like kings. After they had dessert, she would allow us to go into the kitchen and sample what was left. I think that's when I realized what an enormous difference there was between already prepared foods and freshly prepared foods, and a love for baking and cooking began.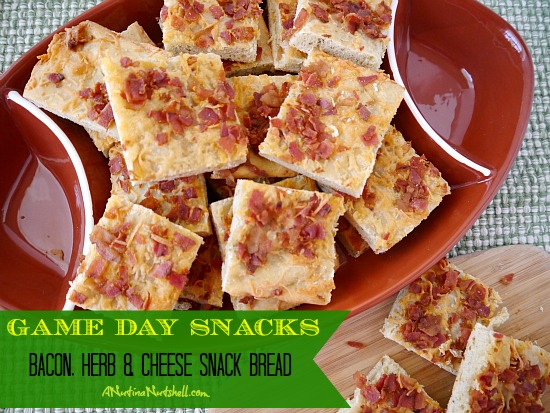 The one thing she never did was bake fresh bread though, so I started experimenting with that when I was in college. Nothing is better than freshly baked bread!
(However, I had never tried a RapidRise yeast before, but Fleischmann's has been an expert in the yeast business since 1868, so if the recipe didn't turn out, I'm pretty sure we'd know who was responsible – moi.)
Bacon, Herb & Cheese Snack Bread

(I used this Fleischmann's Breadworld recipe.)

Ingredients
4-1/2 cups all-purpose flour
2 envelopes Fleischmann's® RapidRise Yeast
2 teaspoons Italian Herb Seasoning
1-1/2 teaspoons salt
2 cloves garlic, minced
1-1/4 cups water
1/4 cup olive oil
2 eggs
8 ounces (2 cups) shredded cheese blend (cheddar jack, cheddar mozzarella, etc…), divided
10 slices cooked bacon, coarsely chopped

Directions

1. Combine 1-1/2 cups flour, undissolved yeast, Italian herb seasoning, salt and garlic in a large mixer bowl. Heat water and oil until very warm (120° to 130°F); gradually add to flour mixture. Beat 2 minutes at medium speed in electric mixer, scraping bowl occasionally. Add eggs and 1 cup flour; beat 2 minutes at high speed. Stir in 1 cup cheese and remaining flour to make a stiff batter. Spread batter on greased 15 x 10-inch jelly roll pan or rimmed baking sheet with at least 1-inch sides. Sprinkle with remaining cheese; top with bacon. Cover; let rise in warm, draft-free place until puffy, about 30 minutes.

2. Bake at 375ºF for 25 to 30 minutes or until done. Cover loosely with foil during last 5 to 10 minutes of baking if cheese begins to overbrown. Remove from pan; cool on wire rack. Serve as strips or squares, or slice and use for sandwiches.
I cut it into 24 squares (160 calories each), and the flavorful bread bites paired beautifully with the chili. Plus, they were scrumptious on their own as well. Thanks for the recipe, Fleischmann's!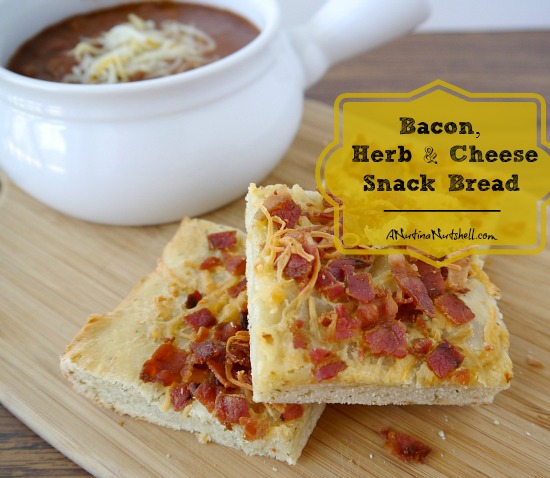 Be sure to enter the Fleischmann's Big Game Pizza Crust Yeast Sweepstakes on Facebook. All you have to do is share your favorite pizza toppings!

Not only is there a grand prize, but there are 50 daily prizes of Fleischmann's Pizza Crust Yeast!


Enter daily thru February 3, 2013.
What's your favorite game day snack?
I participated in a campaign on behalf of Mom Central Consulting for ACH. I received a promotional item as a thank-you for participating.