To my way of thinking, flushing a toilet ought to take everything down and away. No arguments, no talking back. Just take it and go.
But over the last year or two, I'm noticing a 'Bad-et' trend. Public toilets are becoming aggressive.



I shouldn't have to worry the entire time about those motion sensors going off prematurely. One tiny shift or movement out of me and the surly swirly goes rebel wild!  I need to be prepared for that Niagara Falls auto-flush.
Wait, I wasn't ready!
And there is nothing more disgusting than feeling a splashback of water hit you where the good Lord split you. (Or anywhere else for that matter.)
I usually jump forward as fast as I can toward the door to try to escape the toilet's wrath, and if it still manages to give me 'a refreshing spritz', I die a little bit inside.
And I disinfect a lotta bit on the outside.
Bad day on the Bad-et, indeed.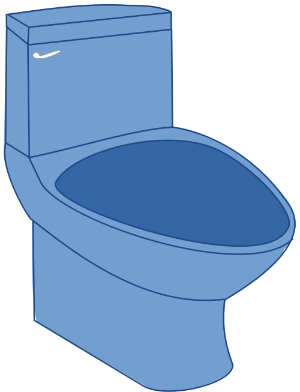 True story with a real 'made-up' word, Bad-et (aka Splashback): The flush that sprays back up and gives you a refreshing spritz.
It's from the Clorox Ick-tionary! It's full of names and definitions for the icky and unexpected moments in life, the kind you can joke about later.
Tell me about one of your back-to-school ick moments for a chance to win $250 from Clorox!

Visit www.icktionary.com to learn the new language for ick and how Clorox® cleaning and laundry products can help you tackle the next icky situation in your home, play games and win coupons while supplies last!
This post is brought to you by The Clorox Company.  I have partnered with them to spread the word about Clorox's Ick-tionary program. To share Ick-tionary terms and real life messes, visit [www.icktionary.com].  All opinions and stories are my own.