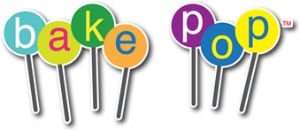 I've read so many horror stories on making cake pops that I had decided never to bother with them. But then I saw the Bake Pop cake pop maker, and thought oh, what the heck.
You use a regular box of cake mix with the set, but the instructions recommend making some changes in how you prepare it to get the best results. I followed their advice. (It makes the cakes more donut-like, less cakey, thus easier to work with.)
The bottom and the top pans clamp together when baking, and the holes in the top are for extra batter to flow from (and it did). When they come out of the oven, you just pop that extra off and you have round cake balls inside.
I also removed that little Saturn-like ring around the middle of the cake balls.
After they cooled, it was time to decorate, and although I wasn't too sure if I'd like that part, it ended up being a lot easier than I thought.
I rolled the cake balls into some melted candy coating, and then I sprinkled my toppings over it while I held and turned the Bake Pop on the stick.
Once they were dipped and decorated, I stuck them into a block of styrofoam to harden completely.
And then I packaged them up in little bundles for gift giving!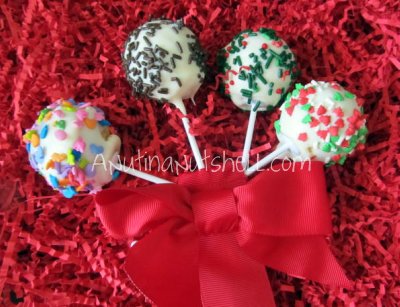 Buy It! The Bake Pop cake pop maker set is priced at $27.98 (incl. s&h) and would make a fun holiday gift!
GIVEAWAY!
One lucky winner will receive a Bake Pop cake pop maker! (After you enter here, head over to Thanks, Mail Carrier. She's giving a set away too!)
(Rafflecopter entry form below is in javascript so it may take a few seconds to load.)
I received a media sample for review. All opinions expressed in this post belong entirely to me.