From the moment I set eyes on the historic Balsam Mountain Inn nestled in the mountains of North Carolina, I fell in love. The old-time charm and quaint turn-of-the-century feel warmly welcomed me before I had even stepped inside.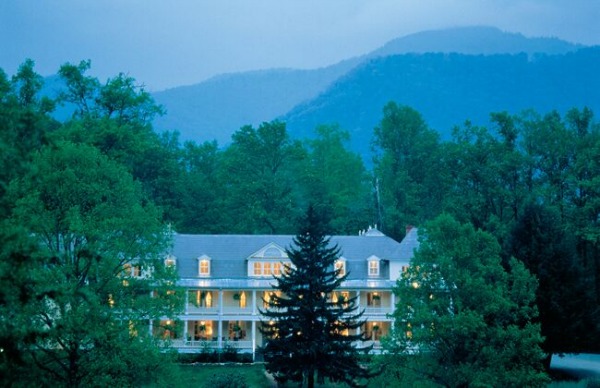 The 100-foot porch of the Balsam Mountain Inn is lined with cozy rocking chairs where guests can just relax and take in the majestic mountain views. It's idyllic; it really is.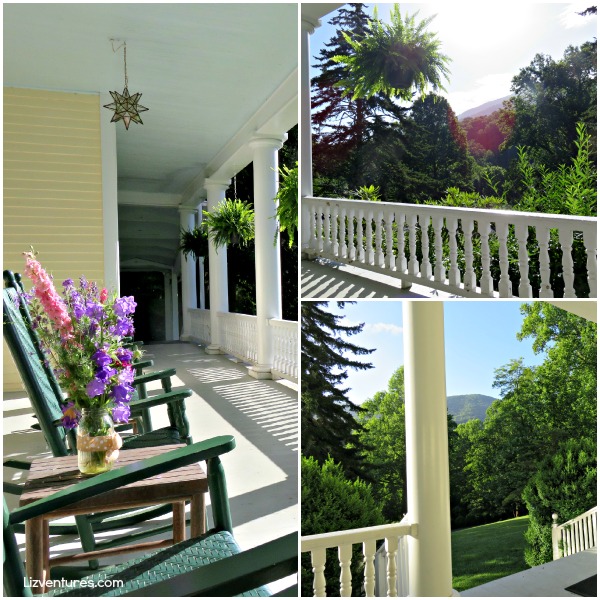 And it's just as lovely inside with inviting areas to sit and chat. There are also oodles of games and puzzles to put together. What you won't find is technology (no televisions and very limited WiFi connectivity); it's all about stepping back in time and enjoying the simple pleasures in life.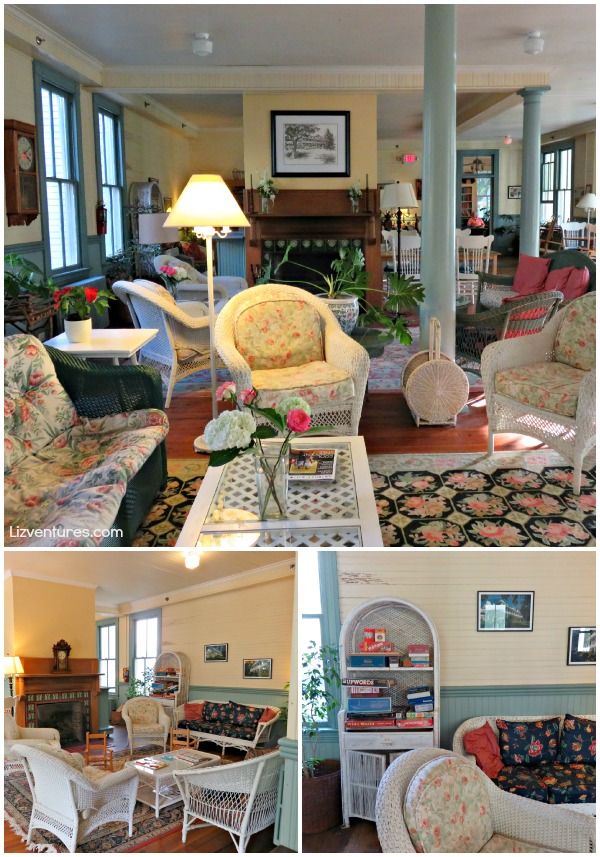 There are three types of rooms: suites, bedsitting rooms and regular rooms, and all of them are uniquely decorated. Upon check-in, guests can peek at the vacant rooms (if there are any) and choose their favorite to stay in. Each room has a private bath with either a clawfoot tub or a step-in shower. (Just a heads up that the sink faucets are spring-loaded, so you'll have to hold them on for a continuous stream of water.)
When I checked in, I asked for a room that was flooded with lots of natural light, and they suggested the Tower Suite. It was absolutely perfect!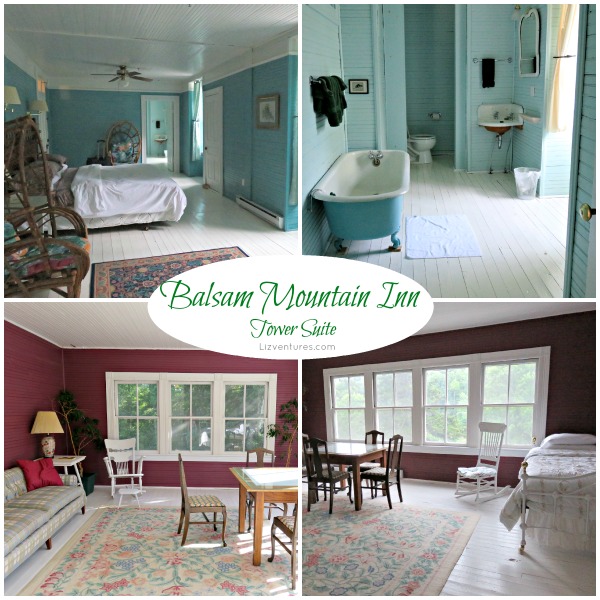 So many windows and such an amazing view!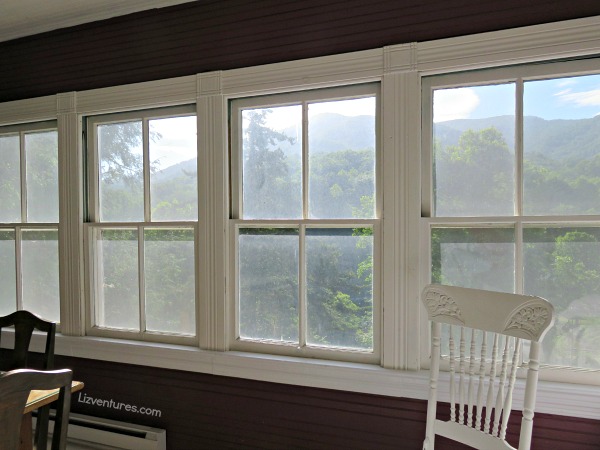 The age of the inn means the floors are creaky and the walls are very thin, so quiet hours are in place after 10 pm. There's also no air conditioning on the property, but windows are kept open and the elevation of 3500 feet keeps temperatures mild. I was on the second floor and was perfectly comfortable day and night.
Fun tip: Be sure to take a look inside the guest room journals. There are some wonderful entries to read through!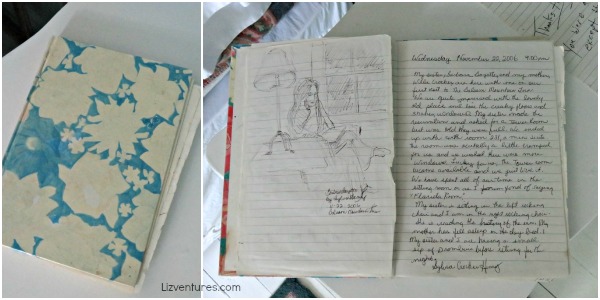 The Balsam Mountain Inn opened in 1908 to accommodate the summer railway guests, and the hallways and staircases were built extra wide to accommodate the large steamer trunks so common to that era.
Today the hallways are lined with beautiful antiques, handmade treasures and cozy rocking chairs.
Love.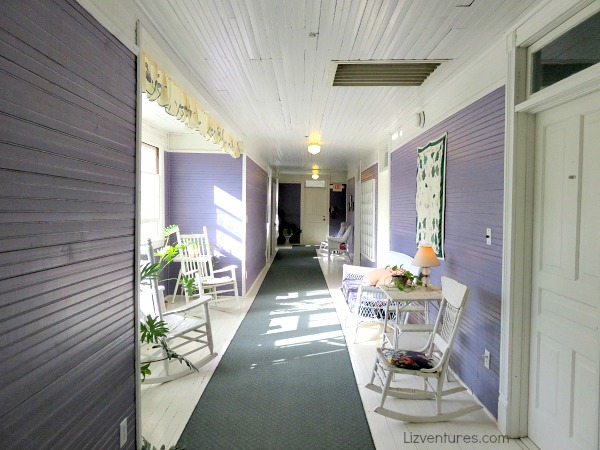 Breakfast is included in the room rate and is served from 8-10 am each morning in this delightful dining porch. Just walking in here each morning brought a smile to my face. (Dinner is also available beginning at 6pm, but is not included with a stay.)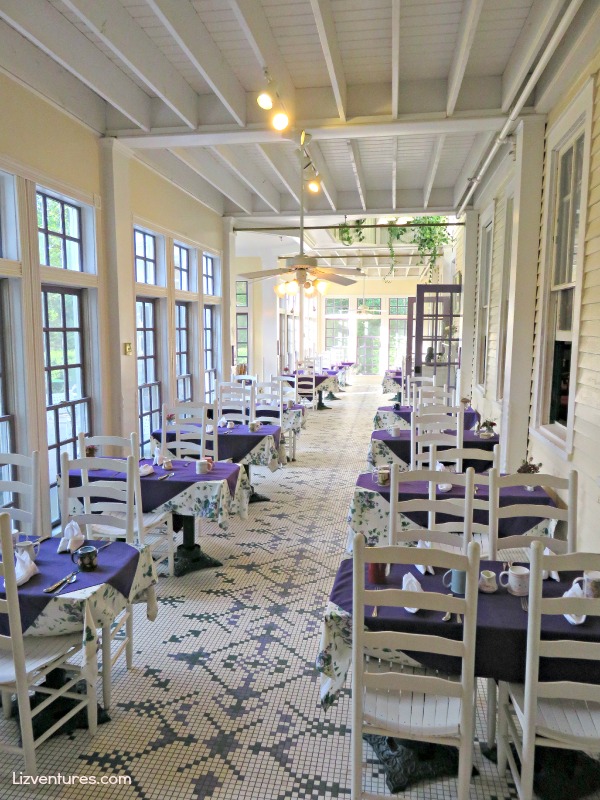 There is lots to see and do in Jackson County (look for more posts about that), but if your stay coincides with the monthly Songwriters-in-the-Round event, it's a great way to kick back and relax for the evening right in the Balsam Mountain Inn itself. It was very entertaining!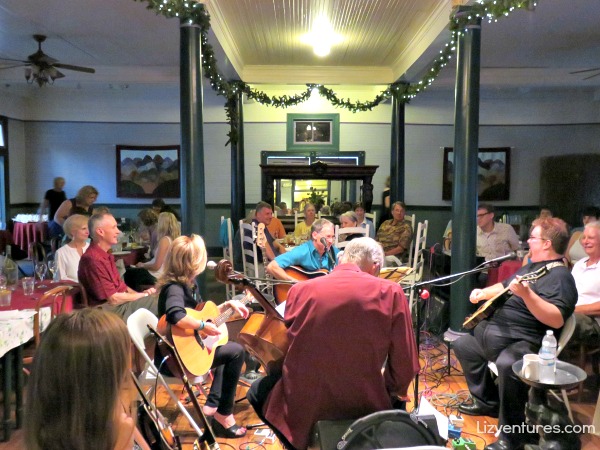 I hope you have the chance to stay at "The Grand Old Lady of Balsam".  A modern hotel, it is not. And that's exactly what I loved the most.
For reservations and info, visit www.balsammountaininn.net.
My stay was arranged as part of a media FAM trip. All opinions are my own.