Ban® Total Refresh™ Cooling Body Cloths are selling out like crazy! They're actually being sold on eBay now because they're such a hot commodity…. I mean "cool" commodity.
The refreshing wipes cool skin on contact and leave it feeling perfectly fresh through a translucent, superfine powder that never leaves sticky residue. (It's an unprecedented, proprietary PowderSilk™ technology imported exclusively from Japan.)
It's obvious why the wipes are flying off store shelves!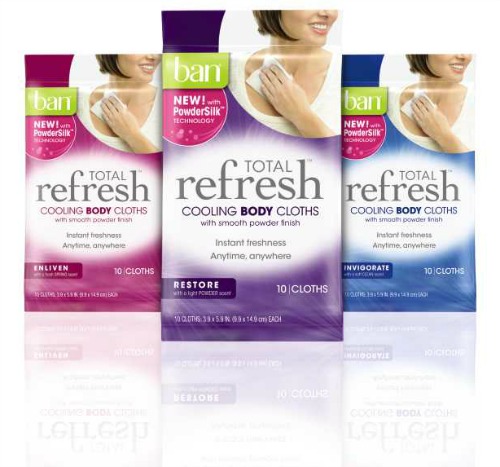 At the risk of looking like an idiot, I'm going to show you the moment I used one for the first time. My expression of nirvana wasn't any sort of lame attempt at acting.
It's just that the sensation of cooling is real, and my eyes pretty much rolled back in my head with relief when I placed the cooling cloth on my neck for the first time.  (And my boyfriend is quick on the trigger finger with the camera so he caught it.)
You guys, the instant cooling relief is legit.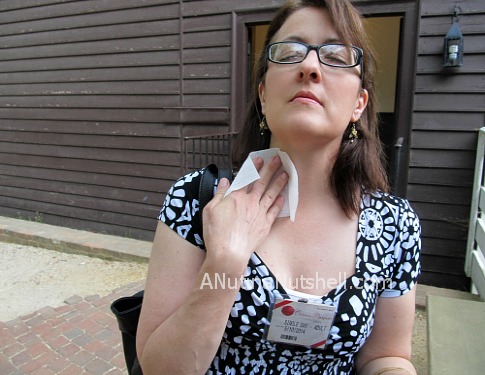 I had been playing tourist outside all day and it was humid and sticky, so I decided to give the Restore (light powder scent) cloths a try. They also come in Enliven (fresh spring scent) and Invigorate (soft clean scent).
It removed my sweat and stickiness completely and left my skin feeling so fresh, invigorated and clean! There's no weird film or residue left behind; it's just a smooth powdery sensation.
The outer package tears open normally, but inside is a resealable foil pouch which holds the cooling cloths themselves. After sampling these and feeling how refreshed they made me feel, I'm absolutely never going anywhere without them again.
Ah-mazing.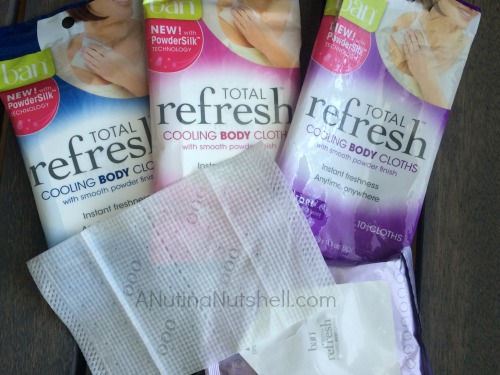 Look for Ban® Total Refresh™ Cooling Body Cloths in the deodorant aisle of grocery stores, drugstores and major retailers (but if they're sold out, check eBay). They're priced at $3.29 for a package of eight, and they're worth every penny in my opinion. I highly recommend them!
Compensation was provided by Ban via MomTrends. The opinions expressed herein are those of the author and are not indicative of the opinions of Ban or Momtrends.