Up until a few years ago, I thought having a bucket list was silly. But then I realized that I was the one being silly. Creating a list of things you still want to experience during your lifetime is exciting! Writing it down and keeping it nearby is even better; the visual reminder may propel you towards accomplishing your goals.
One thing I checked off my list was going ziplining, and I even upped the excitement by riding a zipline roller coaster. That was so cool! That same day I did a free fall from a 68-foot platform. 🙂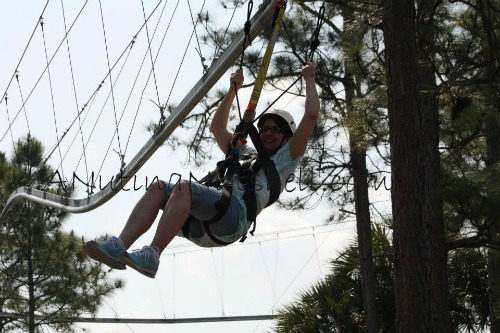 I never would have considered doing any of that years ago because of my "growing pains," weird phantom aches that start in one leg, intensify and spread to the whole leg and then jump to the other leg if I don't take pain relief. The only way to stop the ache is with a pain reliever. (My kids suffer from it too.)
Now when I feel it coming on, I immediately take something to shut it down. Any pain reliever works, but Bufferin® Buffered pain relief tablets are tough on the pain but gentler to my stomach than plain aspirin, so it's a good choice.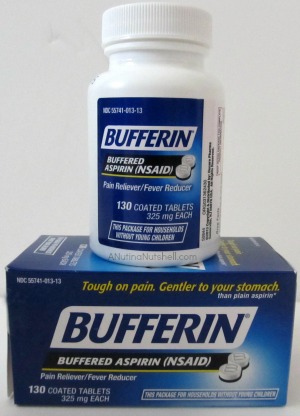 Since I can keep the aches and pains at bay and continue with my daily activities, I'm adding even more items to my bucket list, like stomping grapes, visiting a volcano and going skydiving.
I wrote my wish list items on clothes pins clipped to a bucket. As I complete them, I'll toss them inside the bucket!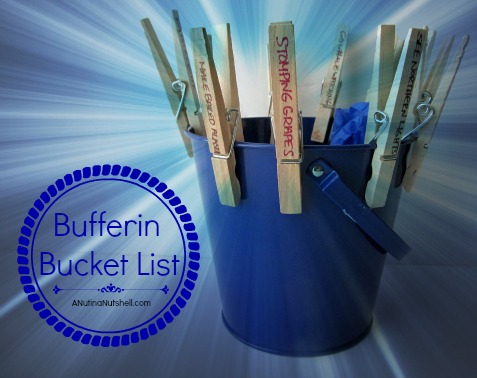 I'm even going to enter the Bufferin Bucket List Sweepstakes to try to win some cash-ola to knock a few things off my list!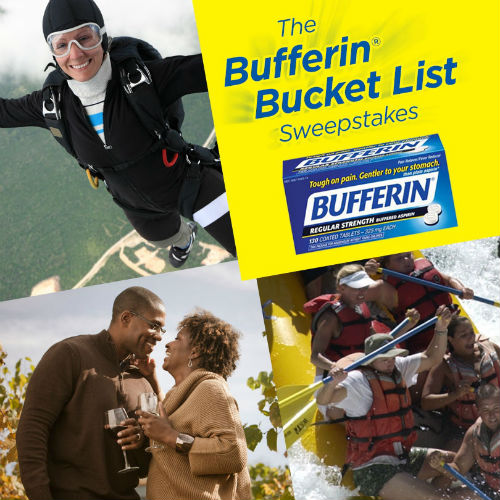 Bufferin is giving away a $1,000 Amex Gift Card and a full-sized bottle of Bufferin to three (3) randomly selected entrants who fill out the official entry form and share their bucket list items.
The sweepstakes runs from February 18 to March 14, 2014. Learn more and enter the sweepstakes at Facebook.com/bufferin
Find Bufferin at Walgreens and Walmart stores nationwide.
Get the latest information on Bufferin at www.bufferin.com.
This is a product-provided, sponsored conversation that contains affiliate links. I received a full-sized bottle of Bufferin® Buffered Aspirin and the craft supplies for my own personal use. All opinions, text and experiences are my own.