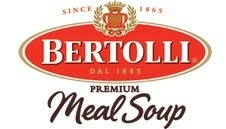 Cooking for one is kinda fun!
But cooking for two is even better, because it means I'm cooking for me now and cooking for me later at the same time!
My most recent two-in-one meal was when I tried Bertolli Meal Soups.  The fresh ingredients are flash frozen to preserve their taste and quality, and the result is a gourmet, restaurant quality soup you can make right at home.
My store had three varieties, and I couldn't resist the Tomato Florentine & Tortellini with Chicken.  I also picked up some garlic bread twists to go with it.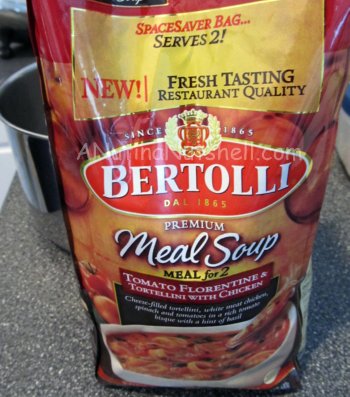 All I had to do was bring the soup package ingredients and one cup of water to a boil, then cover and simmer for 5 minutes.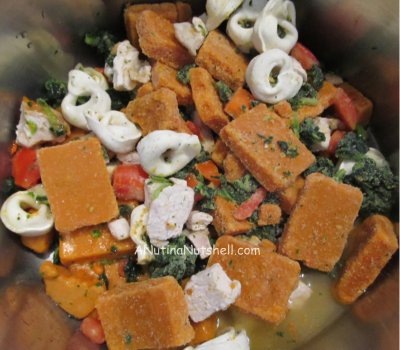 While the soup was simmering, I warmed up the breadsticks. Then I filled a cozy crock with my Bertolli soup, sprinkled it with some shredded Parmesan cheese, and in less than 15 minutes I had a complete and satisfying meal that was every bit as good as if I'd ordered it in a restaurant. No joke.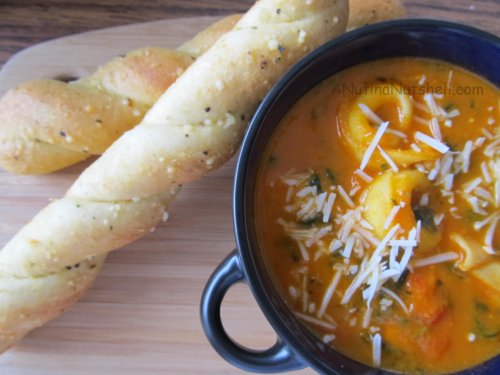 The cheese filled tortellinis were perfectly cooked, the generously sized chunks of chicken were tender, and the rich tomato bisque with spinach and tomatoes was outstanding.  I'm so used to the sub-par taste of store bought soups that I was blown away by how good the Bertolli Meal Soup was.
I do have to admit that I initially had sticker shock when I saw the price. It was just less than $7 at my store on sale, but now that I've tasted it and know how yummy it is, I can see that it's totally worth it. Plus it makes two meals!
Will I buy it again? Actually, yes. I definitely will!

Look for Bertolli Meal Soups in the freezer aisle of your grocery store. To find a location near you and for more info check out the Bertolli website. Connect with Bertolli on Facebook and Twitter too.
I was compensated by Bertolli to participate in the Weeknight Meal Special Challenge. All opinions are my own.