If you're an internet-savvy individual – as I suspect you are – you have probably heard by now about Reddit. It calls itself "the front page of the internet", and in a few words, it is a massive messageboard where users can submit, vote on, and comment on content.
There is a subtopic board (called a subreddit) for just about every subject and hobby you can think of, and even some that you can only shake your head at and mutter, "Of COURSE that's a thing." (Case in point: /r/ledootgeneration, which is about a trumpet-playing skeleton named Mr. Skeltal who scares people if they don't upvote his pictures.) The internet is weird, man.
Being a Reddit alum myself, I've put together a Best of Reddit list just for you! Let us begin.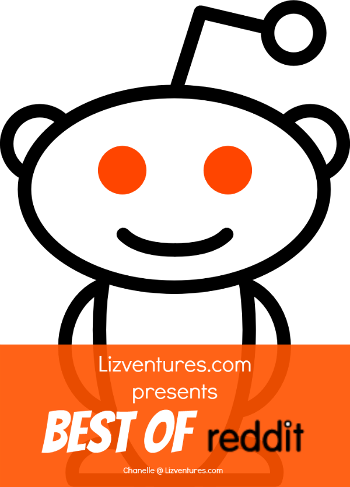 1. Seeing all the funny stuff before everyone else does
You know all those funny memes that you see shared over and over again on Facebook? Well, chances are that they originated on Reddit. If you hang out on Reddit, you'll see them first and feel pretty hip.
2. AMAs (a.k.a. Ask Me Anything)
This is a feature where celebrities and other interesting people log on for an hour or two to answer questions from Redditors (Reddit users). Special guests have ranged from Bill Murray to an anonymous McDonald's employee answering behind-the-scenes questions about McD's, and President Obama even did one!
3. /u/Poem_for_your_sprog
/u/Poem_for_your_sprog is one of everyone's favorite Redditors. (The /u/ stands for user.) He pops up randomly and writes catchy, rhyming poems in response to other people's comments, like the one below about a George Costanza-esque reason a guy broke up with his girlfriend.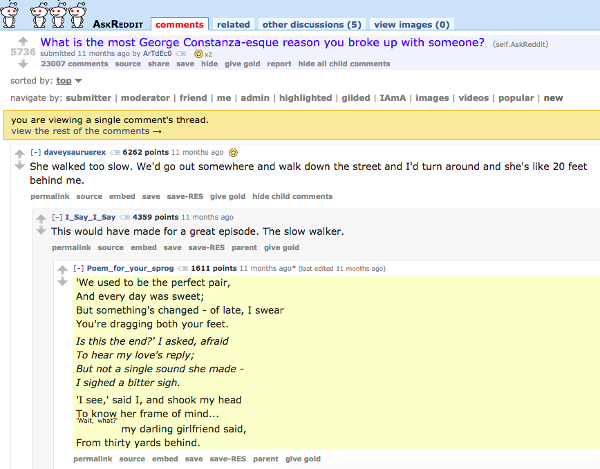 4. /r/mildlyinteresting
/r/mildlyinteresting is a subreddit full of pictures of things that are, well, mildly interesting. In fact, posts can be removed for being TOO interesting!
5. /r/FloridaMan
Have you ever noticed that a lot of the ridiculous headlines you hear on the news begin with the words "Florida Man"? /r/FloridaMan is another subreddit dedicated to the stunts and antics of the citizens of The Sunshine State.
As you can see, there truly is something for everyone on Reddit. Some of the funniest things I've ever seen or read have been Reddit submissions. However, it's not just for jokes; there's also no shortage of inspirational stories, cute animals, and good advice.
Have you ever posted anything on Reddit? How did it go?