I'm really not a breakfast for breakfast girl.
I know it's the most important meal of the day, and since I'm currently in weight loss mode, I need to keep those pistons popping!
So I try to eat it… especially since I know this month is Better Breakfast Month.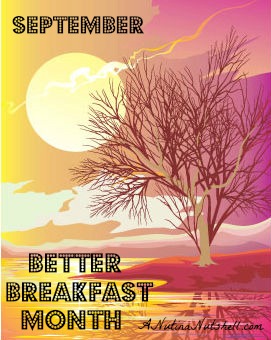 This Ham Scramble is my favorite breakfast right now. Actually, I make it for lunch and dinner too. I'm a little obsessed.
It is so full of warmy goodness and yum!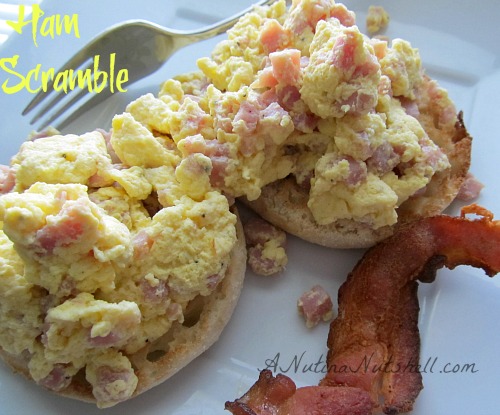 Note: The recipe calls for real eggs, but I'm an egg substitute girl, so I use those. I also simplify it most of the time all the way down to just eggs, diced ham, freshly ground black pepper, and a sprinkle of Parmesan cheese. (More diet friendly that way.)
But here's the original recipe that I got from Hormel, in case you think how I like to make it is waaaaaaaaaaaay too boring for you. 😉
Ham Scramble
Ingredients
1/4 cup butter or margarine
2 cups Cure 81® Boneless Ham, chopped
2 tablespoons chopped green onions
8 large eggs, beaten
1/2 cup sour cream
2 tablespoons grated Parmesan cheese
1/2 teaspoon salt
1/4 teaspoon pepper
3 English muffins, split, toasted and buttered
Directions
1. In large skillet, melt butter over medium-high heat. Add ham and onions; cook, stirring constantly, until onions are tender.
2. In bowl, beat together eggs, sour cream, cheese, salt and pepper. Add to ham mixture. Cook, without stirring, until mixture begins to set on bottom. Draw spatula across bottom of skillet to form large curds. Cook, stirring occasionally, until eggs are set but still moist and glossy.
3. Immediately divide egg mixture evenly among toasted English muffin halves.
Are you a breakfast for breakfast person? What's your favorite breakfast meal?
I'm a Hormel Foods ambassador, and Hormel provided recipe inspiration and thought starters to me, but all content is completely my own.