I wish my daughter was still little, because she would love these Bratz dolls. They wear fun clothes, shimmering makeup, and have long, luscious locks just waiting to be styled in countless ways.
This is the doll that showed up at my house so I could take a closer look. Her name is Yasmin, and she is one of the available dolls in the Bratz on the Mic sets.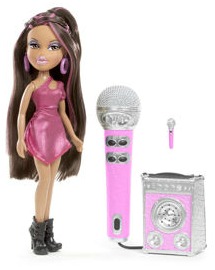 Yasmin has hair to the back of her knees, and it is fab-u-lous.  Look at how she has it styled. Sweet!
And look how long it is – down to her knees!
Yasmin comes with her own microphone, and a microphone and speaker for you! (The mic works, by the way.) I totally sang my little heart out to test it. There are two songs already loaded on the mic, and there are two different sound effects for you to try as you sing.
I couldn't really tell what the sound effects were doing to my voice, but then again, I was too busy belting out random, goofy lyrics to hear the music track clearly.
I love that the doll and mic come together, because if kids don't want to use them in tandem, there would be lots of fun ways to use them separately!
Buy It! Bratz on the Mic sets are available for $34.99 at Little Tikes, and are also available at Amazon
!
Enjoy this $3 off Bratz coupon too!
GIVEAWAY!
One lucky reader will win a Bratz on the Mic doll and mic. (Actual doll set may vary.)
(Rafflecopter entry form below is in javascript so it may take a few seconds to load.)
I received a media sample in order to facilitate the review. All opinions expressed are my own.