I'm organizationally challenged, to say the least. I fight a battle against my inner haphazardness every. single. day.
I've read books and magazines on how to tame it. Some tips work, most don't.
But having a paper planner…that works.
It goes with me everywhere. It's the key to my survival, and it's the life support to my blog's survival.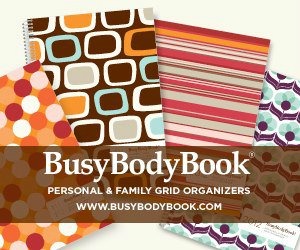 I've tried online planners, and they don't work for me at all. I like having a paper planner right in front of me all the time. No need to turn on the computer to take a quick peek at something, and never a worry that I can't access my notes due to a computer failure or power outage.
And my planner of choice is the BusyBodyBook Organizer. It's the best, and I'm going into my third year of using one.
One of the most brilliant parts of the planner is the film laminated cover on the front and the back. I don't drink coffee, but it's saved me from more than a few Diet Coke spills, believe me!
On the inside, what I love the most about BusyBodyBooks is that they have 5 untitled side by side columns, and you can label them any which way! School subjects, family members, work projects, meal planning, etc.
I use my planner mostly for blog organization, so I have PR Posts, Personal Posts, and Travel. The last two columns I use as open-ended places to add in things like phone calls, appointments, and other reminders to myself.
It also has this nifty little bookmark which fastens securely but can be moved to mark the current week.
There are nice big pockets in the front and back of the planner. When I travel, I tuck in notes for things I need to write about while away.
I also love the month-at-a glance. I put my conference trips, press trips, and large blog events in there. I can quickly see my big picture calendar for the month, and assess my workload and availability.
Geez, reading this back makes me sound almost as if I'm organized! So maybe I am….thanks to BusyBodyBooks!
Take a test drive for yourself. Download FREE weekly grid sample pages!
Also available from BusyBodyBooks is a weekly fridge pad with 52 sheets ($12.95)

and a wall calendar ($14.95).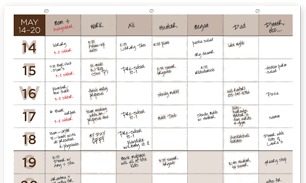 Buy It! The BusyBodyBook Organizer sells for $17.95 and is available in these two adorable patterns for 2012!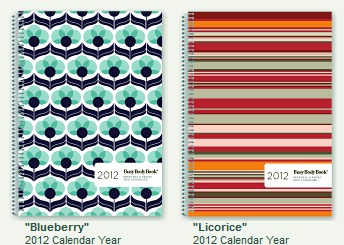 GIVEAWAY!
Three (3) lucky readers will win the product of their choice from BusyBodyBooks! (After you enter here, head over to Thanks, Mail Carrier. She's giving one away too!)
(Rafflecopter entry form below is in javascript so it may take a few seconds to load.)