I participated in a campaign on behalf of Mom Central Consulting for Cascade. I received a product sample to facilitate my review and a promotional item as a thank you for participating.
You never know what you're gonna get when you open the dishwasher after a cleaning cycle. I'm already grouchy because I despise unloading it, but I tolerate things a wee bit better when the dishes are clean.
Sometimes the angels sing and the dishes twinkle, and then there are the days when you find crud left off on fork tines and glass bottoms.
That makes for a cantankerous kitchen.
I'm using Cascade Platinum dish pacs right now because my quest to be using the best of the best of the best dishwasher detergents will continue forevermore.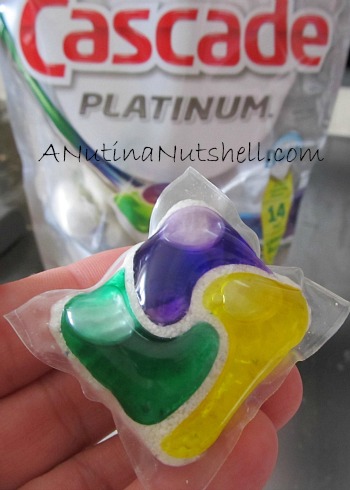 I can't say it cleans any better than what I was using (Cascade Complete), but it certainly cleans as well. And it's made to sparkle your dishwasher insides too. Since I have stainless steel, I sure do like the glisten.
But it's the razzle dazzle it gives the dishes that makes for a happy home. 🙂
I take a lot of food photos, so heaven forbid I discover I don't have clean plates. Gasp!
Speaking of taking and sharing food photos, submit them in the Cascade #MyPlatinum contest on Instagram right now for a chance to win a weekly prize from Whirlpool or the grand prize Platinum kitchen makeover!

FIRST: Register at Cascade's contest page first in order to be qualified, then Instagram users upload a themed photo, hashtag it with #MyPlatinum and tag @MyCascade.

Week 1: My Platinum Plate (Entry Period: 6/3-6/9)
Show us your best dish styled from the sparkling plate up!

Week 2: My Platinum Bite (Entry Period: 6/10-6/16)
Show us your best bite and most creative use of sparkling silverware!

Week 3: My Platinum Clink (Entry: 6/17-6/23)
Show us how you serve up creative concoctions in sparkling glasses. Cheers!

Week 4: My Platinum Table (Entry Period: 6/24-6/30)
Show us your sparkling tablescape for your most special celebrations!

Grand Prize Winner (Entry: 6/3-6/30)
If you need some tips on food presentation and plating, be sure to watch the video from Gail Simmons (Top Chef judge and editor of Food+Wine magazine). She has lots of great ideas! (You can view it on the Cascade Facebook page and on YouTube.
How often do you run the dishwasher in your home?