This cauliflower pizza crust pizza post was sponsored by Green Giant as part of an Influencer Activation for Influence Central and all opinions expressed in my post are my own.
I have to laugh about my love (or obsession) with cauliflower because there was a time when I wouldn't even touch it. These days it's on my dinner table in some shape or fashion at least twice a week, and it's become one of my favorite veggies!
And now that I can make pizza with the convenience of a frozen cauliflower pizza crust, it's on my table at least three times a week!
Green Giant Cauliflower Pizza Crust is made with 80% cauliflower and contains no artificial flavors and colors. YES!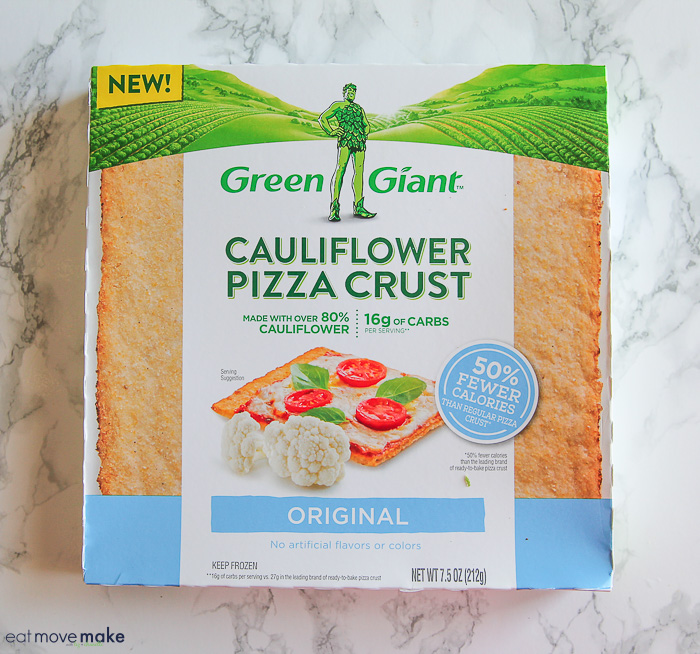 Cauliflower pizza crust means pizza goes back on the menu for the family!
I've been avoiding pizza because of the starchy crust (and the work involved in making said starchy crust) but with a frozen cauliflower pizza crust, I not only save on calories, I save on time.
No prep work and pizza together? Yes, please!
Green Giant Cauliflower Pizza Crust comes out of the package ready to bake — no unrolling, smooshing or stretching. It's as easy as can be!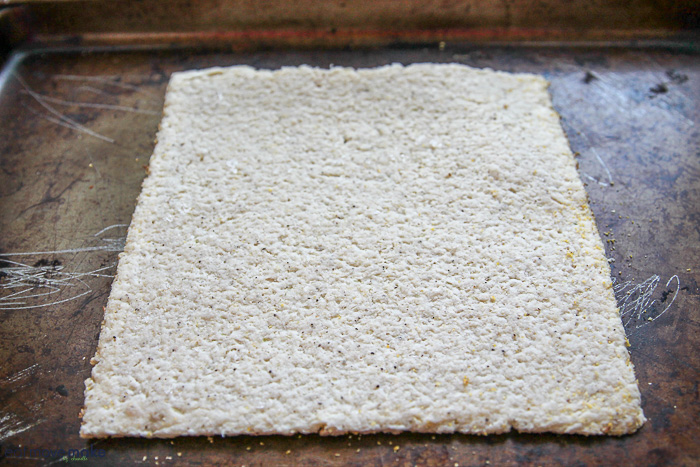 Just top with your favorite ingredients and bake!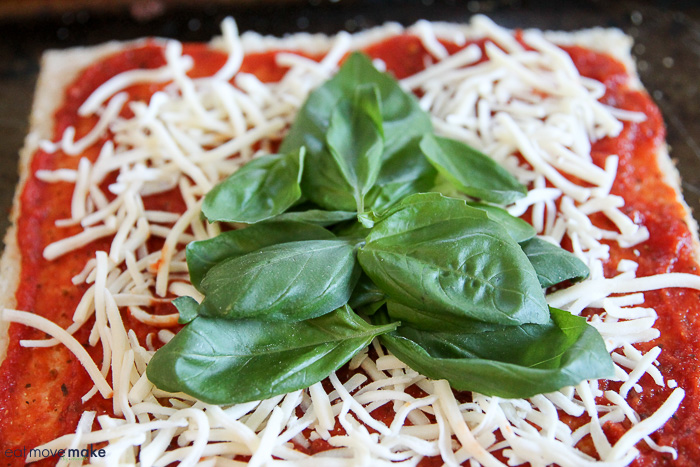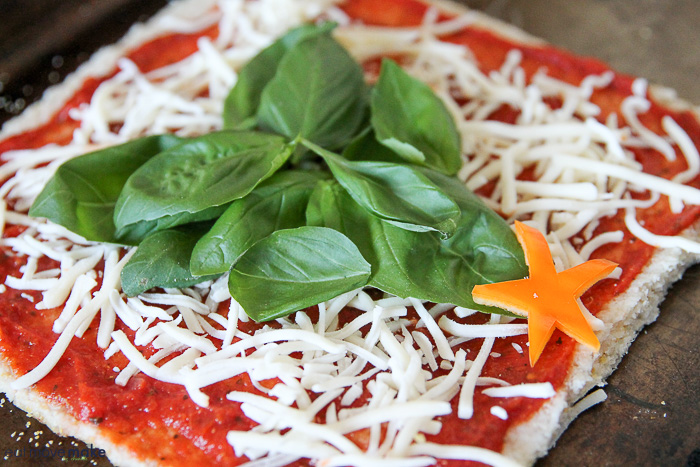 Like much of the world, I'm really into using it as a healthy veggie swap in place of starchier ingredients, so having Green Giant Cauliflower Pizza Crust at the ready brings me extra holiday cheer!
And that's why I decided to make a Christmas tree on my pizza.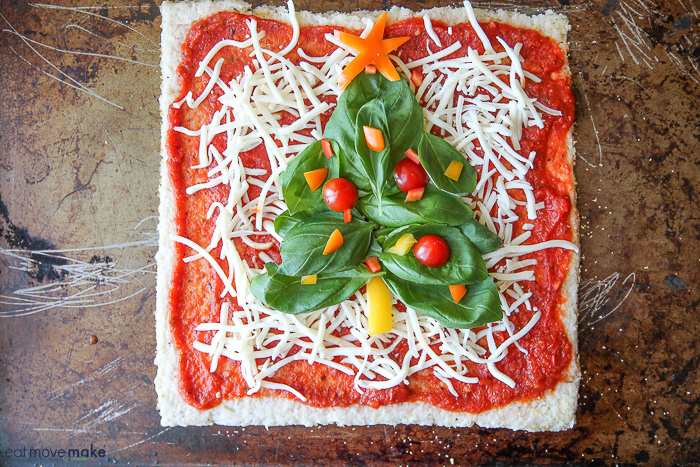 I used fresh basil leaves, bits of pepper and cherry tomato tips to decorate the tree. To give the tree some dimension and color variation, I added a few fresh basil leaves after baking too.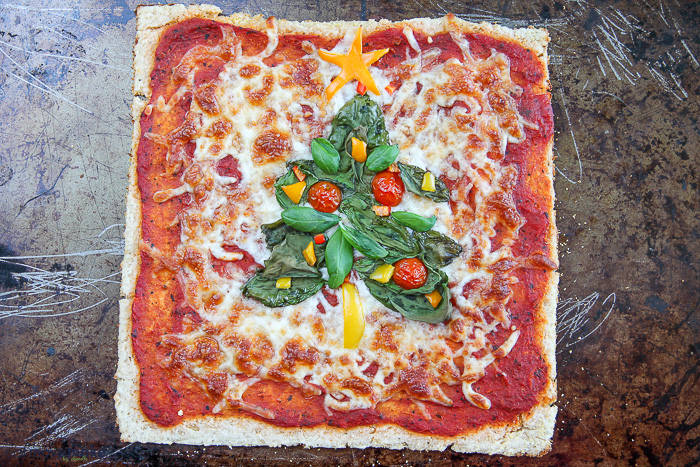 Don't you love the way those crust edges look?
The crust edges were cracker-y crunchy and the center with sauce and cheese was more dense and chewy.
So yummy!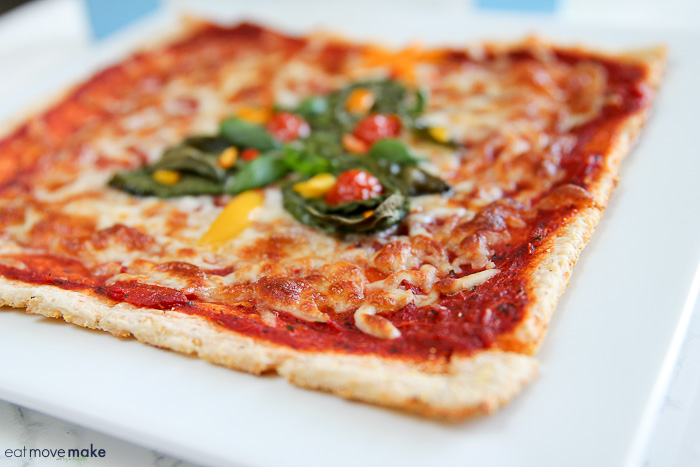 What does a cauliflower pizza crust taste like?
It tastes like cauliflower! I have to admit it caught me off guard at first because I was expecting it to taste like an average crust, but that was silly of me. This is not an average crust — it's a veggie swap in — so much better!
And my whole family really loved it!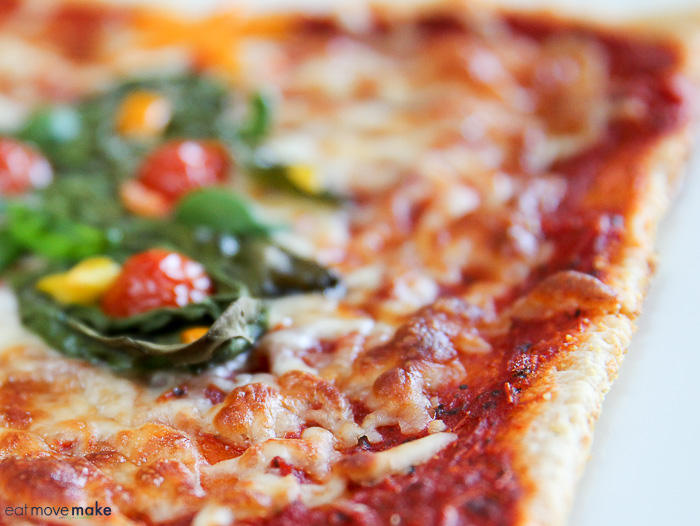 We'll be making Green Giant frozen cauliflower pizza crust pizzas on a regular basis all holiday season.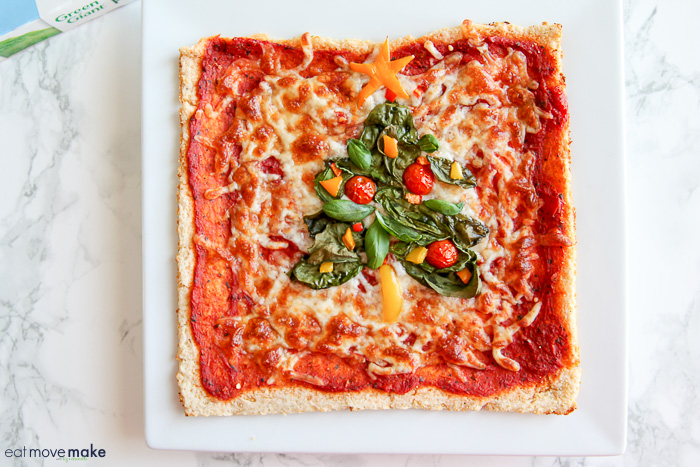 Run (don't walk) to the veggie aisle at your local Walmart where you'll find all this cauliflower pizza crust along with all the NEW Green Giant frozen products: Harvest Protein Bowls, Organic Mashed Cauliflower, Organic Riced Cauliflower, Organic Veggie Spirals, and Little Green Sprouts – Organic Line. Just in time for the holidays!