I was able to take a sneek peek at three of CBS' new fall tv shows, thanks to Role Mommy, and it's a mixed bag of results for me, with one clear winner.
The Good Wife – Premiering September 27, 10pm EST
This intense, well written drama stars Julianna Margulies as Alicia Florrick, a wife and mother rocked and humiliated by the political corruption and sex scandal which lands her husband (Chris Noth) in jail. She starts over in her original career as a defense attorney and begins to shed her identity as "the good wife".
I was hooked immediately on this show. Margulies is brilliant in this role. She struggles to maintain her composure in public while silently seething with rage at her husband's betrayal and the fact that her world is now upside down. This one is your can't miss fall tv show! I LOVED it!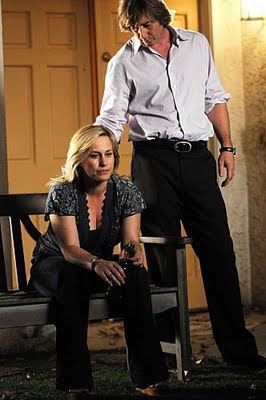 Medium – Premiering September 25, 9 pm EST
I also watched Medium which has made a network switch to CBS this year. Starring Patricia Arquette as Allison Dubois, a real life research medium, we begin where last season left off. Allison, who was diagnosed with a brain tumor, delayed the surgery in order to finish solving a crime, putting herself at great medical risk. She did solve the crime but because of the delay she suffered a stroke and fell into a coma.
I had only seen bits and pieces of the show prior to this preview, and I do find the premise intriguing. Allison's character is an incredibly stubborn person, which I find completely frustrating yet believable, but there's something about her relationship with her husband that drives me bonkers. Long time fans of this show will no doubt follow it here to CBS and enjoy it just as much.
Accidentally on Purpose – Premiering September 21, 8:30 pm EST
In this new comedy, Billie (Jenna Elfman), finds herself "accidentally" pregnant after a one night stand with a much younger Zach (John Foster). Fresh on the heels of a breakup with her boss who still wants her, she's thrown for a loop with the pregnancy, but she and Zach decide to live together platonically in order to raise the child.
This is a comedy, which is my least favorite type of show. I have never cared for Jenna's comedic style, so it all just fell flat to me and wasn't very funny, but that's just me. If you're a fan of Jenna Elfman, you'll probably enjoy it very much.

I hope you watch these shows this fall, if for no other reason than because I want to know what YOU think. Do you agree with me or disagree?