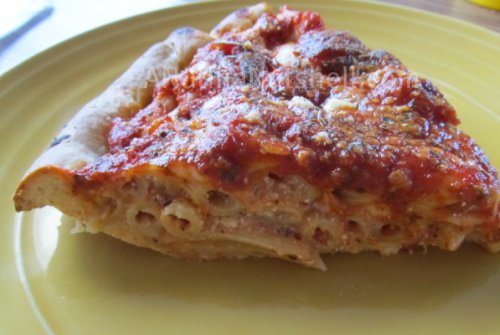 I grew up about 90 minutes outside Chicago, the home of the best deep dish pizza ever created, and I've enjoyed slice after slice of the good stuff. However, my family also created our own unique twist on it, and when I was asked if I had a recipe that reminds me of home…this is it!
Chicago Deep Dish Paziti
Ingredients
2 cups ziti noodles (measured uncooked)
1 cup ricotta cheese
4 Tbsp parmesan cheese
1 egg white
1/2 tsp basil
1/2 tsp oregano
1/4 tsp black pepper
Sprinkle of garlic powder
1 refrigerated pizza crust
8 oz. mozzarella cheese, sliced
2 1/2 cups marinara sauce (unheated)
1/2 tsp Italian seasoning
Directions
1. Preheat oven to 425 degrees.
2. Grease 9″ deep dish pie plate, and line with pizza dough. Leave top edges high around rim. Set aside.
3. In a bowl, mix ricotta cheese, egg white, 2 Tbsp parmesan cheese, basil, oregano, garlic, and pepper.
4. Cook ziti, rinse, and then combine with cheese mixture and one cup of tomato sauce.
5. Place 3 to 4 slices of mozzarella cheese on the bottom of the pizza crust.
6. Then place ziti mixture on top of the cheese, spreading evenly.
7. Top the ziti mixture with the remaining mozzarella cheese.
8. Cover top of pizza with 1 1/2 cups of sauce, 2 Tbsp parmesan cheese, and 1/2 tsp of Italian seasoning.
9. Bake at 400 degrees, 20-30 minutes. Let stand 15 minutes or so before cutting.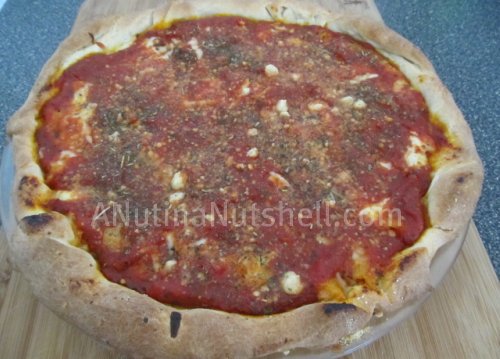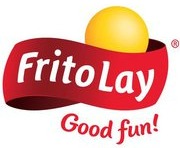 Inspired by favorite hometown dishes and regional favorites, Frito Lay created a tasty selection of Regional Flavored Lay's all- natural potato chips!
Northeastern U.S. – Lay's Honey Mustard
Midwestern U.S. – Lay's Creamy Garden Ranch
Northwestern U.S. – Lay's Balsamic Sweet Onion
Southwestern U.S. – Lay's Chipotle Ranch
Southeastern U.S. – Lay's Cajun Herb & Spice
I haven't tried any of these yet, but with 0 grams of trans fats, I'm gonna have to go after that Cajun Herb & Spice flavor!

GIVEAWAY
Frito-Lay would like to give one of my readers a multi-pack of the Lay's Regional Flavored Chips! YUMMY!
Mandatory Entry: Which of the new Frito-Lay Regional flavors most reminds you of home?

Optional Extra Entries (After you've done the mandatory entry, you may do as many of these extra entries as you would like, but leave a separate comment for each entry.)
-Like Frito-Lay on Facebook and/or Follow @FritoLay on Twitter – 1 entry each (leave username)
-Follow me publicly on google friend connect and/or subscribe (and activate) by email – 2 entries for each method
-Like A Nut in a Nutshell on Facebook (leave username) – 2 entries
Follow me on twitter @blueviolet and tweet the giveaway- may be done once daily – 1 entry (leave direct url to tweet) copy and paste the following:

I just entered to #win a multi-pack of Lay's Regional Flavored Chips @blueviolet #FritoFlavors #giveaway Ends 9/4 http://bit.ly/pO2bzP


-Put my NEW button onto your blog's sidebar, add my URL to your blog roll (leave url so I can see!) – 2 entries each
-Enter any of my active giveaways (listed in right sidebar) – 1 entry each
You have until 11:59 pm EST on September 4, 2011 to enter. One lucky winner will be chosen using random.org. One entry per household and IP address. Cheating will not be tolerated, and entries will be verified for accuracy. I will email the winner and they will have 48 hours to respond to the notification email, or a new winner will be chosen. Entering this giveaway means you are in agreement with this blog's Terms of Use policy. Open to US residents. Good luck!
I created this blog post in order to enter my own original recipe into the Frito Lay Tastes from Home recipe contest.  Prizes are being provided by Frito Lay.
WINNER: #201 Linda Lansford