I finally made it to Chimney Rock State Park, one of North Carolina's most iconic landmarks! The 315-foot stone pinnacle offers a sweeping panoramic view of Hickory Nut Gorge and Lake Lure.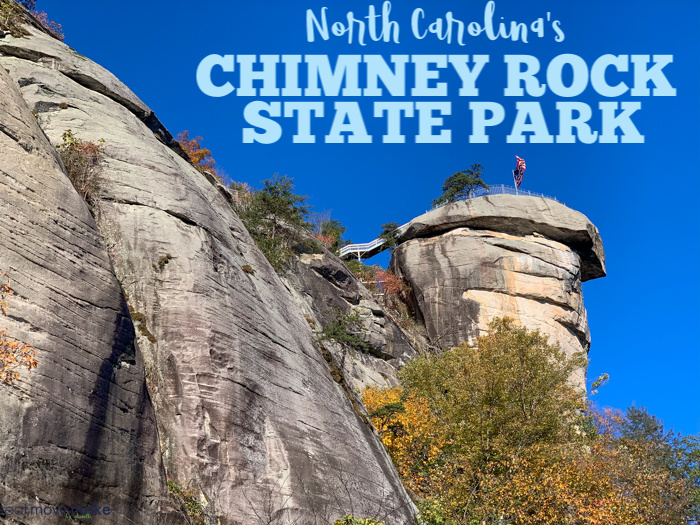 Chimney Rock State Park
The entrance to the park is located in the center of Chimney Rock Village, a super cute little mountain town that begs to be explored. (More on that later.)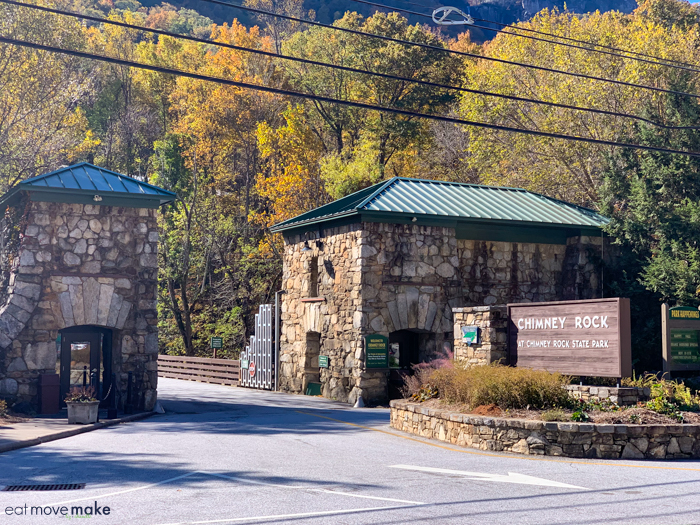 It's a long and winding road up to the ticket booth ($17, yikes! but worth it) and then you'll continue winding those switchbacks all the way to the parking lot.
The park opened at 8:30 a.m. and I arrived shortly after that to avoid throngs of people.
There are two ways to get up to the top of Chimney Rock: ride the elevator or climb the stairs.
If you opt for the elevator (no judgment) you'll walk through a 198-foot tunnel where signs will illustrate what went into the excavation of the tunnel.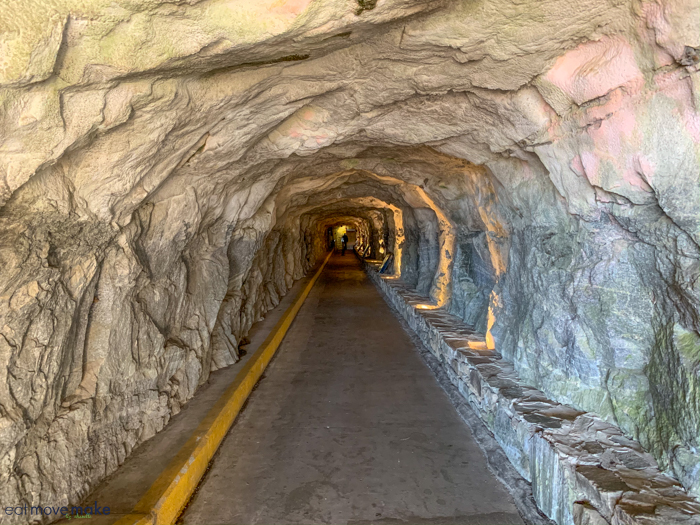 Once you exit the elevator, there are just 44 steps to the summit.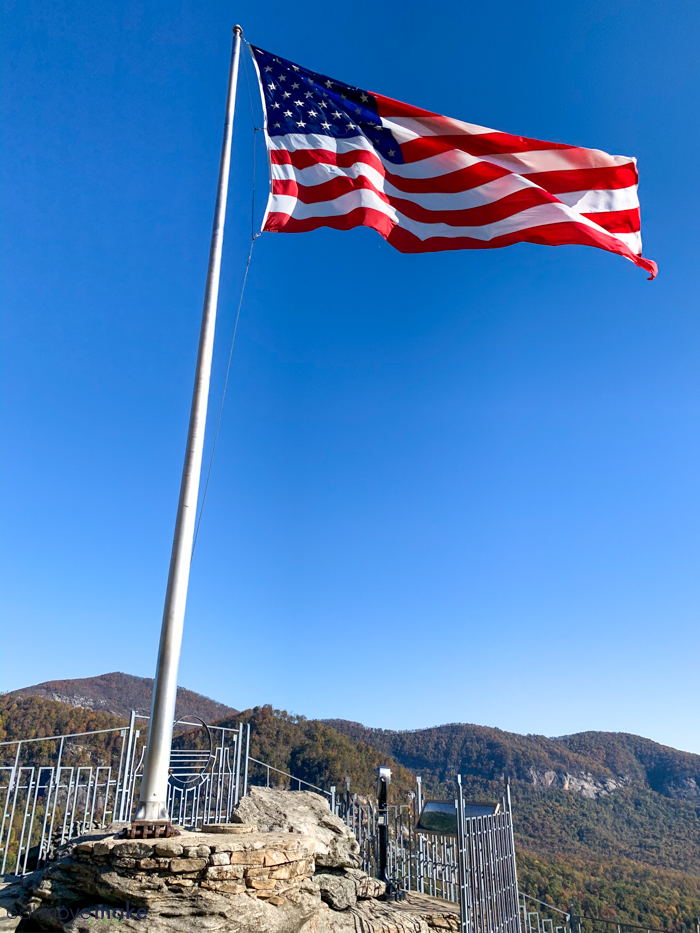 The view is incredible!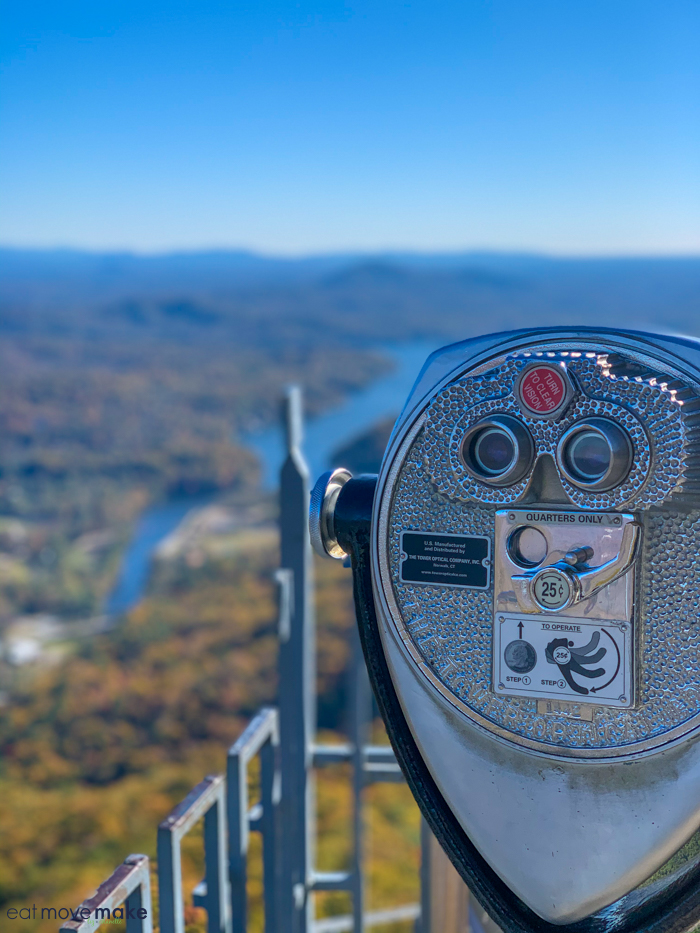 Call me crazy, but I didn't ride the elevator to the top. I opted to climb the stairs as a personal punishment challenge.
My staircase route (there are various options depending on what you want to see on the way up) had 494 steps which, pre-climb, sounded less difficult than it was.
There were a lot of steps. So. Many. Steps.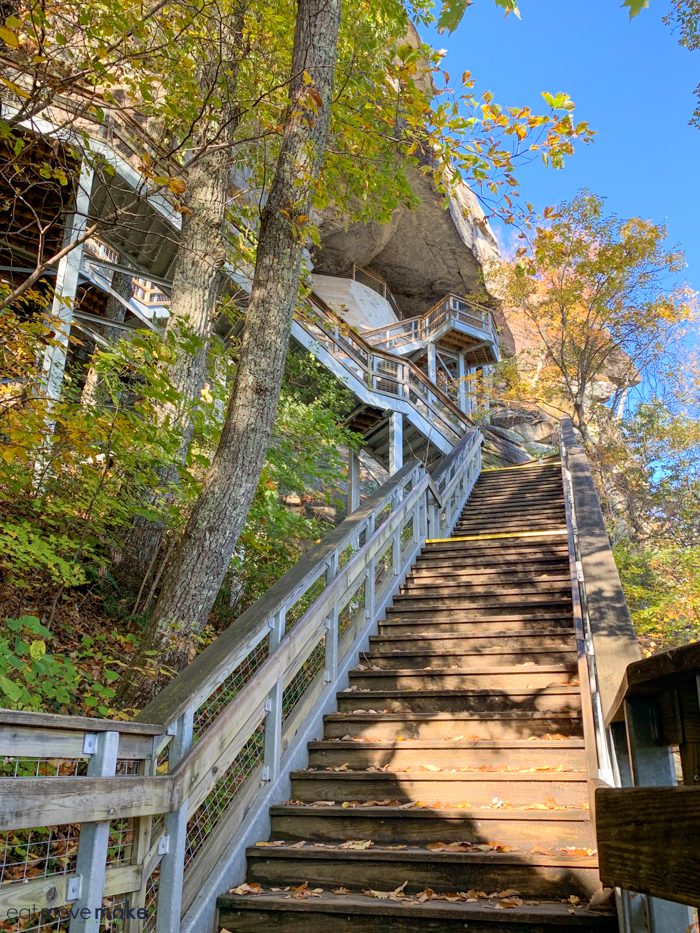 But I did make it to the top and I'm glad I challenged myself to do it, especially since there were various rock formations and overlooks along the way.
I stopped at Pulpit Rock and Vista Rock as I made the ascent.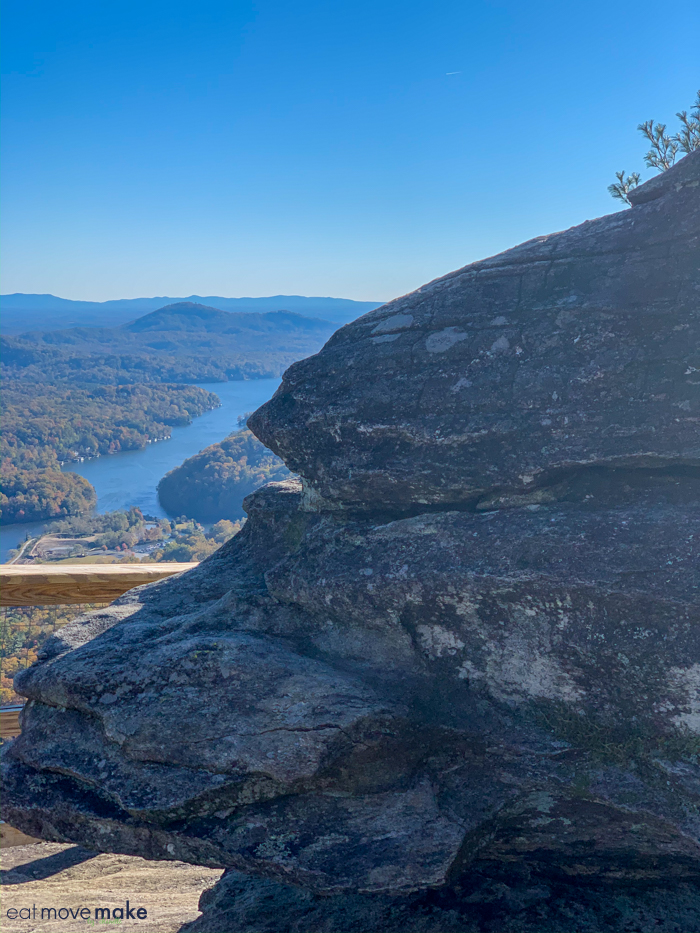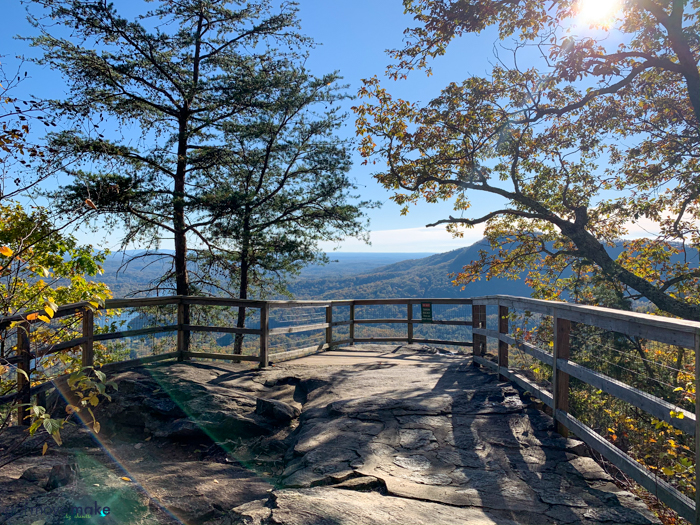 At the top of Chimney Rock, the elevation is 2,280 feet and the overlook offers a 360-degree view of the world beneath your feet.
I especially loved seeing the pretty blue water of Lake Lure.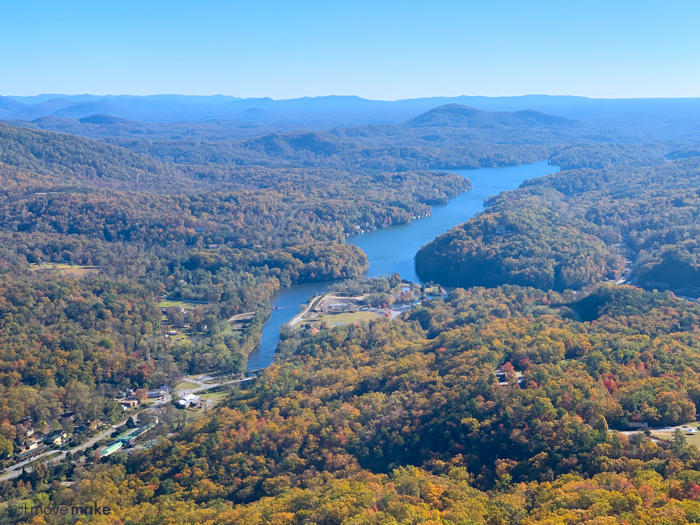 After taking it all in for a little while, I made my way back down to the bottom, but via the elevator this time.
Hickory Nut Falls
There are a number of trails throughout the park, two of which give you views of a beautiful horsetail waterfall – Hickory Nut Falls.
I generally prefer the view next to and from the bottom of the falls, so I took the Hickory Nut Falls Trail. There were stairs just past the restrooms that took me down to the trailhead.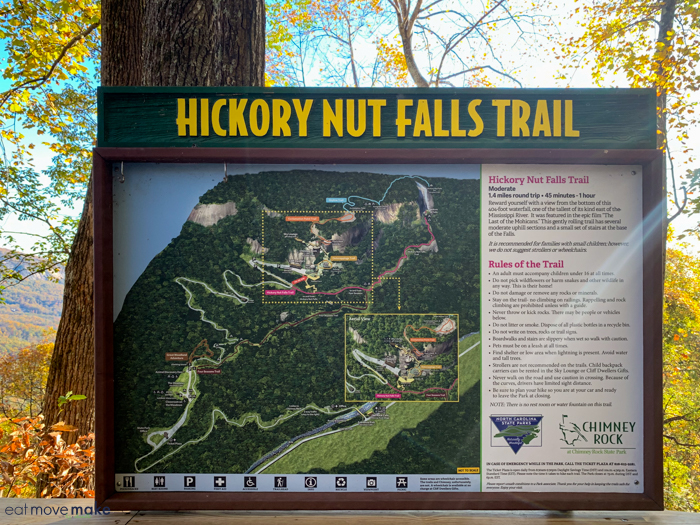 The map makes the trail look ridiculously long, but it's just 1.4 miles round trip. The trail is mostly gravel with some rocks and boulders and a moderate elevation climb.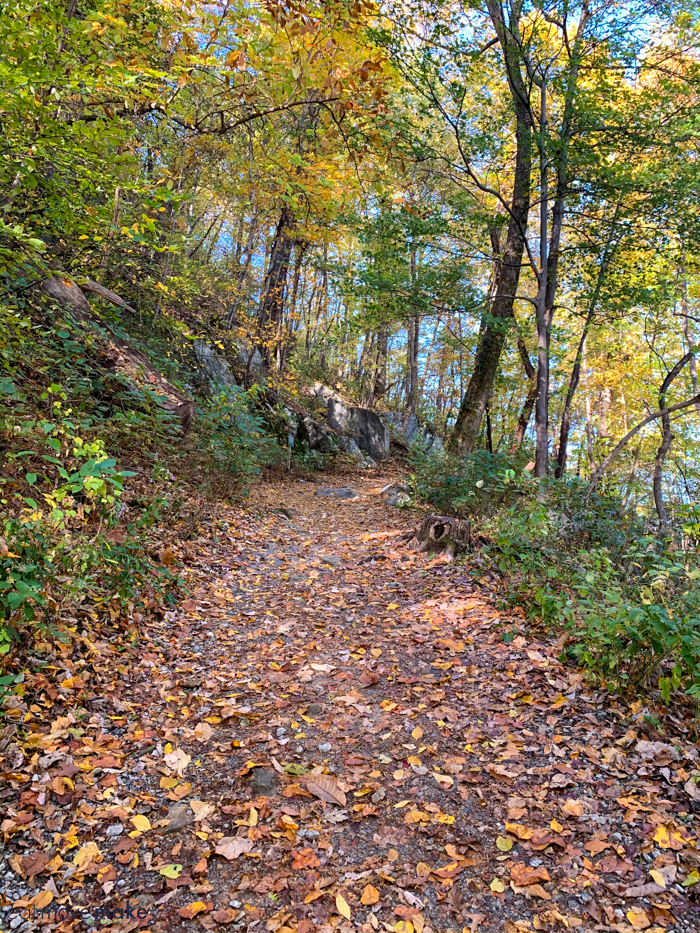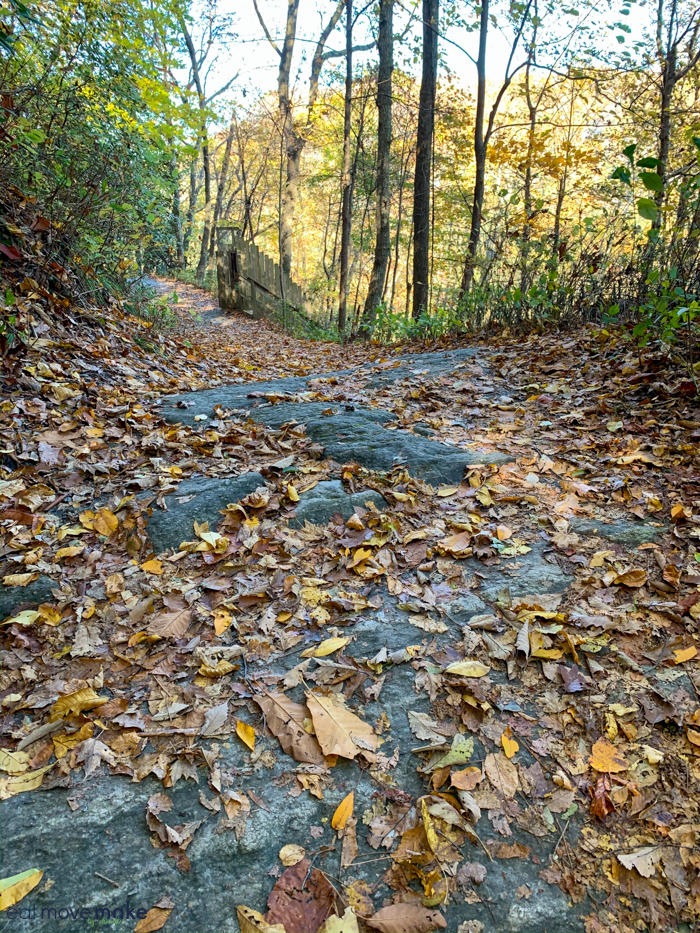 When you reach Hickory Nut Falls, there's a short flight of stairs leading to an observation deck.
Hickory Nut Falls is beautiful!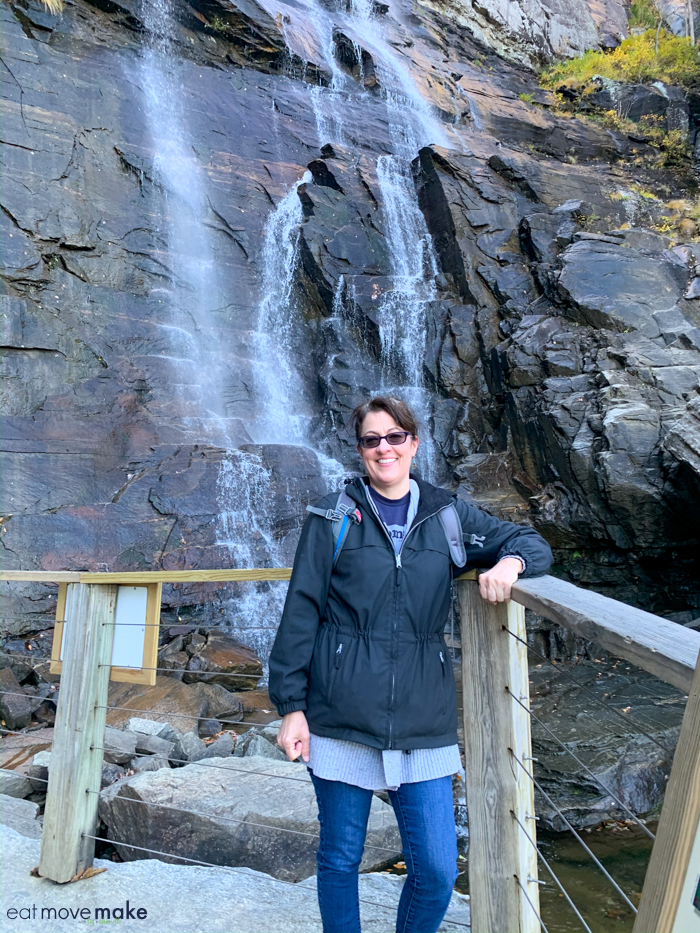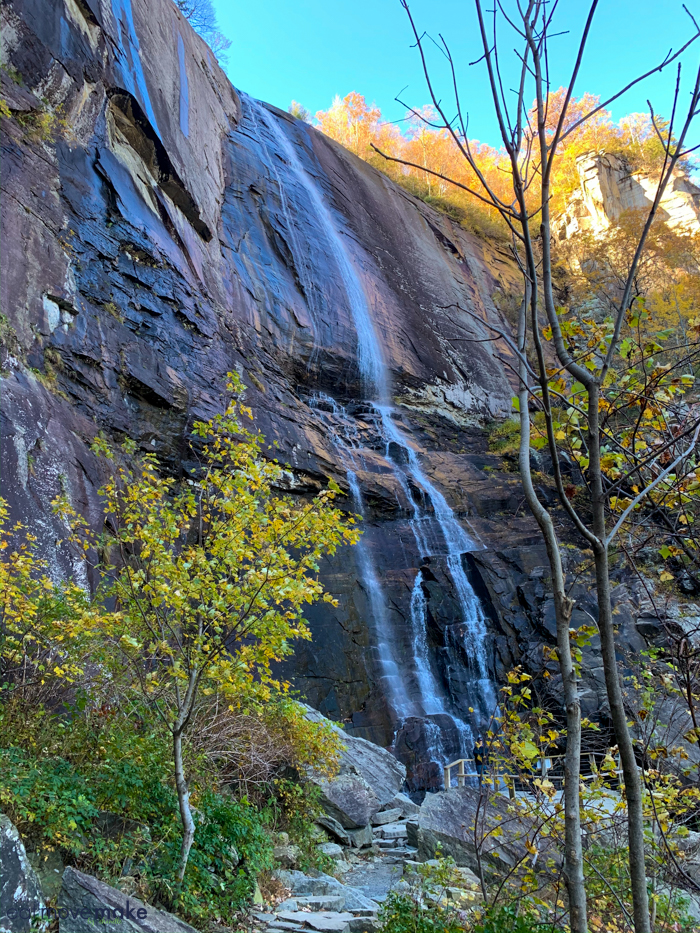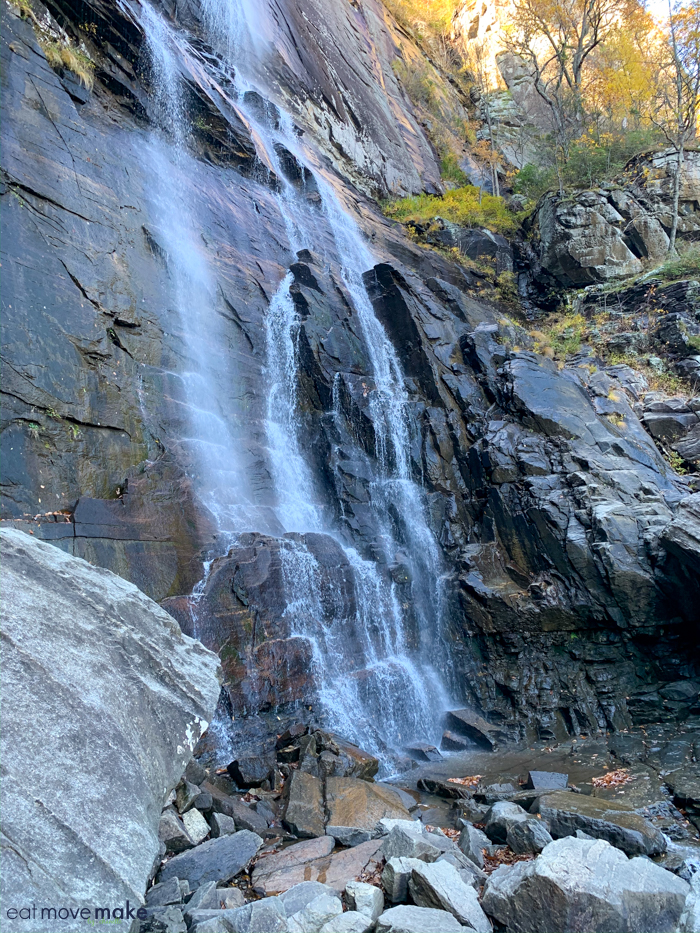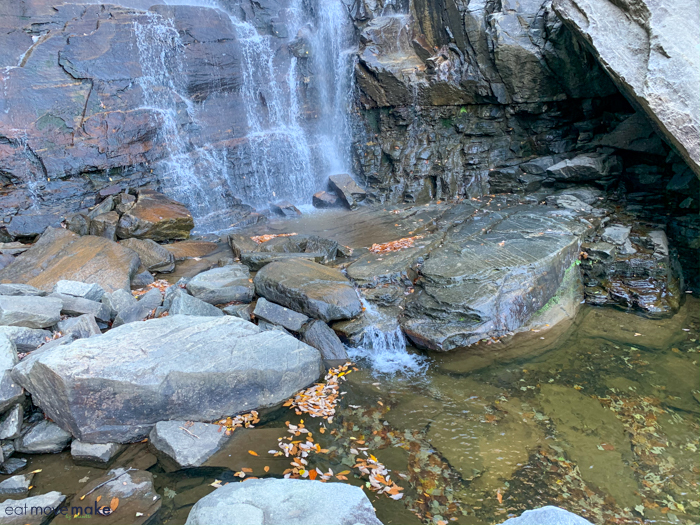 Remember those stairs I took to get down to the trailhead? I had to take those back up to get to the parking lot. My legs were spaghetti!
Tip: To avoid climbing those stairs, park in the lower parking area and you can walk right to the trailhead from there.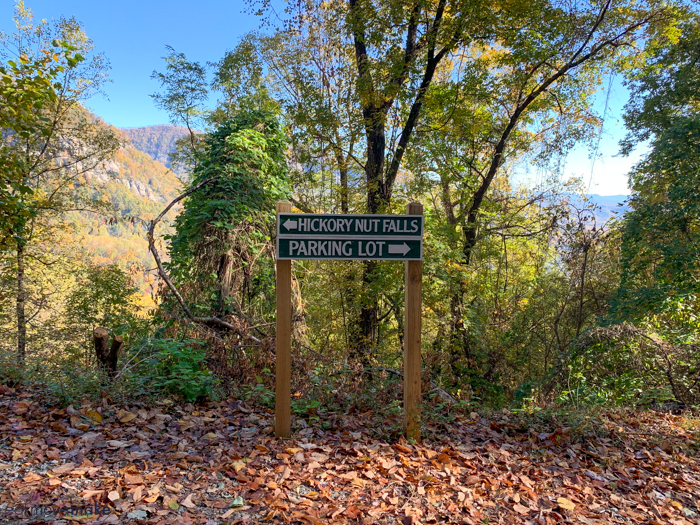 I would have loved to keep hiking and get the top-of-the-falls perspective, but my legs needed a break. If you're up for it, take the Exclamation Point Trail (strenuous) to the Skyline Trail (moderate). You can expect to hike about 3 1/2 hours round trip going this way.
Chimney Rock Village
Ready for lunch? Right across the road as you exit Chimney Rock State Park is a little place called Medina's Village Bistro and that's where I decided to have lunch. It's just a diner so don't expect five-star service, but the food is really, really good.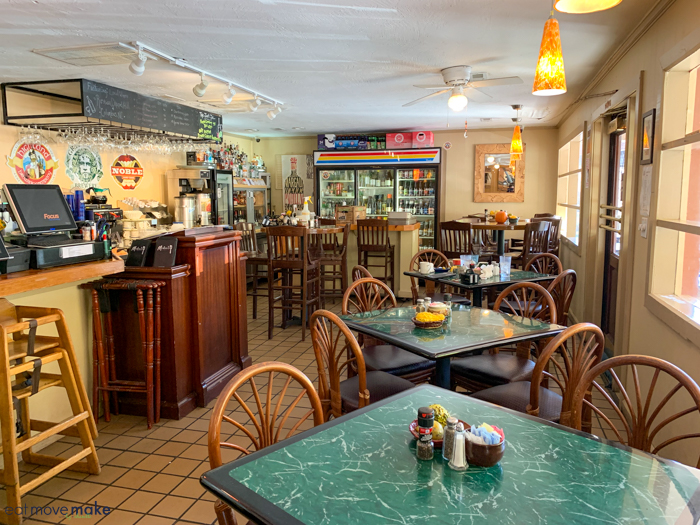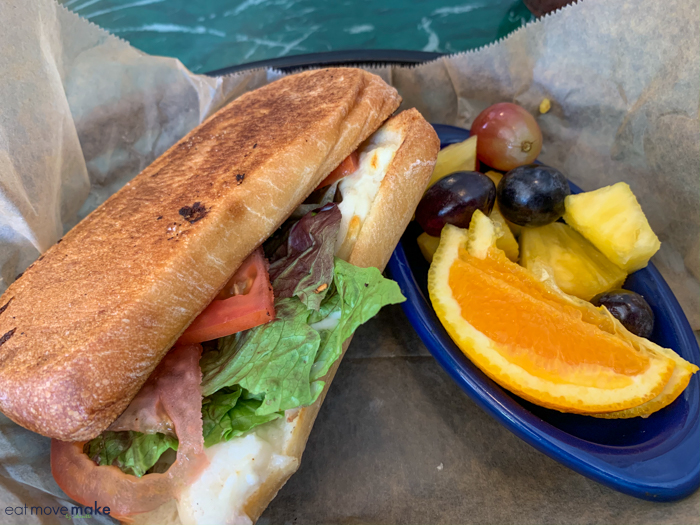 Also in Chimney Rock Village is a restaurant affiliated with the state park called Old Rock Cafe, but I chose Medina's because it was rated higher on Yelp and TripAdvisor.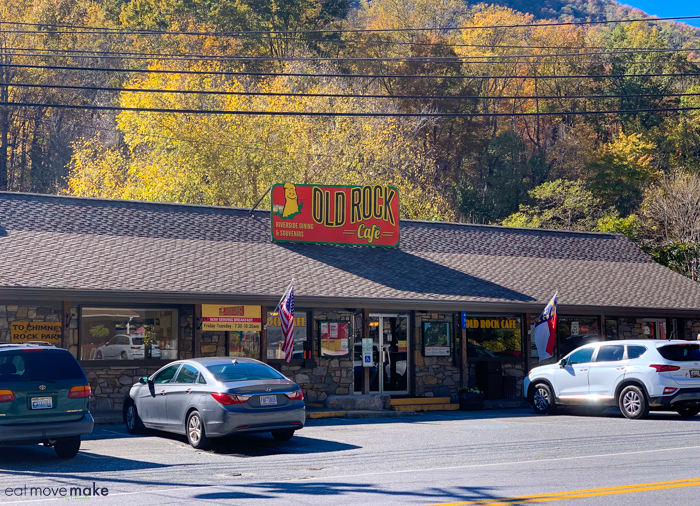 After lunch, take some time to poke in and out of the village shops. One of my favorites was Bubba O'Leary's General Store.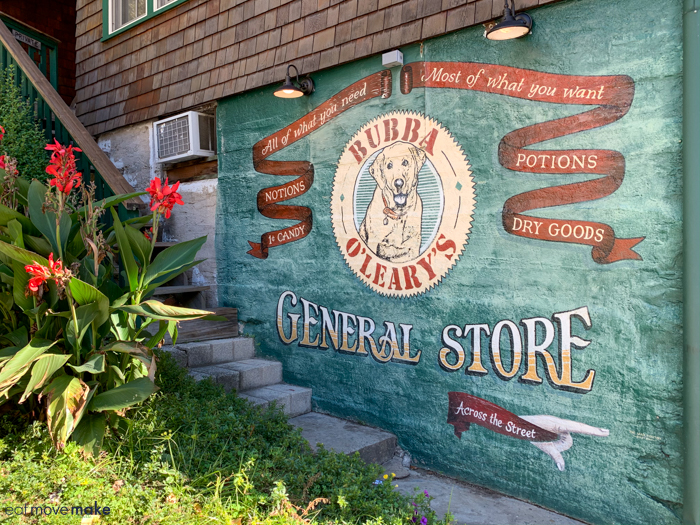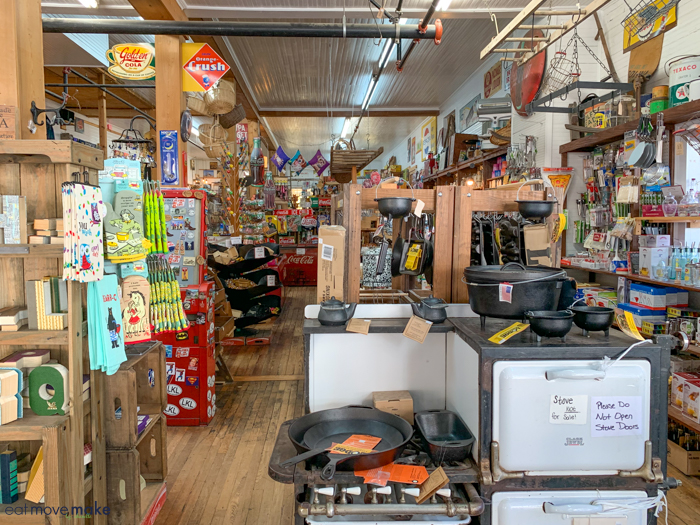 Rocky Broad Riverwalk
Before leaving Chimney Rock Village, be sure to take a few minutes for a scenic stroll on the Rocky Broad Riverwalk. The riverwalk runs parallel to the shops and restaurants.
I chose to let my inner child play, so I climbed out onto the rocks and got up close and personal with the rapids, but I was wearing hiking shoes with great traction.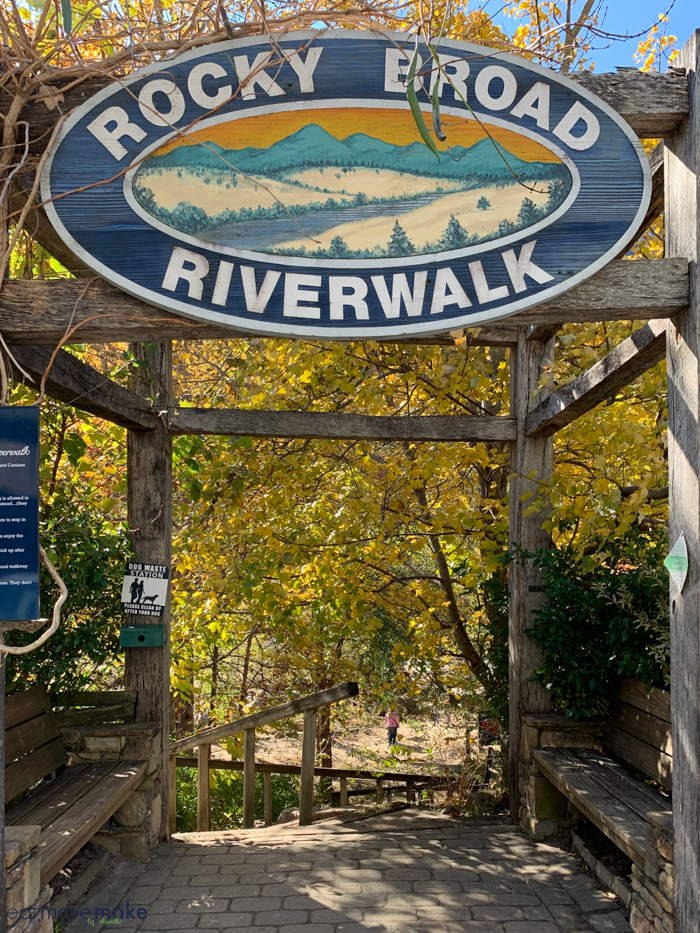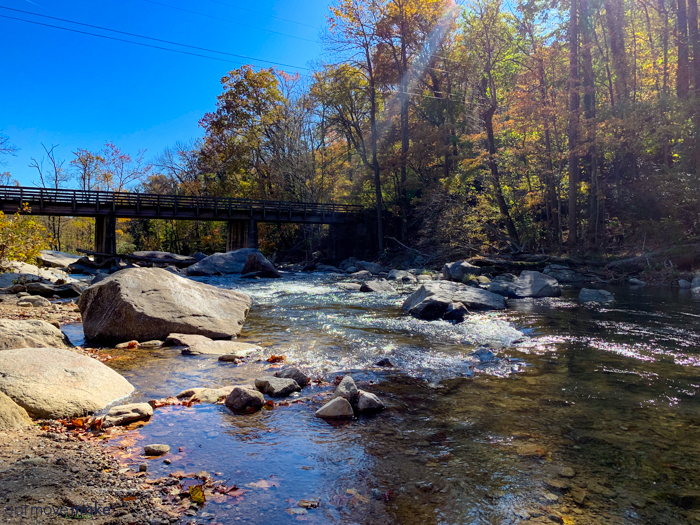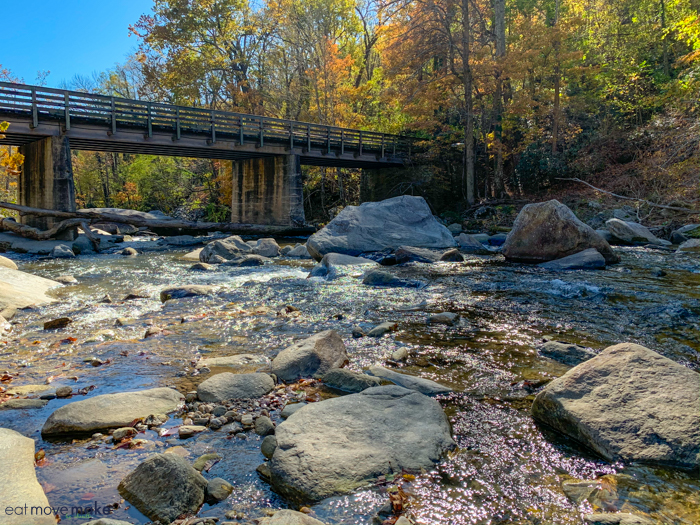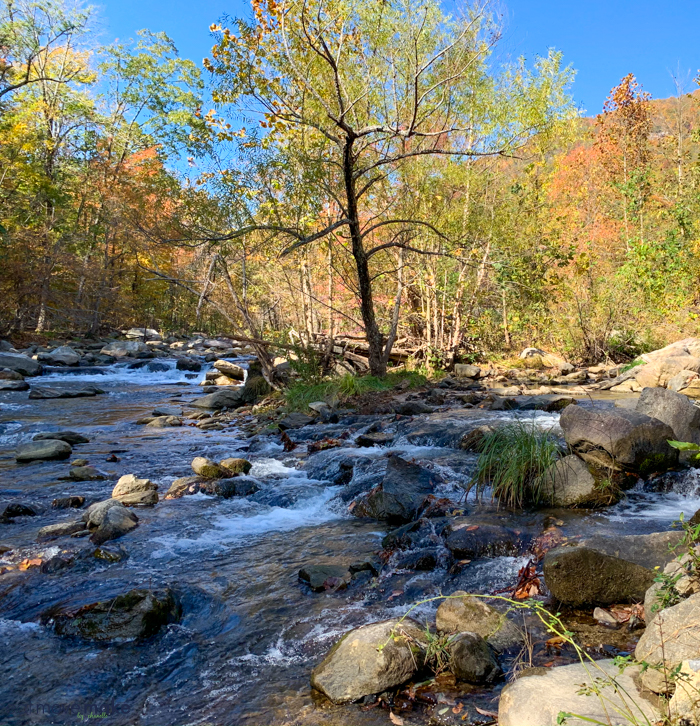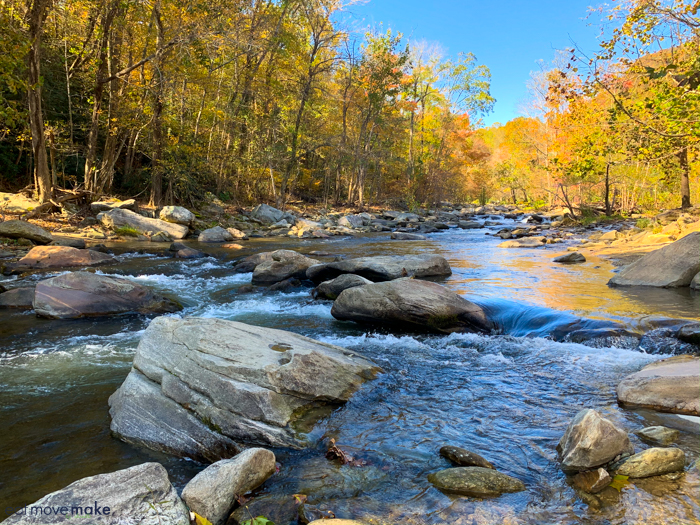 Chimney Rock State Park is about 5 minutes from Lake Lure, 20 minutes from Asheville and 30 minutes from Hendersonville. And, you'll find the best zipline ever just 40 minutes away.
Pin this post to Pinterest!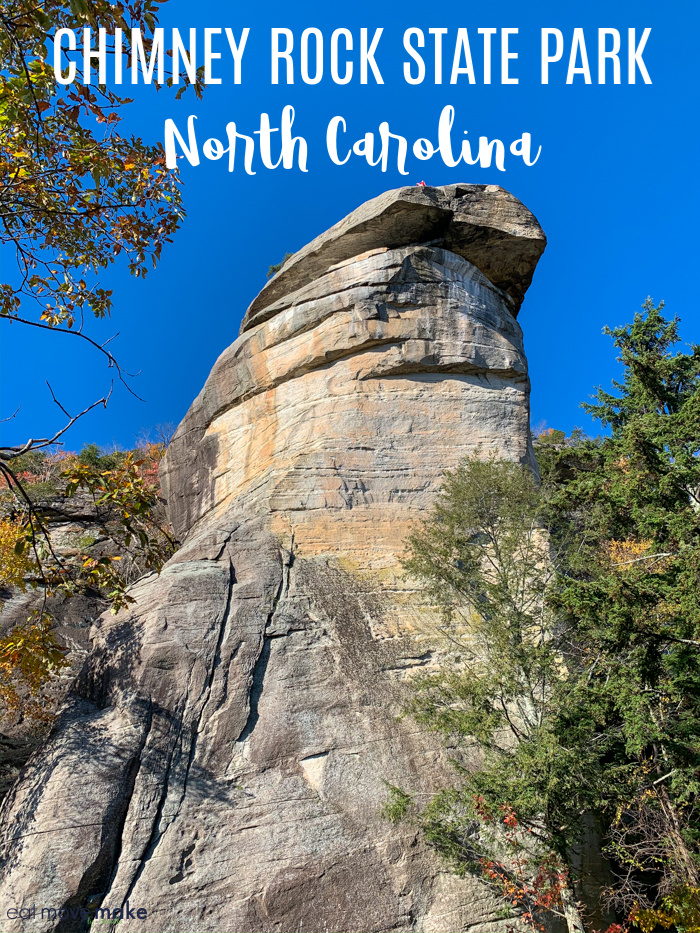 Have you ever been to Chimney Rock State Park or Chimney Rock Village?