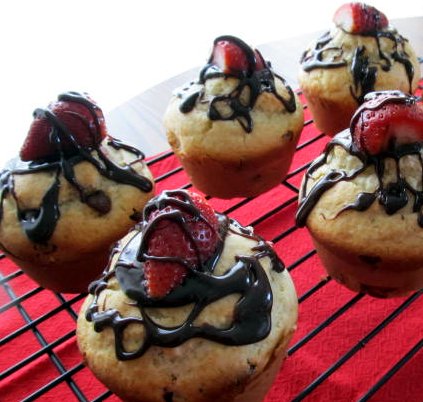 Muffins
2 cups flour
1/2 cup sugar
1 T baking powder
1/2 tsp salt
1 large egg
3/4 cup milk
1/3 cup vegetable oil
1/2 cup chopped strawberries
1/3 cup chocolate chips
1. In a large bowl combine the flour, sugar, baking powder and salt.
2. In a separate bowl, beat together egg, milk and oil. Pour into the dry ingredients and stir just until moistened. Add the strawberries and chocolate chips.
3. Lightly grease muffin pan cups or use paper liners unless using nonstick pan. Fill two thirds full with muffin mixture, and bake at 400 degrees for 18-20 minutes.
Note: My muffins were made with a jumbo-size pan.
Chocolate Drizzle
1/2 cup choc chips
1 T butter
1 tsp milk
Heat ingredients until completely melted. Drizzle over muffins with a spoon. (If chocolate thickens, reheat as needed.)