No matter how old you are, construction toys and building blocks are irresistible! I've spent countless hours building things with my kids through the years. But it wasn't until I started blogging that I discovered Citiblocs – classic blocks with a modern spin.
They're different from any other blocks I've seen. They're all exactly the same size and perfectly balanced.
They began as all-natural pine blocks, but now they've introduced some fun new color combinations. There are Hot Colors (red, orange, yellow, pink and natural wood) and Cool Colors (turquoise, dark blue, light green, dark green and natural wood).
Pretty, huh?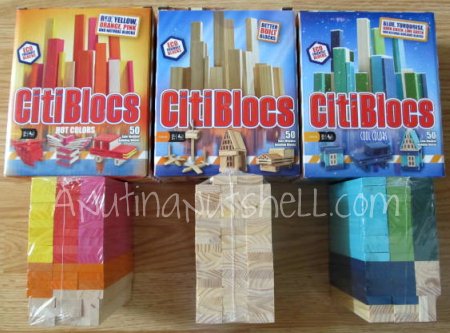 I love anything where imagination and creativity are in charge, so I couldn't wait to bust into these blocks. The best part of construction toys is that nobody judges you. There's no right or wrong; you just build.
Don't you just love the vibrant new colors?
If you're feeling ambitious, there are a whole bunch of building ideas in the accompanying booklet and on Citibloc's website. Some of the creations are really challenging, which makes the blocks fun for the littlest ones and for their parents!
I found this choo-choo train online and just had to make it! It might look easy to make, but it was tricky!

Citiblocs have received over 30 industry awards, and it's no wonder. I definitely see the appeal. They're fun!
Buy It! You'll find Citiblocs in every color and size at Amazon
! They'd make a wonderful holiday gift!
GIVEAWAY!
One lucky winner will win a 100 piece set of Citiblocs in their choice of colors – Natural, Cool Colors, or Hot Colors.
(Rafflecopter entry form below is in javascript so it may take a few seconds to load.)

A media sample was provided for this review. The opinions expressed in this post are my own honest thoughts on the product.