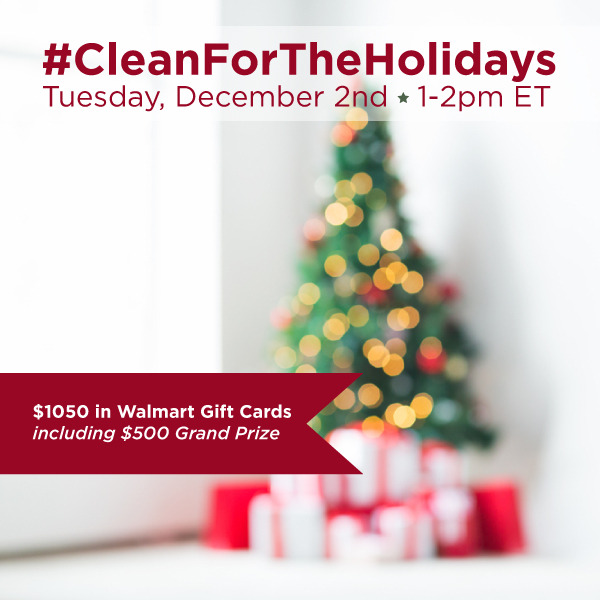 Do you love a good Twitter Party?  You know we do and we're excited to host a party to chat about cleaning for the holidays with O-Cedar ProMist!  On Tuesday, December 2, 2014 at 1:00pm EST, please join us for the #CleanForTheHolidays Twitter Party where we'll be sharing oodles of holiday cleaning tips, tricks and hacks while giving you a chance to win fabulous prizes!
The holiday season is busy and hectic, so having a quick and easy clean-up routine is more important than ever. When the cranberries and gravy slide off the plate, you'll want to grab a floor cleaning tool to handle the clean-up in a jiffy so you can get back to the festivities. Join us for the #CleanForTheHolidays Twitter Party! We'll be chatting about how the O-Cedar ProMist spray mop makes holiday cleaning easier!
Join me and RSVP for the #CleanForTheHolidays Twitter Party on SoFabChats!
DATE: Tuesday, December 2
 TIME:  1:00 – 2:00 pm ET
EARLY BIRD PRIZE: 1 – $50 Walmart Gift Card
PRIZES: 5 – (1) $100 Walmart Gift Gift Cards
GRAND PRIZE: (1) $500 Walmart Gift Card
HOSTS:@RuralMom, @blueviolet, @MsMissy62, @peanutsgang2004 and @_Karen
SPECIAL GUEST:@ocedarclean
RULES:#CleanForTheHolidays Twitter Party Official Rules
RSVP & PARTY GRID:#CleanForTheHolidays Twitter Party Page
How do you #CleanForTheHolidays? Twitter Party 12/2 1pm ET. $500 Grand Prize! Rules http://t.co/9qwkNI0dKp #ad #cbias

— Liz (@blueviolet) November 24, 2014
How To Participate In A Twitter Party on SoFabChats!
TIP:  How to join a Twitter Party – sign in! Before party starts, click on the green "Sign In On Twitter" bar at the top of the page!
TIP: Who to follow at a Twitter Party? Follow the Party Team by clicking on the Twitter handle links on the RSVP page!
TIP: Want to win Twitter Party prizes? RSVP by clicking on RSVP button before you join the party, follow everyone on the Party Team, and tweet with the party hashtag during the party to be eligible!
TIP: How to win the Early Bird prize? Watch for chance to share a tweet when you RSVP for chance to win!
TIP: Special deals and brand coupons? Keep that option checked when you RSVP for the party!
TIP: New to Twitter parties? Watch your column and Party Team tweet columns – they are slower paced and easier to follow!
TIP: Where to find Twitter Parties? Check out the SoFabChatsTwitter Party Calendarto find more fun parties to attend!

Find more helpful Twitter Party Tips on SoFabChats!