"Eat your vegetables," was my mom's dinnertime mantra.
I'm not of the clean your plate club, but my mom was, and so the six of us kids were forcibly initiated as second generation members.
Now I was lucky because I loved vegetables: any, all and every. (Well… at least the basic betty bounty she laid before us.)
But my little sister had a veggie aversion, and the pip struggled nightly to get them chewed, swallowed and off her plate.
So she turned to a life of crime.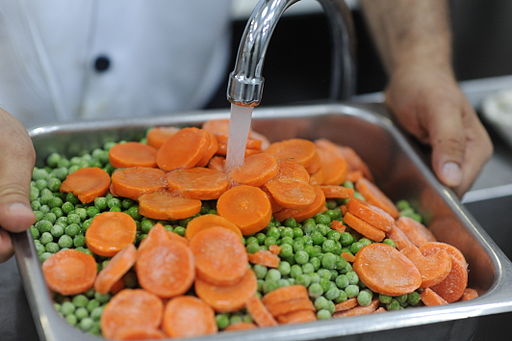 The little mischief maker began to slip the veggies one by one out of sight and into her napkin which she smooshed and balled up for the trash.
And this worked for about…. thirteen seconds.
My mom was onto her shenanigans, and my sister was once again forced to chew, chomp and swallow.
Still very much a criminal-at-heart, she came up with an alternative trick. She would fill her cheeks with those vegetables and then excuse herself to go to the bathroom, where she would promptly dispose of her "garden fare".
It worked! She got away with it for quite some time.
Until one evening my mom detected a rather unpleasant odor in the bathroom. She lifted the top off of the tank and there she found the "secret garden": a collection of my sister's partially chewed dinners wadded up into balls and stuck to the side of the tank.
To this day, I can't figure out why she didn't just flush them. Idiot.
True story. Made-up words. But I found them in the Clorox Ick-tionary! It's full of names and definitions for the icky and unexpected moments in life, the kind you can joke about later. (I even made a Pinterest board for the messes.)

Tell me about one of your life's icky moments for a chance to win $250 to treat the spider killing, luggage carrying, lawn mowing dad in your life! Visit www.icktionary.com to learn the new language for ick and how Clorox® cleaning and laundry products can help you tackle the next icky situation in your home, play games and win coupons while supplies last!

This post is brought to you by The Clorox Company. I have partnered with them to spread the word about Clorox's Ick-tionary program. To share Ick-tionary terms and real life messes, visit [www.icktionary.com]. All opinions and stories are my own.