I think picking out cosmetics like foundation and concealer is hard!  I've worn some 'meh' products over the years even though I knew they weren't right for me, simply because it was too overwhelming to try and pick out yet another cosmetic product. I like my foundation to leave a very natural makeup finish on my face, but I still want it to act as a concealer, smoothing and evening out skin color and texture and minimizing fine lines.
And so I continue my cosmetics search with this sponsored post for SheSpeaks and L'Oréal, because I was asked to try L'Oréal Visible Lift Blur Foundation.
L'Oréal Paris Visible Lift Blur Foundation is L'Oréal Paris' first makeup with exclusive blur technology formulated to instantly blur lines and wrinkles. Signs of aging disappear as Visible Lift Blur Foundation hides dark spots, large pores and smooths uneven texture so you get a flawless finish you can see and feel.
What I liked:
It's a very light, creamy liquid foundation, and I liked the velvety soft feel as I applied it. It went on very smoothly and was easy to spread. I used my fingers as a make up brush, by the way.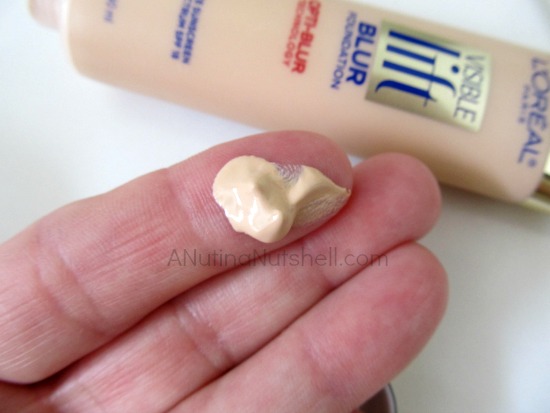 I love that it has SPF 18. It's not a high enough SPF for days spent outdoors, but since my current foundation has zero SPF in it, I absolutely appreciate that there's some protection in this formula.
I have a broken blood vessel on my cheek which in truth I rarely notice, but when I try out new cosmetics, I always look to see if it minimizes the appearance of the redness, so that was the first thing I looked for after applying Visible Lift Blur foundation.
Even though it didn't completely cover the redness, I think it did a really nice job of toning it down. It also minimized the appearance of a few sun spots and broken capillaries.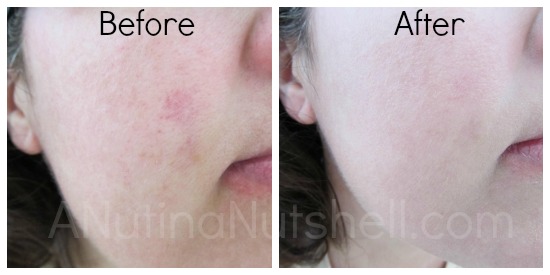 What I didn't like:
My pores looked very noticeable when they're normally not. The foundation seemed to settle into them and they appeared pronounced. Also, while the coverage on my cheeks and forehead remained smooth, the foundation on my chin and above the lip took on a melting makeup look with beading around the pores.
I suspect my skin isn't dry enough for this particular foundation since the problem was in my T-zone areas. Perhaps it's better suited for more mature skin (which I thought I had, but hey, I'm playing the youthful card this time).
I loved the coverage L'Oréal Visible Lift Blur Foundation gave me on my cheeks, so I'm bummed that it's not the right foundation for my facial skin overall.  I think I'll give it a try in a few more years when my skin gets drier and the fine lines are more plentiful.

L'Oréal Paris Visible Lift Blur Foundation contains SPF 18 and is available in 12 shades. It retails for approximately $14.99 for 1.4 fl oz. and is available at mass food and drug retailers nationwide.
Connect with L'Oréal Paris: Website | Twitter | Facebook | Instagram
What would you like to "blur" with L'Oréal Visible Lift Blur Foundation — fine lines, redness, skin texture, dark spots?