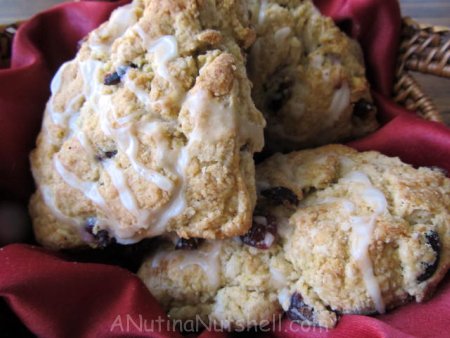 I've made cranberry scones many times before, but this time I wanted to make them using Ultragrain Flour which is an all-purpose flour with whole grain, and I was so pleased with how they came out – just delicious!
Ingredients
2-1/4 cups flour (I used Ultragrain flour)
1/3 cup sugar
1/2 tsp salt
1/2 tsp baking soda
1 T baking powder
1/2 tsp ground nutmeg
1 T orange peel
1/2 cup butter, cold and cut into chunks
3/4 cup sweetened dried cranberries
3/4 cup buttermilk
1 egg
Glaze
1/2 cup powdered sugar
1/4 teaspoon vanilla
3 teaspoons water
Directions
1. Heat oven to 400 degrees. Combine flour, sugar, salt, baking soda, baking powder, and nutmeg in bowl. Cut in the butter with a pastry blender until the mixture forms large crumbs. Add cranberries and mix together gently.
2. Beat together buttermilk and egg in a separate bowl. Make a well in the dry ingredients, and gently fold in the egg/milk mixture until blended. Do not over mix as it will make the scones tough.
3. Divide the dough in half, and on a floured surface, form two dough circles.
4. Cut each circle into 4 wedges and place on a baking sheet. (Line with parchment paper, if possible.)
5. Bake for about 20 minutes, or until golden brown. Cool on a wire rack. Glaze.
For glaze: Mix ingredients together and drizzle over the top of the scones. Enjoy!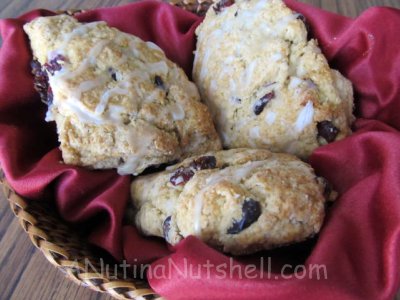 This was an experiment to see if I could taste the difference in the recipe using Ultragrain flour instead of my regular white flour. The taste, texture, and color were all completely the same to me. I couldn't tell one bit of a difference, so I'm pretty darn impressed! This was part of a compensated campaign with Ultragrain, but the recipe, review, and opinions are my own.