With holiday entertaining right around the corner, you're bound to be serving mocktails and cocktails with Crystal Light. You can start earning points and prizes for those purchases! Join us at the #CrystalLightWM Twitter Party where we'll chat about all of the unique Miranda Lambert prizes you can earn  in the Platinum Points program when you buy participating Crystal Light products at Walmart. This is a sponsored post by Lunchbox.
With so many delicious drink options to choose from, you'll want to stock up to get rewarded. I hope you will join us Tuesday, October 7th at 8-9 pm ET for the #CrystalLightWM Twitter Party to talk about ways to enjoy Crystal Light and how to earning point and Miranda Lambert prizes, like an exclusive Miranda Lambert song download and an autographed Miranda Lambert guitar. We'll also be giving away Walmart gift card prizes at the party, so be sure to join us!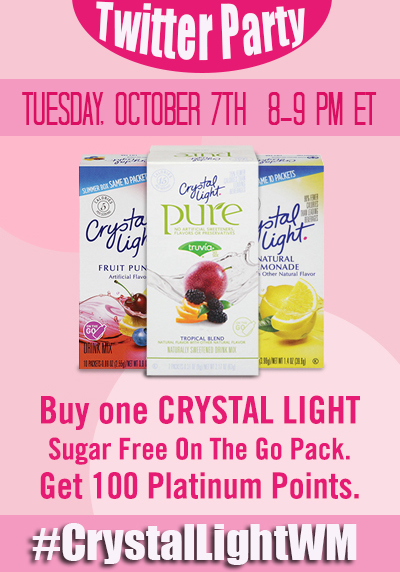 Call all Crystal Light and Miranda Lambert fans, we'd like to invite you to sign up for Platinum Points now: Get 30 bonus Platinum Points with code: mirandadc

We'll be chatting about the program during the party, so please join us for an hour of fun and awesome Walmart Gift Card prizes!
Join the #CrystalLightWM Twitter Party
DATE: Tuesday, October 7, 2014
TIME: 8-9 pm EST
PRIZES: (5) $20 Walmart Gift Cards
GRAND PRIZES: (3) $100 Walmart Gift Cards
HASHTAG: #CrystalLightWM
HOST: @DawnChats
CO HOSTS: @blueviolet & @savvysavingcoup
SPONSOR: Crystal Light & Walmart
OFFICIAL RULES: http://resource.lbox.com/resource/crystallighttwitterpartyrules/
SHARE A TWEET:
Join the #CrystalLightWM #TwitterParty 10/7 from 8-9pm ET #Prizes! #ad RSVP/Rules http://t.co/xqdf9dSPnB pic.twitter.com/AWDcpHXDwf

— Liz (@blueviolet) October 7, 2014
Let your friends and followers know that you're joining the fun! RSVP:
PARTY RULES:
Open to US residents, 18+
Winner will be chosen randomly from active participants using the #CrystalLightWM Hashtag during the party hour.
Winner must RSVP on a host or co-host post.
This sweepstakes is not affiliated with Twitter in any way.
Official Rules here.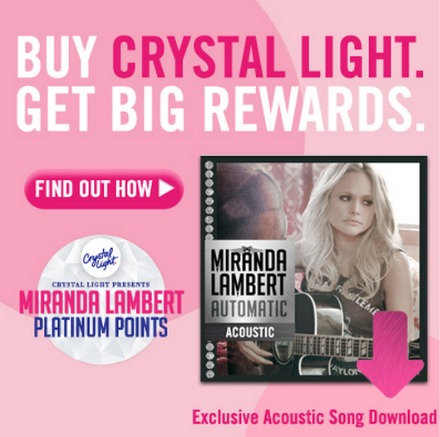 Make sure to check out all of the Crystal Light products available at Walmart and sign up for Platinum Points to earn special Miranda Lambert prizes!
Sign up NOW and get 30 bonus Platinum Points with code: mirandadc