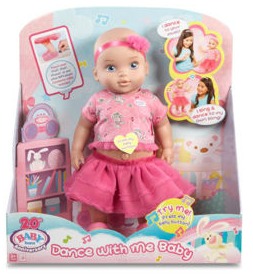 This Dance With Me Baby Doll makes me laugh so hard! When she starts dancing, I can't help but crack up because she dances like a goofball! And when she falls over because of her crazy moves, it's completely hilarious!
I should feel guilty about that, but I don't. I love it!
She stands 14″ tall, has a washable vinyl face and arms, and her outfit is removable. A push on her belly button is what starts her pre-programmed music, and she begins to dance.
It's a catchy little tune, but parents will soon tire of it, so it's a good thing that you can also play your own music.
Included with the doll is a connector cable for an MP3 player or similar device. Attach one side to your device and the other side into BABY born's shoe. The audio will play through a speaker on the doll's back, and she'll begin to dance to the beat of your music!
Now the only problem I have with it is that the connector cord is super short, and since she has a tendency to topple over, I worry about the safety of my iPod. So I'll be looking into getting a longer connecting cord to keep my equipment safely outside of her tumble zone.
Oh, and let me be perfectly clear about her dance skills. She's a heck of a dancer, but don't expect her to dance without falling. From what I can see, it's just not possible.
And since that's where I found the greatest entertainment, I'm happy about it!
Wanna see the little pixie bust a move? Take a look at the hilarity! I couldn't help but film it:
Buy It! For ages 3 and up. Operates on 4 AA batteries, included. You can purchase the Dance With Me Baby Doll for $39.99 at Little Tikes!
.
GIVEAWAY!
One lucky reader will win a Dance with Me Baby doll!
(New Rafflecopter form – sign in using your Facebook OR name and email)

a Rafflecopter giveaway


I received a doll for review, and the opinions expressed in this post are my own honest, uninfluenced opinions of it.