This is the first installment in my Dating While Weird series, where I'll chronicle some of the rampant disappointment fun I've experienced throughout my 10+ years of dating as a woman of unconventional tastes.
---
I'm a hopeless romantic, and it's a problem.
When I look across the table at any given man, I tend to leap to conclusions. Marriage conclusions. What-our-kids-will-look-like conclusions. The kinds of conclusions that make me ignore dating red flags.
Exhibit A: After a good long run as a serial monogamist, jumping from relationship to relationship, last winter I found myself plumb single. So I did what any millennial would do: I downloaded the Tinder app on my phone. (Tinder is a dating app where you either like or dislike a person with one tap. If they like you, too, you're a match and can now communicate with one another. If the like wasn't mutual, you'll never hear from one another.)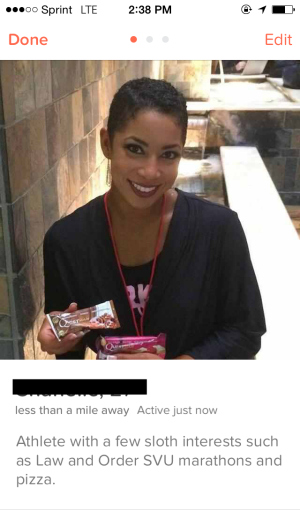 I swiped through guy after guy, hating them all. No, no, yagottabekiddinme, no. Until one cute guy with twinkly blue eyes popped up. Now him…him I could date. Fortune smiled upon me and we happened to be a match, so we decided to go out. At the time, I was preparing for a bodybuilding competition, so I couldn't eat anything tasty or drink anything worth drinking. But he was sweet and understanding and invited me out for a Diet Coke, tea, or coffee. +1 point for Gryffindor.
I remember sitting across from him at the table, listening. Only listening. He told me about people he knew, trips he went on, how much commission he made, and the expensive watches he had. I thought to myself, "Boy, he seems a bit materialistic," but I shrugged it off, and we continued to date.
The theme of materialism came up time after time. He had lots of money and frequently invited me to dinner, but often expected me to pay because we had to be "even". He'd take me shopping but lament at how much money he'd spent when we got back to his place. And all the while, I'm thinking back to that little voice inside my head on our first date, murmuring the word "materialistic" over and over again.
For this reason and a litany of others, the relationship ended after a couple of months. And while I could say that I learned my lesson, I really must admit that I'm only human and will probably make this mistake again. After all, it's been LITERALLY a decade of hemming, hawing, hand-wringing, and praying that maybe this one will be the one. I'm still holding out hope that at some point, he LITERALLY will be.