Denny's 4th annual No Kid Hungry campaign wraps up today and there are 4 easy ways you can help!
(Yes, I'm a Denny's ambassador, but I choose what I want to write about, and fighting childhood hunger is near and dear to my heart.)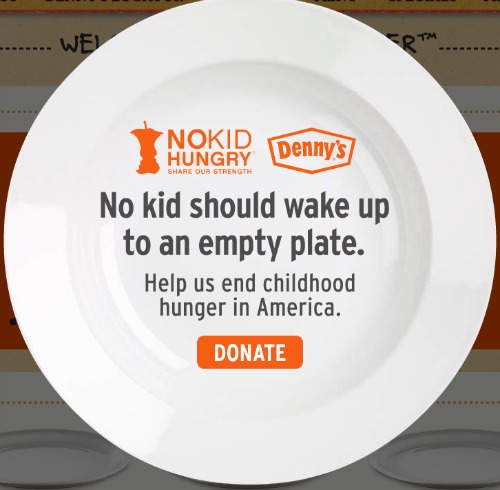 I have enough food in the house so that when I get hungry, I can still be picky about what I eat.
I'm blessed to be able to go to restaurants when there's already plenty of food at home.
My version of hunger is simply due to a few hours passing between meals.
I have no idea what it's like to really be hungry.
None at all.
But there are so many who do — 1 in 5 kids, to be exact. SIXTEEN MILLION.
It shouldn't be this way, but it is.
And these kids are going to school hungry.
They need our help.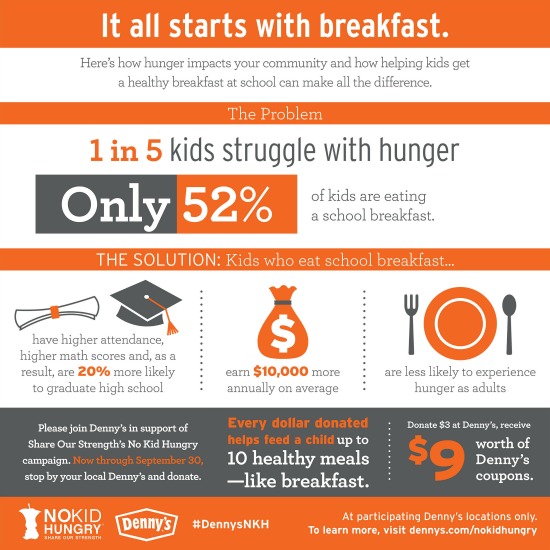 4 Easy Ways to Help Support Denny's No Kid Hungry 

(Here's the thing… it ends September 30th, so if you decide to help, do it TODAY.)

In-store – For a $3 donation, guests will receive $9 worth of coupons redeemable at participating Denny's restaurants.

Online – Donate the amount of your choice at dennys.com/nokidhungry and you'll receive a $5 coupon for your next meal at Denny's.

Text "Dennys" to 877877 to donate to No Kid Hungry and receive a coupon.

T-shirt – Purchase any of the three No Kid Hungry t-shirt designs for $10 each and a portion of the proceeds will be donated directly to the No Kid Hungry campaign.

Every $1 donated helps feed a child up to TEN meals!
 No Kid Hungry Mission Statement

NO CHILD SHOULD GROW UP HUNGRY IN AMERICA. But 1 in 5 children struggles with hunger. Share Our Strength's No Kid Hungry campaign is ending childhood hunger in America by connecting kids in need with nutritious food and teaching families how to cook healthy, affordable meals. You can help surround kids with healthy food where they live, learn and play.
Have you ever experienced childhood hunger or do you know someone who has?