You gasp. You're speechless. Your eyes survey the disaster in front of you as your mind begins to process what happened.
All you can manage to say is…. o.m.g.
IT'S A MESS!
We've all had it happen. It's unlike anything we've ever seen before, and the kids and pets we love are responsible.
Clean-up is not going to be fun.
But WAIT – before you start your clean-up, take a photo of the mess! You could win!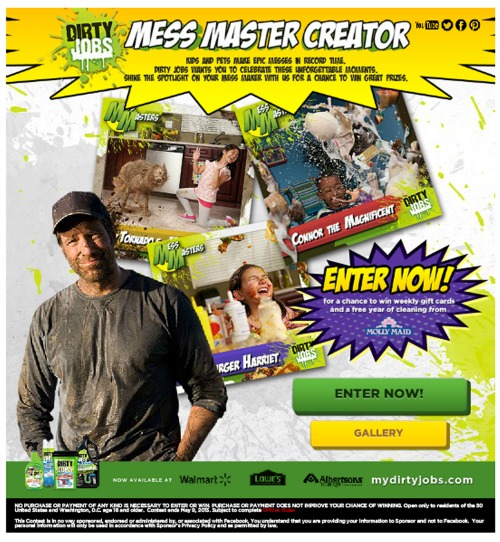 The makers of Dirty Jobs strong and advanced cleaning products aren't afraid of your mess or your little mess master, so they invite you to show them what you've got in the Mess Master Creator Contest!
Submit your best Mess Master photo and you will be entered and you just might win one of the following prizes:

Grand Prize Winner – Molly Maid Cleaning Service for 1 year

First runner Up – $500 Gift Card

Second Runner Up – $250 Gift Card

Eleven Weekly Prize Winners will win a $100 Gift Card

The contest will run for eleven weeks from February 21 through May 9, 2013. Grand Prize winner will be announced on or about Mother's Day, May 12, 2013.
For more information about Dirty Jobs and the Dirty Jobs Mess Master contest, visit www.mydirtyjobs.com or www.mydirtyjobs/messmasters. 
Dirty Jobs products are available at nationwide Walmart, Lowe's, and Albertsons Market stores.
What's the worst mess you've ever encountered at your house? Who's your mess master?
Post written in collaboration with Dirty Jobs, but all opinions and thoughts are my own.