I turned a shampoo bottle into a handy caddy this week, and by golly, it turned out great. Who knew DIY upcycling projects could be so fun?! It's one of the Summer Sunlight activities I mentioned when I posted about Project Sunlight a couple of weeks ago.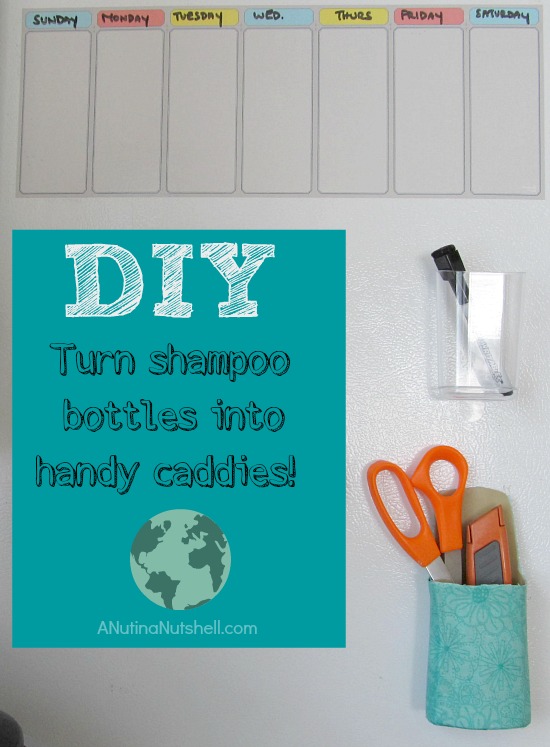 Unilever Project Sunlight is a long-term initiative to make sustainable living commonplace. Project Sunlight  urges families to make fun, not waste by participating in Summer Sunlight Activities – an interactive series of fun, easy projects that encourage families to adopt new sustainable habits at home.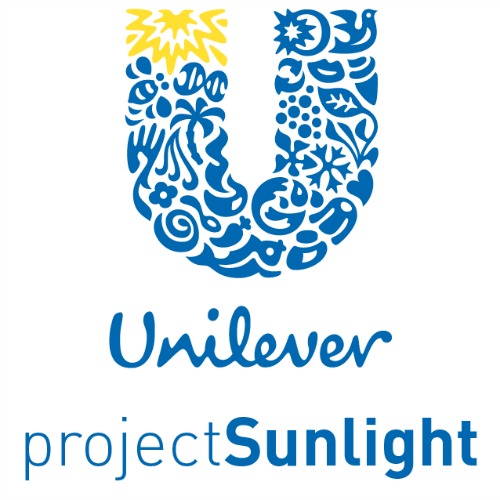 You'll want to explore all the Summer Sunlight Activity suggestions, but I'll show you the step-by-step directions for how I made the shampoo bottle caddy. It can be painted, decorated with stickers or markers, or decoupaged with a pretty fabric or paper. I decided to use fabric, so these are the directions to go that route.
You Will Need:
Empty, clean shampoo, conditioner or lotion bottle
Scissors or exacto knife
Sand paper
Fabric (it takes about half of a fat quarter)
Mod Podge
Foam brush
 What to Do:
Start with an empty, clean shampoo or conditioner bottle. These Suave bottles are perfect because they're plenty tall, but they're nice and flat so they won't stick out from the wall very far once they're turned into caddies.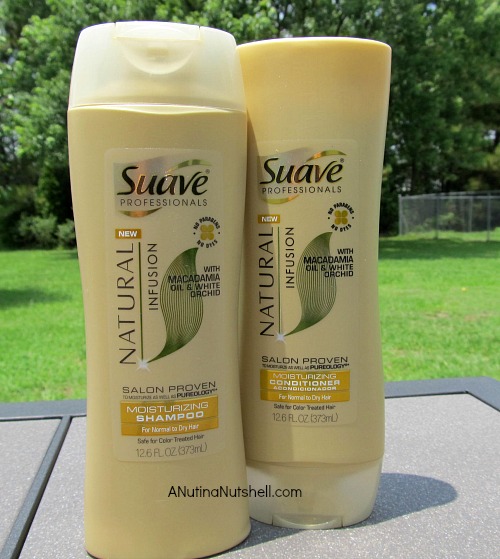 Step 1: Mark cutting lines onto the shampoo bottle with a marker. The back of the bottle needs to be taller so that it can be mounted for hanging, and the front has to be tall enough to hold whatever you'll be storing in the caddy. (It took me a couple of tries to figure out my cutting lines.)
Step 2: Cut along the marked line with scissors, trying to keep the edges as rounded as possible when cutting the curved parts.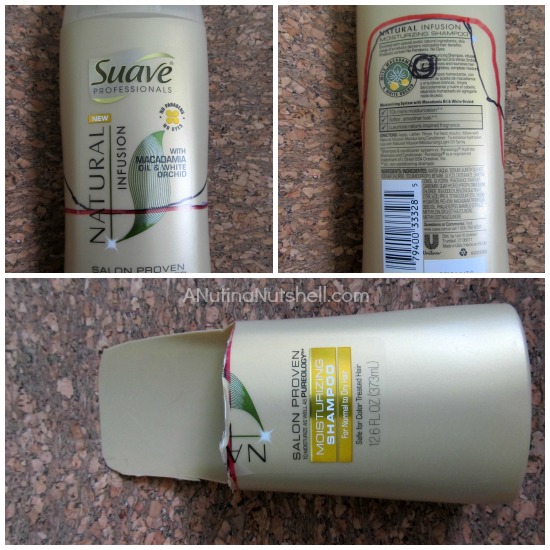 Step 3: Peel off any stickers that may be on the front and back of bottle. Sand the rough and jagged edges with sand paper until smooth. (I like to use a sanding pad because it doesn't get hot on my fingers like a thin sheet of sanding paper does.)  Give a rough scuff to the entire surface of the bottle as well.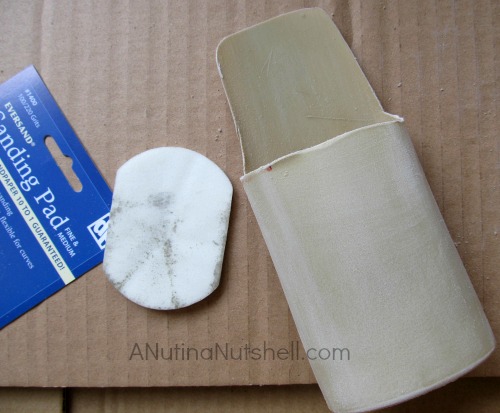 Step 4: Using a foam brush, liberally apply Mod Podge over the bottle front.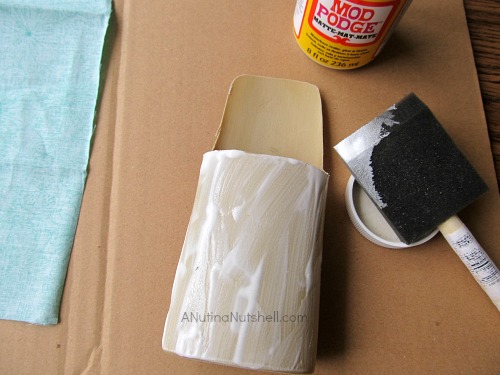 Step 5: Center the fabric over the bottle and press down onto the Mod Podge smoothing and pulling tightly. Flip it over and apply more Mod Podge over the sides and back of the bottle. Smooth the fabric all the way around and pull tightly as you go. Overlap the edges slightly, then trim excess fabric on the back.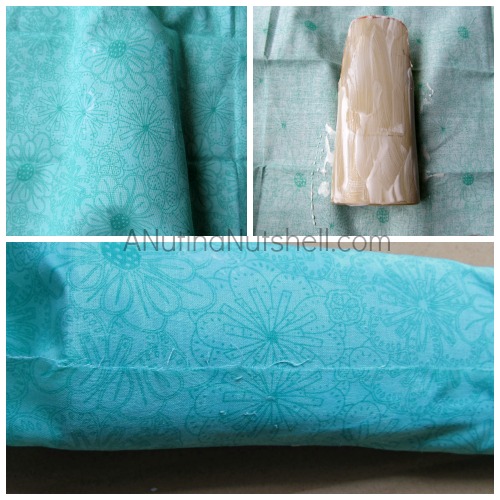 Step 6: Trim excess fabric around top and bottom of the caddy too. For the oval piece on the bottle bottom, trace around the base onto some fabric and cut out.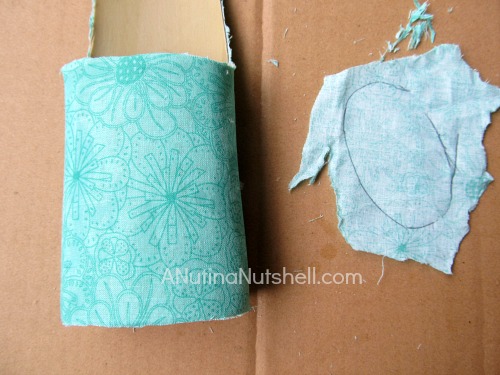 Step 7: Apply a layer of Mod Podge on bottom and then press and smooth the fabric oval into place. (You could cut some fabric to fit the inside if you want to, but I prefer the smooth plastic finish. It allows stored items to slip in and out easily without snagging on anything.)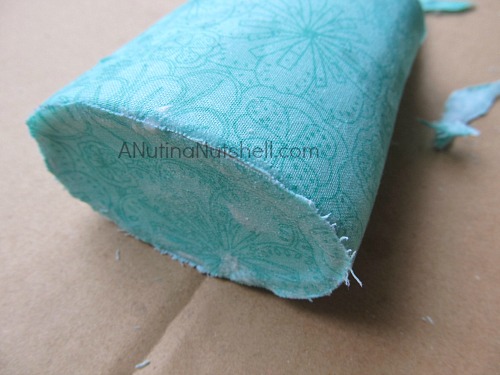 Step 8: Go over entire layer of fabric with Mod Podge and then let dry. I turned mine upside down over a bottle to dry.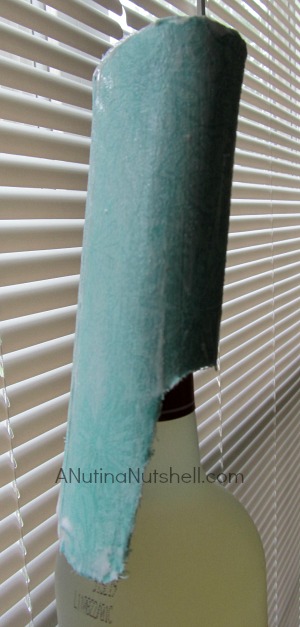 Step 9:  To mount, use a small nail and tap into place on wall, or use mounting tape or adhesive hanging strips for other surfaces.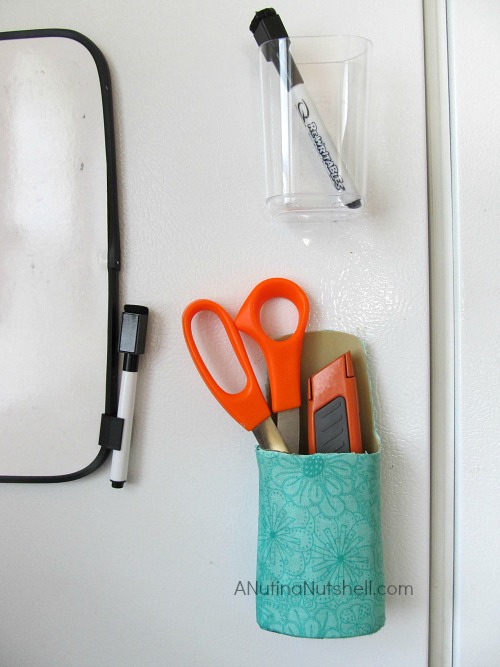 Visit projectsunlight.us for instructions on all four of the Summer Sunlight activities!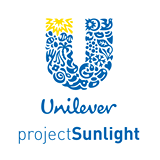 This post is part of a sponsored campaign by Unilever Project Sunlight, but all opinions and experiences expressed are entirely my own.