Helping college students find dorm room essentials and everything they need to create a cozy, comfortable home away from home is important. I remember always worrying about whether my kids had all the college supplies they would need, but I had to trust that even if they didn't, there was such a thing as stores, and they would learn how to shop in them.
Most of the time though, we had all the dorm room essentials they could ever need, and I remember carrying them in and out, up stairs and down stairs, over and over through the years. Trust me…the moving part is far worse than the shopping part.
The shopping part is fun!
I was able to purchase almost everything my kids needed, from bigger items like bedding and furniture to smaller personal care items like deodorant and Kleenex at Walmart.Using our own personal experience, I've put together a collage of dorm room essentials from Walmart to help you and your college students set up their new dorm room digs.
1. Desk/study lamp – This is really important. You can't study by overhead light alone (especially when your roommate is sleeping).
2. Single-serve coffee maker – Kids in college drink coffee and lots of it. Lots.
3. and 4.  Microwave and fridge – Some dorms will rent these out for the year, but we found it way more economical to buy them.
5. Kleenex is an absolute essential for college students.  Unfortunately, they get sick a lot, and because their schedules are so wackadoodle (and there's no mommy there to make sure they rest) they have a harder time fighting it off. They need a steady supply of thick and absorbent Kleenex tissue around. Trust me.
When I spotted this snazzy Kleenex dorm design in the stores, I couldn't resist buying one of every color. These will be finding their way into college care packages this year (if I can bear to let them go myself). The chevron designs and fun colors of these Kleenex Expressions Oval Facial Tissue are just so darn cute!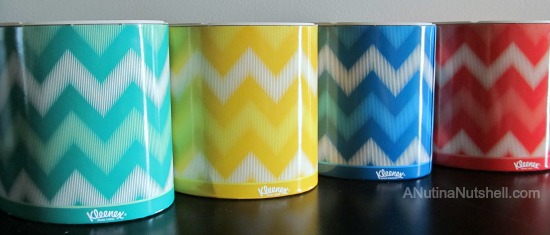 6. Hand-held vacuum – Most dorms have full-sized vacuums for loan, but for every day maintenance and clean-up, this is a must.
7. Over the door hooks – Wet towels… need I say more?
8. Locking laptop cable – There is a lot of theft in college dorms, so laptops should be locked up at ALL times.
9. Disinfecting wipes – Buy a lot of these. I'm not even joking.
10. Under the bed storage – It helps take advantage of every bit of space available in those tiny rooms.
There's so much more I could put on the list: a fan, easy-to-carry laundry hamper, bath caddy for walking to/from shower, shower sandals, bathrobe, big bath towels, ibuprofen… I could go on and on, but I decided to stop the list at the 10 dorm room essentials I thought of first.
What else would you add to a dorm essentials list?
This article is sponsored by Kleenex + Walmart. All opinions are my own.