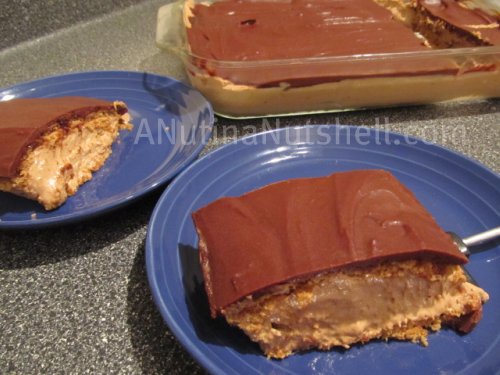 Ingredients
3 pkg graham crackers (1 box)
2 sm. pkg vanilla instant pudding
3 cups milk
9 oz. Cool Whip
2 squares unsweetened chocolate
3 Tbsp butter
2 Tbsp corn syrup
1 1/2 cups powdered sugar
3 Tbsp milk
1 Tbsp vanilla
Directions
1. Line bottom of 9″ x 13″ pan with whole graham crackers.
2. Prepare pudding mix, using only 3 cups milk. (I used one box of vanilla and one box of chocolate this time.)
3. Mix in Cool Whip.
4. Pour 1/2 of pudding over crackers.
5. Next add a layer of crackers,  then other half of pudding, and finally one more layer of crackers.
6. Melt chocolate and butter together. Stir in corn syrup, sugar, and vanilla.
7. Spread over top of layered dessert.
8. Cover and refrigerate 10 hours.
This rich and delicious dessert serves 12-15 people. Enjoy!