Several months ago, I bought an iPod Touch and it didn't come with a wall charger, so I've been charging it off the computer, but when I travel, that's not convenient at all.
So when Energizer suggested its USB Wall Charger and Cable would help,  I knew they were right.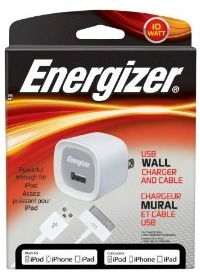 The wall charger is apple-certified so I can use it for my iPod, iPhone, and iPad!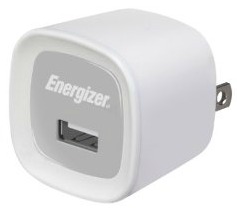 Look at the happy wall charging taking place! And by the way, the plug blades fold down, which is a huge plus to me.
I never really realized how many electronic gadgets I had until I started traveling regularly. It's crazy!
Plus, it's kind of embarrassing when I'm digging through my bag at the airport trying to find the right cable to plug something in.
I needed to consolidate, so I started using the Energizer Micro and Mini USB Charging Cables.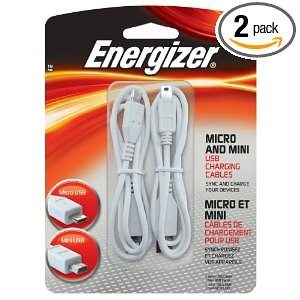 And while I will always have to bring along the charger for my laptop and my phone, the rest of my devices can all take turns because they don't drain their power every day. Between the two cables and the wall charger, I know I have exactly what I need to charge every device I own, plus download photos from my camera to my computer.
Buy It! These would make excellent stocking stuffers! The Energizer Wall Charger with Cable retails for $24.99, but I found it for much less at Amazon
, and the Micro/Mini Cable set retails for about $20, but I also found that much for a lot less at Amazon
.
GIVEAWAY!
One lucky winner will win the choice of an Energizer USB wall charger or car charger AND a set of the Micro Mini charging cables. (After you enter here, head over to Thanks, Mail Carrier. She's having an Energizer giveaway too!)
(Rafflecopter entry form below is in javascript so it may take a few seconds to load.)

I received a media sample to facilitate the review. All opinions expressed are completely my own.