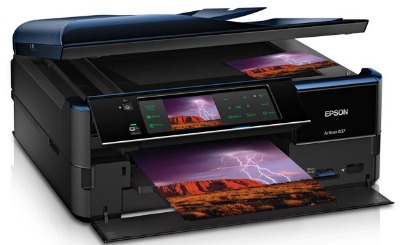 Wireless printing rocks!
Let me just say that again.
Wireless printing rocks!
It's not that I particularly minded having a wired printer before. With a desktop, I've got all kinds of stuff plugged in. But since I also have a laptop, netbook, and tablet, now I can print from any of them using this machine and I am loving that.
Here's my new Epson Artisan 837 All-in One Printer/Scanner/Fax.  Ain't she a beaut?
The printer was surprisingly easy to set up.  I followed the prompts on the CD installation disc, and the entire process took less than 10 minutes.(Ethernet port available for wired installation.)
Two things I noticed and liked off the bat: the printer uses individual ink cartridges, so you only have to replace the colors you need…
and the paper tray pulls all the way out of the machine. Standard-sized paper goes in the lower tray, and photo papers go in the upper tray.
Touch Panel Display
I really love the adjustable-angle touch panel, and the options are easy to understand even for a brand new user. It's brightly lit and shows only the buttons you need for the project you're working on, and the screen darkens to conserve energy when the machine has been inactive for several minutes.
Print/Scan/Fax
Scanning and copying can be done either from the document feeder or from the glass. I scan my paper documents in the feeder, where I can do multiple pages at once, and I scan my photos from the glass.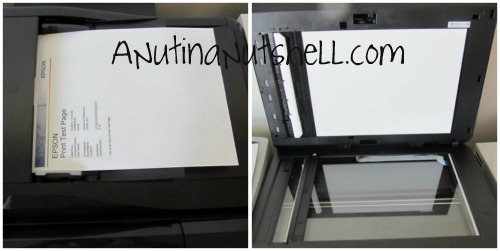 I love how quietly this machine scans! And, it shows an LCD preview on the touch panel display.
I don't have a dedicated fax line so although I set up my cover page information, I have yet to use that feature.
Everything is so user friendly! I don't have to go into my computer to open up software for anything. I just click print and boom; it prints. Or I just use the touch display right on the machine to quickly set non-printing tasks in motion. And it's super fast!
Epson Connect Using cloud-based technology, you can actually print from mobile devices with either email or iPrint. The Epson 837 also supports AirPrint for iPad, iPhone and iTouch devices.
I absolutely love it!
Buy It! The Epson Artisan 837 retails for $299, but I found it for even less at Amazon
!
GIVEAWAY!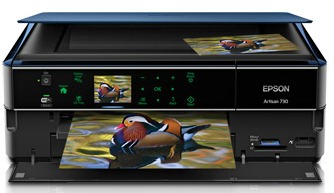 One lucky winner will receive an Epson Artisan 730 Printer! (After you enter here, head over to Thanks, Mail Carrier. She's giving one away too!)
(Rafflecopter entry form below is in javascript so it may take a few seconds to load.)

I received a media sample in order to facilitate this review. The opinions expressed in the post belong entirely to me.