What kind of idiot thinks bathroom carpeting makes for good flooring?
The half bath in my last house was furnished with a low pile beige carpet which reminded me on a daily basis that I was living with two boys who had bad aim. After about eight years of constant shampooing, I realized the "EW de Toilet" was embedded in the carpet fibers for all eternity.
The carpet had to go.
I will never forget the day my ex ripped out that carpet by himself. I couldn't stop laughing, as I heard snippets of his adventure punctuated with an ongoing series of abbreviated expletives. (He never actually said them because my son was in the house, but I knew what he meant, and I found the entire scene hilarious.)
My nose is on fire…help me, baby J*****… I'm covered in pebbles of pee….MOTHERofa….this smellllllllllllllll…crystallized urine…son of a…who did this to me…motherofagoatwithasonofa…URINE!!!!!!!
omg, it was one of the funniest days of my life!
But he got the job done and the carpet was removed, and the reign of the "EW de Toilet" had come to an end.
The sad thing is that we lived with the bathroom walls and flooring looking like this for almost two years!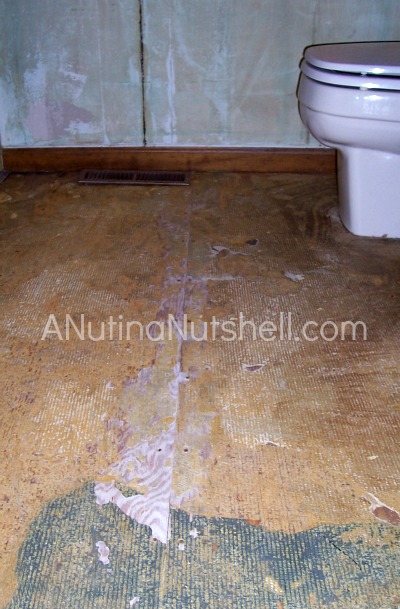 We had paid off our credit card debt and were living on cash only, so it took us a looooong time to save up to be able to pay for the renovations, but eventually we did.
Of course, then we sold the house. Figures, right?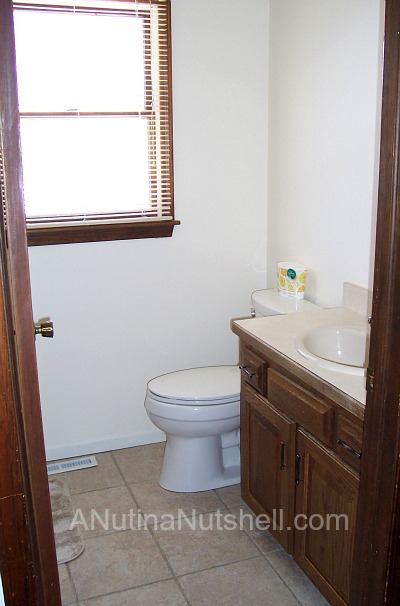 Tell me about one of your summer ick moments for a chance to win $250 from Clorox! Visit www.icktionary.com to learn the new language for ick and how Clorox cleaning and laundry products can help you tackle the next icky situation in your home, play games and win coupons while supplies last! Official Sweepstakes Rules
This post is brought to you by The Clorox Company. I have partnered with them to spread the word about Clorox's Ick-tionary program. To share Ick-tionary terms and real life messes, visit www.icktionary.com. All opinions and stories are my own.