Last month I shared a whole list of things you need to shred so I hope that you were listening and that you've been busily shredding all month.
Very little escapes my shredder these days. And speaking of my shredder, meet my little workhorse: the Fellowes P-12C!
With its sleek black finish and compact design, it's an attractive replacement to my old rather industrial looking machine.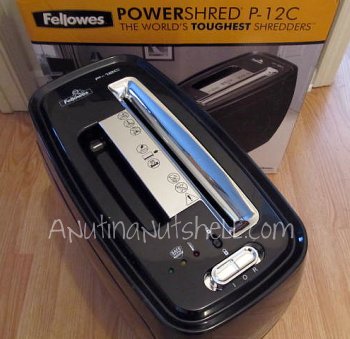 This particular shredder is designed for home and small office use. What I especially like about it is that it's built with safety in mind. It has a main power switch on the back of the machine, and an on/off switch on top as well. It also has a locking switch on the top (which even I found difficult to move from the locked to unlocked position).
It also has "Safe Sense Technology", which means that if little hands and fingers touch that paper feeder slot, the machine stops immediately! Now that is peace of mind.
The P-12C is a cross-cut shredder and is capable of shredding up to 12 pieces of paper at once. It can also shred staples, paper clips, and credit cards. I tried staples and credit cards, but I haven't tried paper clips. (I keep those!)
I do have to admit that the machine is a little bit loud when it's running, but that's not a big deal to me because I shred in short bursts, not all day long.
I really like the 4-gallon pull out bin on the side. Just slide it all the way out, dump your shreds (or recycle them if available in your area), and slide the bin right back in for the next job.
Here's a video of the Fellowes P-12C which shows the features I've mentioned and how it works:
With a price point of less than $100, it's the perfect shredder for most any home.
GIVEAWAY!
One lucky reader will win A Fellowes P-12C Shredder!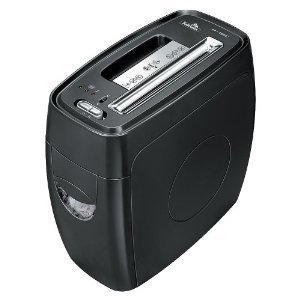 (Rafflecopter entry form below is in javascript so it may take a few seconds to load.)
I received this shredder to facilitate my review. All opinions expressed in this post are uninfluenced and belong completely to me.