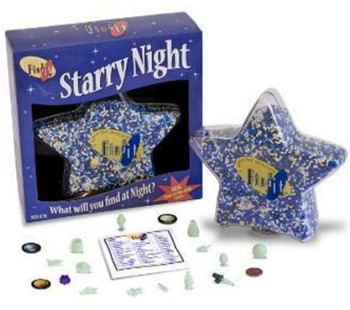 "Starry Night" is the latest addition to the super popular Find It hidden object games, but this is the first one that has a special container shape – a star!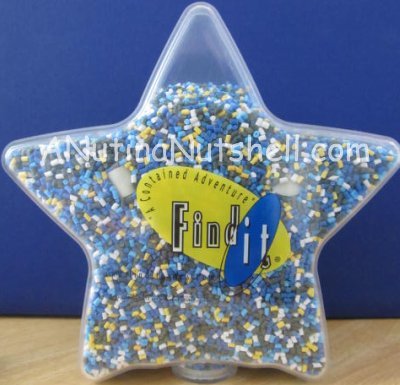 There are 40 different nighttime objects hidden within the colorful beads, and I found myself shaking, turning, and twisting the star in order to find them all. (Still in pursuit as of this writing….sigh.)
These are the first four things I found, but I'll be honest. I have no idea what the two on the left are. No clue! (So I guess I'm gonna learn a thing or two while I hunt for treasures!)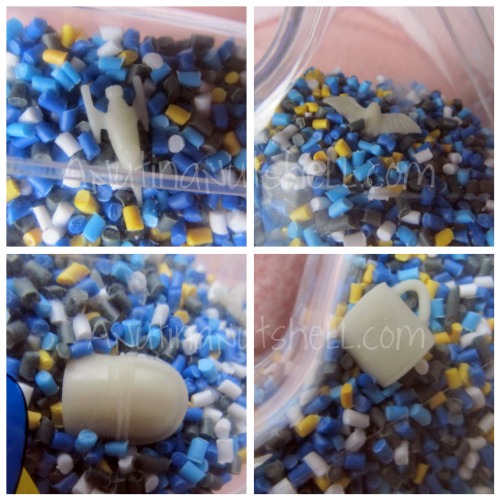 The game comes with a tear-off pad of 50 checklists, so eventually I'll figure it out. Or I'll recruit a small minion to assist me in my mission. 😉
Some of the little objects even glow in the dark, which means it could be a quiet bedtime activity. It would also be perfect for traveling since there's no way the pieces can get lost.
Game Idea: I have always loved telling stories with my kids, so I think it would be fun to look at the star and start a story based on the first item you find inside. Hand the star to the next person who then continues the story by including the first item they find in the star, and so on. Make the story as adventurous or as silly as you'd like!
Buy It! Ages 8+. The Starry Night game is available directly from Find It Games for $22, but I found it for even less at Amazon
!
GIVEAWAY!
One lucky winner will receive the Starry Night Find It Game! (After you enter here, head over to Thanks, Mail Carrier. She's also giving one away!)
(Rafflecopter entry form below is in javascript so it may take a few seconds to load.)
I received a Starry Night game for my own entertainment and review. 🙂 All opinions expressed in the post are mine alone.