This post is sponsored by goodnessKNOWS. Thanks goodnessKNOWS!
I'm not new to yoga. I've been doing it for years! When I follow yoga videos or take classes I'm the kind of person who always pushes herself to try the most challenging versions of poses, like opting to do wheel pose instead of bridge pose.
But there's one thing I've always been scared to try: the yoga headstand.
Headstands were no problem with the support of the wall — in fact, I do them every week — but the thought of not having the wall behind me as a crutch terrified me. It's funny when I think about it because what was I so afraid of? The max height I could fall from is like…one foot.
Anyway, in the spirit of the upcoming International Yoga Day on June 21, thanks to a nudge from goodnessKNOWS I challenged myself to face my fears and try to do an unassisted yoga headstand. (And capture it on video to share with you, whether it ended up in failure or success!)
You already know I dig goodnessKNOWS snack squares, so I was excited to work with them again for this post. There are six snack square flavors, but my favorite is still the cranberry & almond. goodnessKNOWS® also recently debuted a new, bolder logo design and new packaging that highlights those same, delicious ingredients on the front of the pack. Keep an eye out for the new look on shelves near you.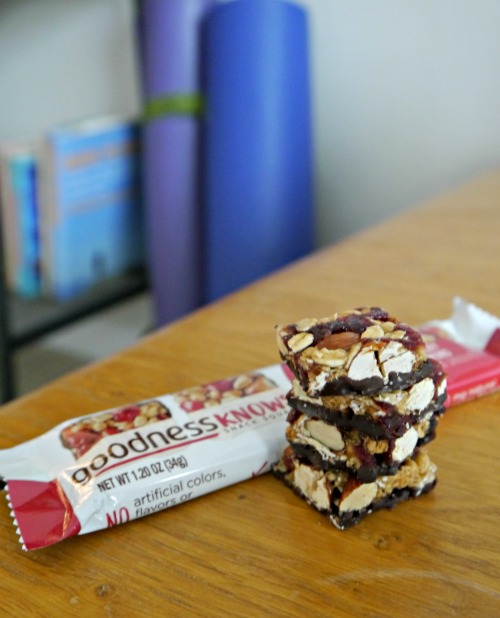 Because my body is used to eating every couple of hours, it's best to have a snack with me to prevent low blood sugar and HANGRINESS in case I can't manage to squeeze in a full meal. These goodnessKNOWS snack squares are a great solution, and they happen to be gluten free and non GMO, too!
So about that yoga headstand…I'm happy to say that my first attempt was, in fact, a success. I couldn't believe it!
Even though my form wasn't perfect and I only held the headstand for a second or two, my joyful reaction afterward is completely genuine because I was so proud of myself.
As someone who loves a good challenge, I decided to give it another go and see if I could hold the headstand a little longer this time. Looking at it from this angle I can see that I'm leaning off to the side a little bit, but that doesn't take away from the fact that I HELD A HEADSTAND! If anything, it gives me an incentive to keep trying to improve. After all, every try is a step closer to my goal.
And I think that's what yoga is all about — progress. You can never master yoga, and that's what I love about it. You can always go deeper into a pose, meditate for a little longer, or focus more deeply on your breathing.
Wherever you are in your yoga journey, I invite you to celebrate International Yoga Day by joining the free yoga livestream this Wednesday, June 21 with goodnessKNOWS! Just grab your mat, head to the goodnessKNOWS Facebook page, and the class begins at 3:00 pm Eastern. I'll be there! Will you?
Whether you'll be joining the stream or not, you can learn more about goodnessKNOWS at their website, or on Instagram, Twitter, or Facebook. And you can always check which stores near you carry goodnessKNOWS snack squares with the store locator!
This is a sponsored conversation written by me on behalf of goodnessknows. The opinions and text are all mine.