I've always been super nervous to try any kind of detox because I have a sensitive digestive system, and I never know what will set it off. Not just that, I'm very picky about what I eat or drink when it comes to health promoting products. I'm a label-reader for sure.
So, when I was asked to do a FitTea review (14 day all-natural body detox), I decided to give it a go, and I'm happy to say that my FitTea results so far are worth sharing.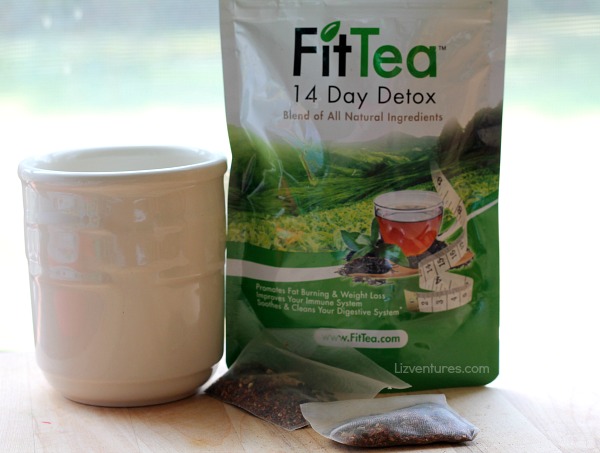 This is a sponsored post containing my own unique thoughts and experiences.
Because my job isn't on a nine to five schedule, I often find myself eating meals at different times during the day. Face it, folks, this lack of structure leads to occasional late night snacking and can sometimes cause digestive irregularities, if you catch my drift. Help! My confused tummy needs a break every now and then.
I'll admit that because of my sensitive system, I was apprehensive about trying it before my recent New Orleans trip, so I waited until I got home to start. And since FitTea boosts energy and metabolism, aids in digestive health and boosts natural fat-loss in problem areas, what better time to detox than after a week-long feast of spicy Cajun cuisine and sugary beignets?
Perfect timing, if I do say so myself, especially since the FitTea tagline is "Give us a few weeks and we'll give you a new waistline".
Natural teas like FitTea have been used for thousands of years all over the world for weight loss and increased energy, making this 14 day detox a perfect addition to anyone's fitness program. Just drink a cup every morning or before your daily workout.
The ingredients include Organic Green Tea, Oolong Wu Yi, Organic Rooibos, Ginger, Pomegranate, Guarana, Birch, Stevia, Corn and Honey Powder, and it makes me feel good knowing they're natural.
Fill a favorite tea cup or mug with near boiling water, and drop in a FitTea tea bag. Let it steep for several minutes (3-5 mins), and then start your sipping!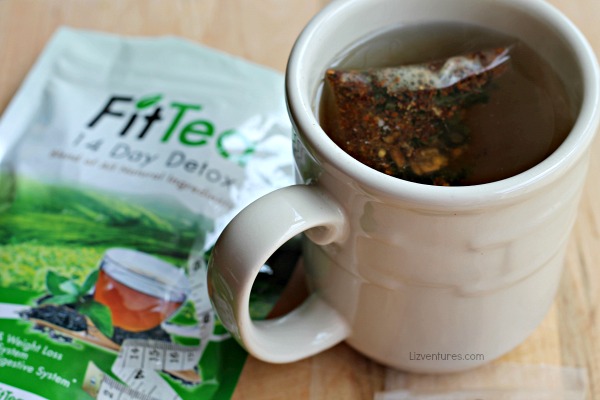 It's a detox tea, not a flavored tea, so although it's pleasant, it tastes even better with a bit of honey or lemon added. Gotta keep it real, folks.
The package says you can enjoy it hot or cold, but so far I've only tried it hot. Even though I live in the south, it seems like I'm always freezing, so I savor the comfort of a hot and soothing tea. I've been raving about Fit Tea to my boyfriend, an avid iced tea drinker who sits around the house in shorts while I hibernate under a blanket, and he's begging me to make him a cold batch. (As if he couldn't do it himself. Sigh.)
The ingredients provide a fast-working and natural detox, and I'm thrilled that it has been extremely gentle and hasn't upset my regular digestion routine at all.
But it's definitely working. In fact, I see an improvement in all aspects of my diet. I don't feel bloated after meals like I sometimes do. I'm only a few days into the 14-day detox, and I've lost 2 pounds because the natural ingredients also promote weight loss. My energy levels are at an all-time high, and I haven't been as hungry for junk food as I normally am, due to FitTea's appetite suppression ingredients. Combine those results with a dose of natural antioxidants and you can't go wrong. I'm so happy that the only "souvenirs" of indulging on vacation will soon be a distant memory.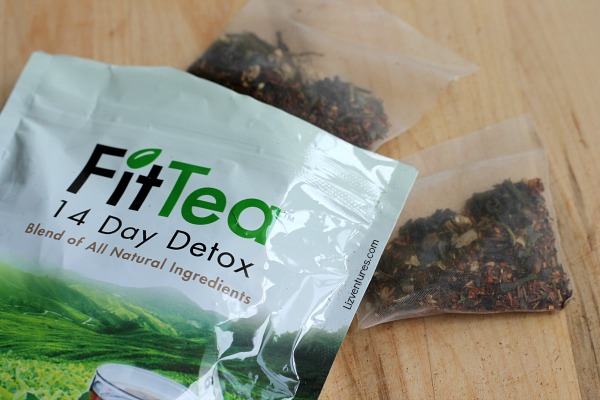 The benefits of detoxing with FitTea are becoming so widely known that even Hollywood is taking notice. Sarah Hyland, one of Hollywood's "it" girls (she plays Haley Dunphy on the hilarious and super popular Modern Family) loves her FitTea, although I'm not sure why she's biting it in this pic. She must really love it!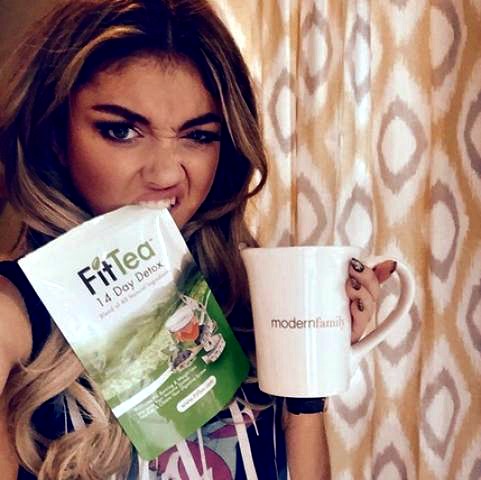 The results of an all-natural detox are unmistakable. Even though I haven't made it through the whole two week tea detox timeline yet, I'm already seeing and feeling benefits from having my daily cup of FitTea.
I didn't realize how good it would feel to cleanse my body of all those toxins that had been weighing me down and making my system work harder than it needed to be working. It's like I'm giving my body a tune-up. I'm less sluggish, lighter and more full of energy now. I really feel great!
-Boosts immune system
-Promotes fat burning
-Promotes and soothes digestion
-Antimicrobial properties
If you're interested in giving FitTea a try, visit FitTea.com. I'm doing the 14 day detox, but there's also a 28 day detox, starter packs and combination tea and supplement packs. Choose the one that's best for you! Happy detoxing!