If I have to strip the wallpaper out of one more bathroom in one more house, I'm going to explode!!!! And then I'll probably just go ahead and do it.  But man I hate that job!
The reason I'm telling you this is because after I stripped the ugly foil gift wrap out of this bathroom, I didn't have the gumption to do much of anything else. So I painted the walls vanilla, and vanilla the walls remain.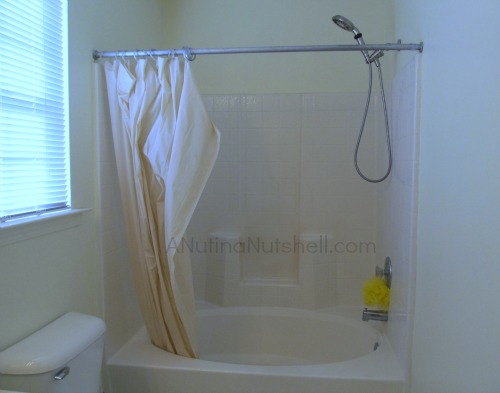 AND the cabinets, the counters, the sinks, the potty tot, the floors…. Eees a lot of vanilla, yes?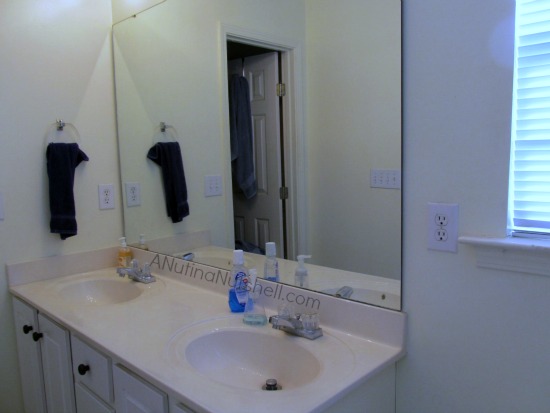 Now that's not a giant-ly huge-ish problem because a blank canvas makes changing the decor a snap.  All I have to do is just add some smart accessories to liven things up and give it a fresh feel.
And that's why I'm sooooo excited to be a part of the Family Dollar Home Makeover Challenge.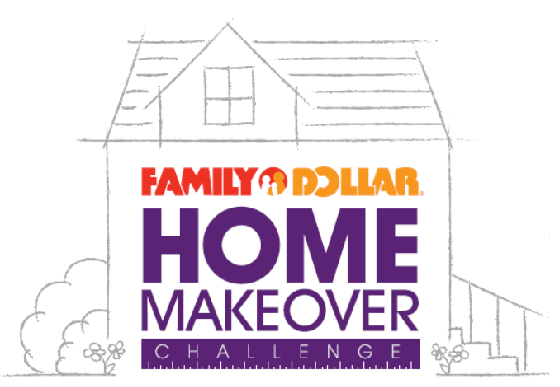 With a budget of $50, I went to my local Family Dollar's home decor section (up to 40% off sale going on NOW) to find a way to spruce up and make over my bathroom.
Vanilla to Vavoom. Let's do this thing!
Obviously, I'm no fool and I started out by cleaning the place from top to bottom and A to Z. Clean, clean, clean!
Rule #1: Before you redo your room, you must have it clean.
In fact, I used a Mr. Clean Eraser because it's magic, I swear. It wipes away everything:  dirt, soap scum and greasy, grimy gopher guts. (<— Gopher guts theory untested, but hypothesized to be true based on efficacy of dang near everything else.)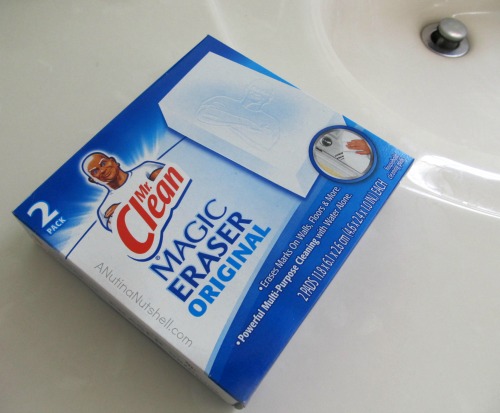 I also popped a Febreze Set & Refresh in the room to delight my aromatic senses for 30 days, and those Puffs Plus tissues are merely to dab at the tears of joy upon seeing the results of my Family Dollar Home Makeover.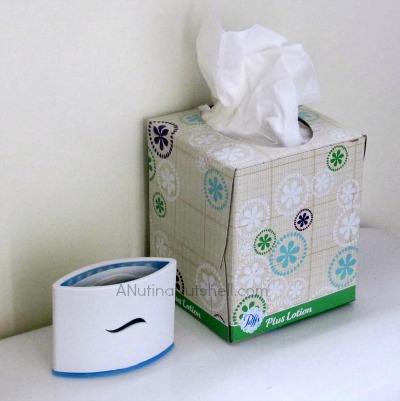 Speaking of the makeover…
Voila, vavoom!
It kinda tones down the vanilla, doesn't it?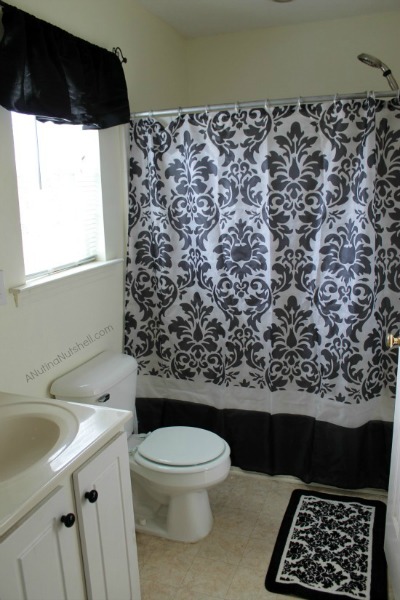 Never in a million years would I have thought I'd go for black in a bathroom, but I totally love it!
Oh, and listen to my genius here: That valance on the window was actually a long black panel which would have totally overwhelmed the space, so I cut it to a valance length, hemmed it and hung it up for a pop of color. (Pats on the back encouraged.)
Now on to the sink and counter top side…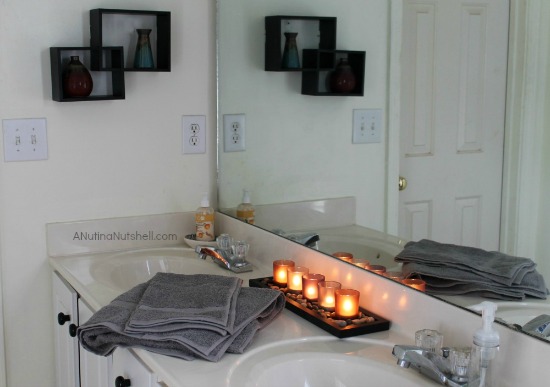 A pretty new set of towels makes me happy! I haven't indulged in new towels in who knows how long. I deserve it, right?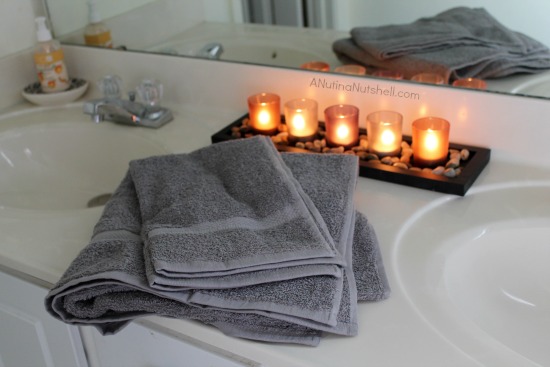 A little soap dish came in the shower curtain and bath mat set, and since I don't use bar soap, it makes the perfect home for my body lotion.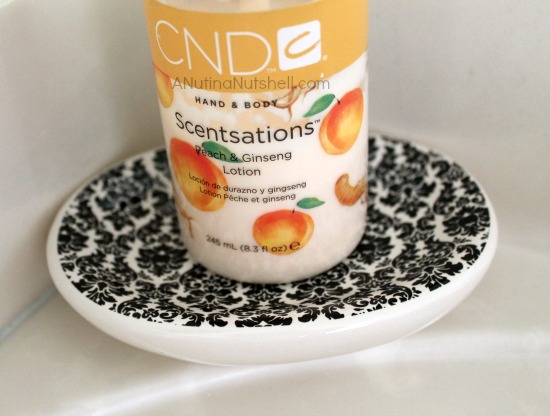 Isn't this the cutest little interlocking shadow box? Incidentally, the pieces I have sitting on it I found in a Family Dollar when visiting Chicago about three years ago.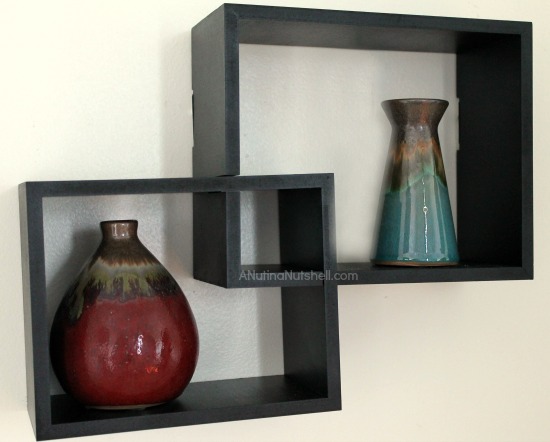 And here's my favorite find of all! I don't even remember what it was called on the box, but it's so relaxing and peaceful that I don't even care that I forgot. I loooooves it! So much.
This one simple piece of serenity makes the entire bathroom blissful.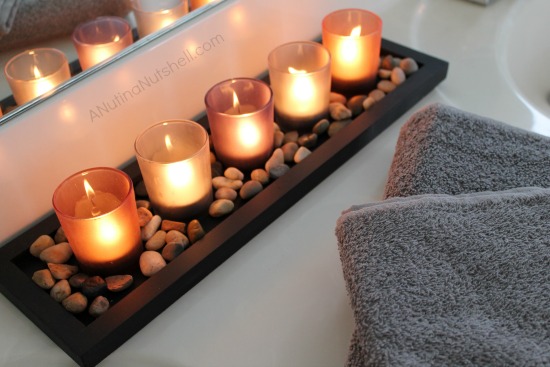 So what do you think?
For a small investment of just $50 I'd say my bathroom is looking pretty spiffy indeed!
If you agree with me, I would love your support in the Family Dollar Home Makeover Challenge. The blogger with the most shares wins a prize!  I'm sure all of the challenge bloggers have amazing makeovers, but I hope you'll support me. 🙂
And you'll also have the chance to win prizes — daily Family Dollar gift cards and a grand prize of an iPad Air.
Share your favorite makeover (mine??) and enter to win at  familydollar.com/homemakeover
( You'll see the voting option of pinning and sharing under my name, Liz, and photo.  You may have to wait a few seconds for the pictures to cycle through to mine. Thank you!)
GIVEAWAY!
I'm having a giveaway right here too. One lucky reader will collection of P&G items which are bound to help make life easier!
I received compensation and P&G products in order to participate in the challenge, but all opinions are mine alone.
RULES: Giveaway ends 11:59 pm ET, February 28, 2014. No purchase necessary. Open to legal residents of the fifty (50) United States and District of Columbia, Eighteen (18) years of age or older. Void where prohibited by law. One lucky winner will be chosen using random.org. One entry per household and IP address. The number of eligible entries received determines the odds of winning. Cheating will not be tolerated, and entries will be verified for accuracy. I will email the winner and they will have 48 hours to respond to the notification email, or a new winner will be chosen. Entering this giveaway means you are in agreement with this blog's Terms of Use policy.