They say that when you choose your home decor and art, you need to choose for you. Don't worry about what's trendy, or what someone else thinks you need, but go with what you like.
And that's what I've been doing for the last few months as I've picked out wall art from Gallery Direct.
I either choose a color category or a type of art category, and then I just look at all the options until I decide (even thought I've been known to take a week or more to do so).
This is my latest:  Prestige 1 by Jane Bellows
I chose this wrapped canvas art to coordinate with the abstract art I put over my couch a few months ago.
I ordered it in a gallery wrapped medium-sized canvas (24″ x 24″) and the current price was $147, which is incredibly fair for the size and quality of the art.
It took less than a week to arrive, and as expected, the quality was outstanding. Plus, they pack everything very carefully, so it was in perfect condition and ready to hang.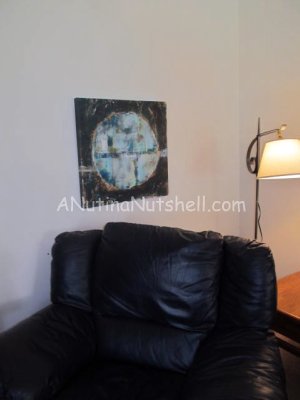 Just like everything else I've ordered from Gallery Direct, I love it!
Connect with Gallery Direct:
Facebook – www.gallerydirectrules
Twitter – twitter.com/gallerydirect
Don't miss the Gallery Direct Twitter Party Monday, November 7th at 10 pm ET. Two people will win free art, and two people will win gift certificates! To RSVP and find out more details click here.
GIVEAWAY!
One lucky reader will win a $200 Gallery Direct gift certificate. (If cost of art exceeds $200, a shipping fee will apply.)
(Rafflecopter entry form below is in javascript so it may take a few seconds to load.)
I received the artwork to assist me in my role as a blogger ambassador for Gallery Direct. All opinions expressed in the post are completely my own.