Have you noticed how popular Moscato wine is now? It's the fastest growing wine varietal in the U.S. for the third year in a row!
Gallo Family Vineyards established May 9th as National Moscato Day, and this year marks the second annual celebration.

In celebration of National Moscato Day, Gallo Family Vineyards recently sent me a bottle of each of their three Moscato wine varieties – White, Red and Pink. Since it was one of the first types of wine I ever tried, I was sipping them with a smile.
I had forgotten just how much I enjoyed a good Moscato wine!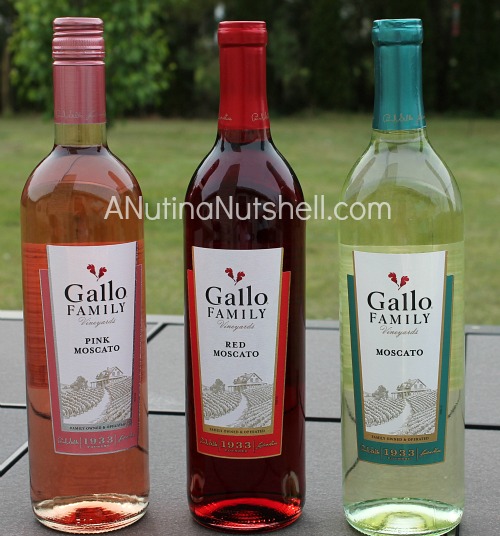 Each of the three wines was delicious, and although my favorite was the Pink,  I would happily enjoy another glass of any.
Red Moscato: Lively flavors of sweet citrus and peach, with a bright red berry finish. This refreshing, medium-bodied wine is best enjoyed chilled and paired with light cheeses, spicy cuisine or desserts. (This was the sweetest of the the three, in my opinion.)

Pink Moscato: Light-bodied and bursting with aromas of fresh citrus and peach, followed by hints of fresh red berries and orange blossoms. Greate paired with an array of foods from spicy dishes to sweet desserts.

White Moscato: Bursting with delicious flavors of peach,honey and ripe citrus in a delightfully, light-bodied style. To me, it had a subtle grapefruit taste.
I'm not even going to pretend I understand the ins and outs of wine, and truth be told, I usually drink it while snacking on popcorn. (A wine snob, I am not.)
But in case you're more refined than I am (how could you not be), here are some fabulous tips on how to make the most of your Moscato!
Tips on How to Throw a National Moscato Day Party: – From entertaining expert Robyn Moreno

Mix It Up: Set up tasting stations for the different Moscato varieties around the room. Feature tasting notes and see what everyone has to say about them.

Not Your Ordinary Cheese Tray: Moscato pairs perfectly with cheese, such as Brie, Camembert, aged Parmesan and Pecorino Romano. Style up your cheese plate by making a slit in a wine cork and sliding in a card labeling the cheeses.

Spice Not Stress: Moscato and spicy food are the perfect combination. Try serving Paella which can be made with meats, seafood or veggies.

Decorating Couldn't Be Easier: Decorate an old wine box or beautiful tray with fresh fruit to make centerpieces. A birdcage can become a gilded candleholder with a pillar placed inside.

Don't Let The Party End: Freeze any leftover Moscato into ice trays to be used later in sparkling water  for a fun "white wine spritzer!"
And be sure to join Gallo Family Vineyards (@GalloFamily) for the National #MoscatoDay Twitter party on May 9th from 9-10pm EST, where you'll learn more about the wine and different ways to enjoy it!
Gallo Family Vineyards Website
Gallo Family Vineyards' Facebook Page
Gallo Family Vineyards' on Twitter
I am part of the Mom It Forward blogger network. Mom It Forward and Gallo Family Vineyards partnered in support of this campaign. Gallo Family Vineyards compensated me for participation in this campaign. However, all thoughts and opinions are my own.